Are you starting to explore options for a Yosemite elopement? Have you already decided that you absolutely want to elope in Yosemite? Congrats!
Epic Yosemite Park Weddings
If you're wondering, can I elope in Yosemite? The answer is a definite YES! An elopement in Yosemite is an amazing option for adventurous couples and those looking for outdoor adventure images. Whether you love the epic heights of a granite rock outcrop or a rushing waterfall backdrop, there's something for you at Yosemite.
This guide will take you through everything you need to know about eloping in Yosemite National Park. 
We'll cover the following topics: 
This post will guide you through how to elope in Yosemite. If you're planning to elope just the two of you or have a larger ceremony with up to 50 guests, there are elopement locations in Yosemite National Park to fit your needs.
Choosing Your Yosemite National Park Elopement Ceremony Location
When planning a Yosemite National Park wedding, the first thing you'll want to do is decide on your elopement ceremony location. (But we'll have plenty of photo ops throughout the park!)
All Yosemite National Park ceremonies require a permit, and your desired ceremony location will need to be indicated when you send in your permit application.
So let's start there!
Deciding On Your Yosemite Elopement Ceremony Location
Yosemite is a little different than some of the other national parks because there are twelve ceremony sites designated for groups of 11 or more people.
If you have 11 or more people in your party, make sure your ceremony location is on this list of approved ceremony locations. 
Remember, we can always move to a more private location to get additional shots before or after the ceremony! The possibilities are endless.If you have 10 or fewer people in your party, your group is not limited to the list of ceremony locations outlined by the National Park Service. Let your imagination run wild.
Iconic Images Or Private Location? (Or How About Both!)
Maybe you already have your ideal location in mind, or you'd like some help finding the right location for your elopement. Maybe you want a lesser-traveled, more private site for your elopement photos.
Whatever you're looking for, I'm here to help! I offer location research to all of my clients to make the process easy for you.
Keep in mind that if you'll have more than 10 people at your ceremony, you will be limited to the twelve designated ceremony locations at Yosemite.
But don't worry — we'll have plenty of options to take photos in other locations!
Where Can You Get Married At Yosemite National Park?
Yosemite is a magical elopement location for its incredible scenery, breathtaking views, straightforward permitting and fees, and some great accessible options. Here are some of the best places to elope in Yosemite!
Incredible Sites For A Yosemite National Park Elopement
Taft Point
Taft Point is the iconic mile-high granite rock that offers incredible panoramic views of the valley below. This is a popular area with heavy traffic, but we can always get your adventure photos here, then move to a more private ceremony location.
Taft Point is only accessible during the summer through the end of September when Glacier Point Road is open
Requires a 2-mile hike to the point
Parties of 10 people or fewer
Here's a helpful video walk-through of Taft Point
Glacier Point Amphitheater
Glacier Point Amphitheater is one of the official sites that accommodates larger groups and offers gorgeous views at Glacier Point plus seating in the amphitheater. This popular spot has heavy foot traffic at times, but we can always move to a more private location before or after.
Open only when Glacier Point Road is open, between the Tuesday after Memorial Day through the end of September.
Check the road conditions for updates as storms and weather may cause road closures.
Not available for weddings in July and August
Accommodates parties of up to 50 people
Half Dome
Half Dome is possibly the most recognizable landmark in Yosemite. This granite dome formation rises over 4,700 feet above the Yosemite Valley. This location is definitely for the adventurous! Hiking to the top of Half Dome is a strenuous day hike that's very popular, so expect crowds. This location can be enjoyed no matter the season, and nearby you'll find accommodations and dining options. Again, we can get your epic photos and move to a private location to capture additional special images! 
Tunnel View
Tunnel View is one of the most popular spots in Yosemite National Park, so expect there to be a crowd — but you'll have breathtaking views of the valley below. If Tunnel View is on your must-do list, we can get your iconic shots and then move to a more private location for additional photos to capture the magic.
Accessible from the road
10 or fewer people
Enjoy all year round
Swinging Bridge Picnic Area
For the gorgeous backdrops of pine groves, Merced River, and a view of Yosemite Falls, this area is perfect for scenic photographs. And, it's easily accessible from the road with limited parking nearby. 
Restroom facilities
Accessible from the road
Limited parking; carpooling recommended
Open year round (except on holiday weekends)
20 people maximum
Bridalveil Fall
Bridalveil Fall, the name says it all. This stunning location features the most prominent waterfalls in Yosemite, making it a popular wedding ceremony site.
50 people maximum
Pit restrooms available
Handicap accessible
Olmsted Point
This gorgeous location gives you a wilderness feel, breathtaking views, and it's easy to access from the main roads. Nearby waterfalls, domes, and Tenaya Lake give you a ton of options within a small radius in Yosemite. As a lesser travelled area, you can expect a bit thinner crowds in comparison to some of the larger spots!
10 or fewer people
Open when Tioga Road is open, usually June through the end of September
Nearest restroom is 1.5 miles away at Tenaya Lake
Tenaya Lake Beach
Beach views with a backdrop of granite rocks and pine trees — what more can a nature lover want? This incredible location is most popular in the summer, where water activities abound. Be sure to consider the Tioga Road conditions for other seasons.
50 people maximum
Open when Tioga Road is open, usually June through the end of September
Pit restrooms available
Sentinel Dome
This is an amazing site for a wedding in Yosemite National Park where we can capture some truly jaw-dropping images with amazing views and a little less foot traffic than some of the other big spots. 
10 or fewer people
Open from road opening to the end of September
Yosemite Wedding Permits & Fees Explained
You've chosen your destination for your ceremony. Now, how do you elope in Yosemite exactly? Let's first talk about permits and fees.
It's not the most fun part of planning your elopement, but luckily Yosemite makes permits and fees pretty straightforward!
How To Register And Pay For A Yosemite Wedding Permit
The National Park Service requires everyone getting married or taking part in wedding-related photo shoots in Yosemite to apply for a wedding permit (also called a special use permit).
Here's a link to download the wedding/ceremony permit application that you'll fill out and mail to the NPS.
In your application, you'll be asked to include:
Indication of your ceremony site. If you're not planning a ceremony and you just want a wedding-related photo shoot, this is totally fine! On your application, just write "wedding photos only."
The non-refundable fee of $150
Any special needs or accessibility requirements for you or your guests
Then, you will need to:
Review and sign the permit when it gets mailed to you via snail mail.
When you get to Yosemite, you'll need to pay the park entrance fee. The fees vary depending on your vehicle/mode of entry to the park. No fees are waived for ceremony guests. 
Some sites require additional fees to enter the trails.
Yosemite does require a photography/videography permit, which I'll take care of. I take care of all photography and videography-specific permits that might be required at any location.
How To Schedule An Elopement In Yosemite
Many couples choose to elope on short notice. That's absolutely no problem when scheduling an elopement in Yosemite.
As long as you send in your application and schedule your Yosemite elopement more than 21 days in advance, you're good to go.
You can schedule your ceremony up to a year in advance. This time frame gives you plenty of options to plan your elopement between now and the big day.
Get The Epic Views With A Private Ceremony
This is the dream of so many engaged couples — and with just one look at these photos, you can see why.
With Yosemite micro weddings and elopements, there's still location planning to be done. I love helping my clients plan locations! It takes some pressure off of you and I truly love helping my clients discover new locations that are a little more off the beaten path (i.e. no huge crowds and plenty of space for private photos)!
One important thing to note: weddings and ceremonies have a 2-hour time limit at all locations within Yosemite National Park. I always work with you efficiently within this timeframe to get you all the photo ops you want without feeling rushed. 
And, the options for photographs are limitless before and after your ceremony. We'll make sure you get all the images you're hoping to capture during this once-in-a-lifetime experience getting married at Yosemite.As a Yosemite elopement photographer, I love helping couples discover scenic locations that fit their personalities to capture memories of their love and the entire experience at the park.
Want To Talk About Planning Your Locations For Your Yosemite Elopement?
Here's a little bit about how the process works:
First, we talk about your favorite locations (if you have any) as well as your preferences (for example, maybe you want epic views of Taft Point with a private ceremony in a more remote location).
I'll send you a questionnaire that will help me understand your ideas and preferences.
Then, I'll get to work finding your perfect ceremony location!
I'll create a customized list of locations completely tailored to your vision and that would make for amazing photos.
You'll pick your favorite.
From there, we'll figure out a timeline for the best experience and beautiful photos.
NPS highly recommends visiting the park prior to finalizing your plans and ceremony site. However, if it's not possible for you to visit the park prior to your elopement, I'm here to help!
Rules And Restrictions For Elopement In Yosemite
Before you plan to elope in Yosemite, be aware of the rules set in place by the National Park Service. You can view all the rules and regulations here on the plan your visit page on the park service's website.
Where To Stay In Yosemite 
To take advantage of the endless beauty of Yosemite, many couples I work with plan to spend a few days in the area so they have plenty of time to explore!
There are so many beautiful rental properties from rustic cabins to getaway houses to choose from. No matter your style, you're bound to find something you love.
Extended vehicle passes are available through NPS for longer stays, which is great if you're planning to stick around and make more memories together as newlyweds.
My Favorite Airbnb's Close To Yosemite National Park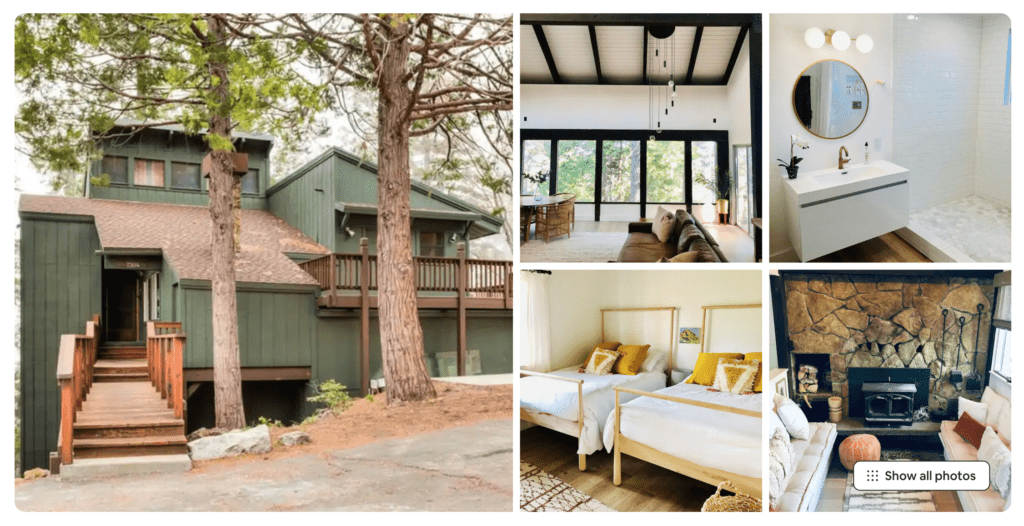 Autocamp Yosemite is another great spot right outside the park! One of my other favorite options is that you could also rent an RV or campervan from Outdoorsy (this link will give you $50 towards your RV rental!)
Ready to start dreaming up your Yosemite elopement?