Winter weddings are just the absolute most magical, and even more magical when you're lucky enough to get snow! While they definitely come with their own set of planning obstacles and might need a bit more preparation, it's always worth it when the day finally comes!
Staying warm during winter weddings can also be pretty challenging, but I've compiled my best tips for keeping yourselves all warm and cozy even in frigid temperatures!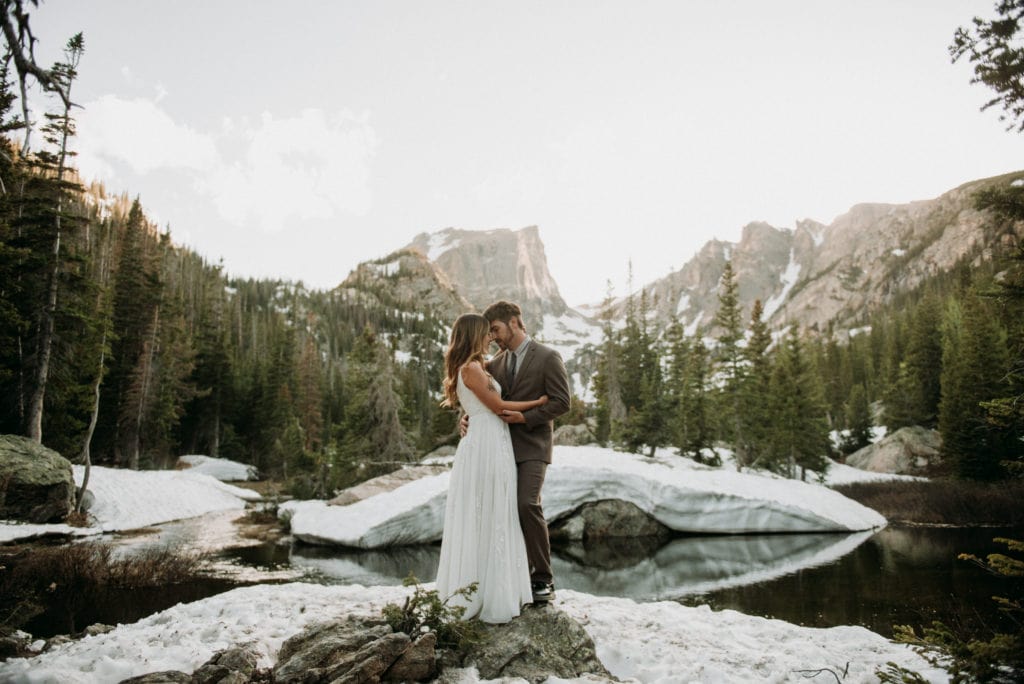 Let's Start with Your Winter Wedding Attire:
If you're wearing a dress, long sleeves are usually the way to go. It'll help keep you a little bit warmer, and also hide some goosebumps or redness from the cold! This one is definitely more of a recommendation than a requirement, but it's good to keep in mind. If you fall in love with a sleeveless dress, look into bridal sweaters or wraps! They have great options on BHLDN, Etsy, and tons of other stores.
If you're wearing a suit, heavier materials like tweed and wool suits will be the warmest and most insulating. In the next section, we'll talk about base layers which will be really easy to layer underneath a suit, or whatever you choose to wear!
Choosing Your Base Layers:
Winter weddings call for preparation, and the best place to start would be with the materials directly against your skin. Base layers will add so much warmth with not a ton of bulk, so I would definitely recommend investing in some of these, especially if you're planning on hiking, snowshoeing, or just being outside for a long time!
If you choose something that's meant to be a base layer, you can pretty much assume that it's designed for moisture wicking (which is really important for staying warm), whether it's made of natural or synthetic fibers. As far as warmth goes, you'll usually see numbers like 150, 200, and 250, or lightweight, midweight, and heavyweight to describe warmth and thickness. As a general rule of thumb, thicker fabrics will be warmer than their lighter options, within the same material.
Synthetic fabrics do an excellent job of wicking moisture, and will be more durable than merino wool. Synthetics will also be less expensive, so if you're looking for the best option for the least amount of money, go for a synthetic.
Merino wool wicks moisture decently well, and because it's a natural fiber, keeps you warm even if it does get a little bit wet. It won't hold up quite as long as a synthetic material, but if you treat it well, it'll still last a long time! The other major benefit of merino wool is that it has antimicrobial properties, meaning you can wear it for days at a time, and it won't smell. We'll talk about this for socks as well.
Silk base layers also exist, but they're going to be less warm and durable, and are best used for lighter activities.
If you're really on a budget, or don't know if you don't do a lot of winter activities and wouldn't wear your base layers again, fleece lined leggings like these can be a great option too. These are also great because you can find them in just about any skin tone, so no one would even know you're wearing them!
Brand recommendations for base layers: Smartwool, REI, Kari Traa, Icebreaker
Shoes and Socks:
As far as shoes go, you don't necessarily need to wear snow boots for winter weddings, but finding waterproof shoes will be really important. If you can, boots that go up a little higher than your ankle will help keep snow from getting in your shoes!
Socks will also have natural and synthetic options. Here, I'd just go ahead and recommend spending a little more and going for merino wool. They're going to be the warmest and the antimicrobial properties are a huge bonus here. Plus, if you get a little bit of snow in your shoes, wool will still insulate and keep you warm if it's wet.
Brands for socks: Smartwool, Darn Tough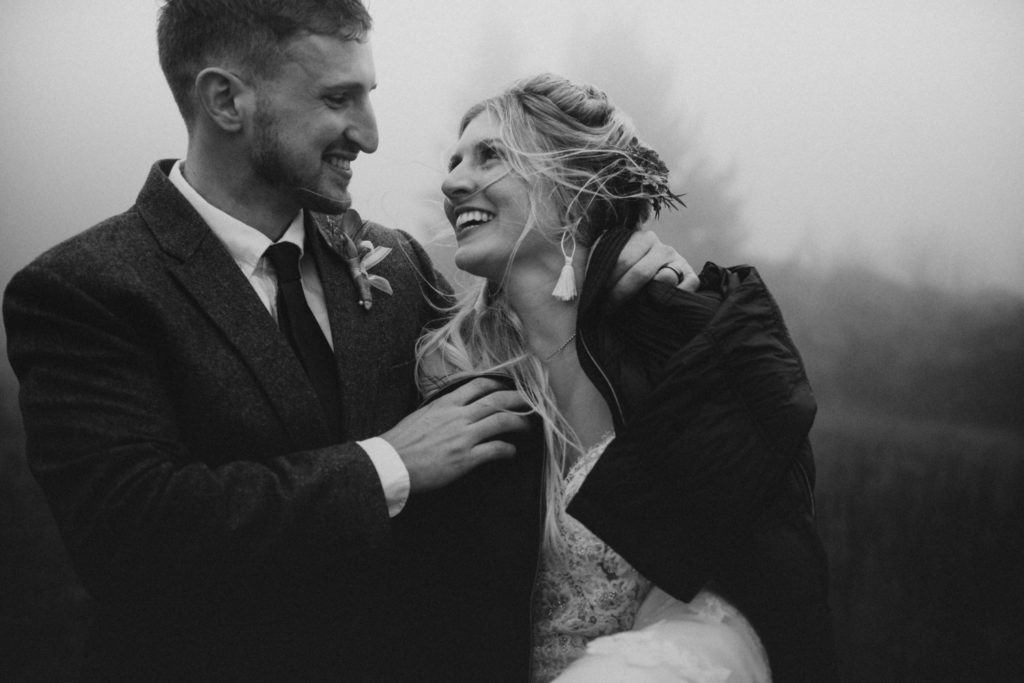 Choosing the Right Outerwear for Winter Weddings:
Choosing the right outerwear for winter weddings is also going to make a huge difference. Again, we have the options of synthetic and natural fibers for warmth, and I'll go into detail on both of those options below!
Down Insulation:
In general, down is going to have a higher warmth-to-weight ratio, is highly compressible and packable, and durable with the right care. Negatives of down would include that it's more expensive than synthetic, loses insulation power when wet, and requires proper cleaning to ensure a long lifespan.
With down, you'll see numbers that indicate the type of down and how warm it is. A fill power of 850 down is going to be really warm, where 550 won't be as warm. The higher the number, the warmer it will be, assuming it's the same weight. If there's a super thick jacket that's 650 down, it might be warmer than a less bulky 850 down.
Generally speaking, a down jacket will be treated with a Durable Water Repellency (DWR), so it won't be waterproof, but will be just fine if it's snowing. Down doesn't insulate very well when it gets wet (like if it's submerged or in heavy rains), because it causes the loft to clump together. It also generally won't have much wind resistance, so it's worth looking into an outer shell to cut the wind and water, especially if you're going to be at a higher elevation. You could also go for a 3-in-1 jacket, or a down coat with an outer layer already attached to it if you want it to be all together. I personally get really cold extremely easily, so I opted for an 850 down coat that has a waterproof, windproof layer already attached.
Synthetic Insulation:
Synthetic fill is generally less warm than down, but does continue to insulate you when it's wet. It also has a much more approachable price tag and is hypoallergenic.
When it comes to coats, I'd recommend synthetic insulation for wetter environments, as it's still going to insulate even when it gets wet.
Synthetic jackets are also usually treated with a DWR, and will still benefit from an outer shell if you're looking for more wind and waterproofing.
If down or synthetic jackets aren't really your style, you could also go for splurging in a nice wool coat if you like the look of those better. If you're not going to be outside for long stretches of time, that would do just fine. Personally, I also think down coats can be really cute (I've seen some really cute white ones with wedding dresses!) for an adventure elopement, and these will be a lot warmer.
Good brands to look at for outerwear: Patagonia, REI, Arc'teryx, Cotopaxi, Mountain Hardwear, Outdoor Research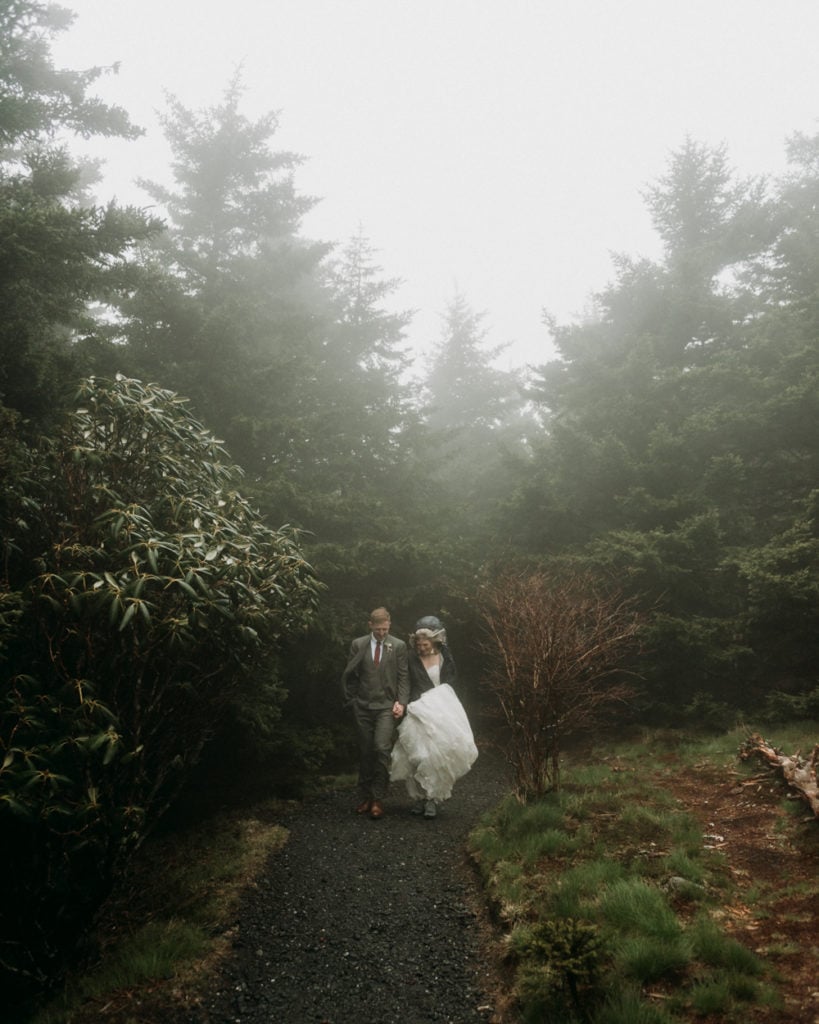 Miscellaneous Things to Keep You Warm:
Overall, layers are the name of the game here. Even if you don't want to wear all of it for every photo, it's worth it to be able to warm up a little in between.

Gloves, hats, and scarves are going to make a huge difference in how warm you are, so it's definitely worth it to get things that will keep you nice and toasty!
Sweaters with your dress, base layers, etc. will go a long way to keeping your warm.
Merino wool socks will keep your feet warm even if they get a little wet from the snow.
Make sure you choose the right outerwear for you and your environment.

Bring a warm beverage to drink and warm up your insides. This is also a great way to slow down and soak up the moment and the views! Coffee, tea, or hot cocoa, whatever your preference might me.
Hand warmers, lots and lots of hand warmers.
Blankets - to sit on, to wrap up in, and just to add an extra layer of cozy. Any of your favorite blankets would do well here, but I also think it's a fun idea to get a new one that can also be a memento from your wedding or adventure elopement! Pendleton and REI have cute ones, along with so many home goods stores.
If you're planning on hiking, traction for your feet will be really helpful with snow and/or ice. Microspikes and EXOspikes are great.
If you're going to be in the mountains, make sure you're prepared with a 4WD or AWD vehicle. In Colorado, we have traction laws that require it, or snow chains.
Best Airbnbs for Winter Weddings:
I've spent a ton of time searching for the most beautiful Airbnb's for elopements and intimate weddings, or just for an incredible place to stay when traveling. Here are some of my top picks for winter weddings. Not all properties allow events or extra guests that aren't staying on the property - make sure you always contact the host to ask permission before booking if you're planning on having people over for a big dinner, ceremony, or anything else wedding-related.
Washington A-frame in the Woods:
Option 1
Option 2
Wyoming Mountain Cabin
Modern Cabin Overlooking Lake Tahoe
Huge Cabin in Yosemite
Modern Luxurious Cabin in Yosemite
Southwest Colorado Airbnb built into a cliff
A Frame in Colorado

Also check out Dunton Hot Springs in Colorado for a unique location, and Salted Roots Alaska for more incredible locations for your intimate winter wedding! If you want to rough it a little more, rent a campervan or RV from Outdoorsy! (this link will give you $50 towards your rental!)
If you're looking for more inspiration for winter weddings and elopements, check out this Southern Colorado Wedding. I also have an entire page with blog posts all about planning your wedding or elopement - find that here.