Do you dream of a low-key, DIY, or intimate wedding that steps outside of the typical wedding venue? Maybe you want to save money, curate your wedding in a non-traditional location, or have the ease of less travel between rehearsal, ceremony, and reception locations? The best thing about Airbnb weddings is that everything is so flexible—you can do it any way you want!
In this post, I'm sharing all about how to plan an Airbnb wedding or elopement PLUS a few secrets I've learned from photographing dozens of Airbnb weddings!
Let's dive in and talk about all things Airbnb weddings:
What you should confirm with the host before you book
Things to double-check so you and your guests will have a great experience
What to coordinate for your Airbnb wedding: vendors, amenities, decor, and more!
I'm also adding in a few amazing Airbnb venue options you'll want to check out!
---
Hi, I'm Meagan!
---
Colorado wedding and elopement photographer, specializing in adventure based weddings focused on the experience – because you deserve a day focused on you and your love, because that's really what this is all about isn't it?
Imagine this – saying your vows in your favorite place or spending the day exploring a place you've always dreamed of visiting and promising your love to each other while experiencing a new place for the first time together. Imagine spending one of the most incredible and unforgettable days of your life doing the things you absolutely love the most.
The way you get married matters – and I believe that every couple deserves to intentionally choose a wedding day that represents who they are.
---
---
Can I have my wedding or elopement at an Airbnb?
Many couples at the beginning stages of wedding planning wonder if they can rent an Airbnb for a wedding. The short answer is, absolutely yes! But there are some things you'll need to consider.
Choosing an Airbnb or VRBO venue for your wedding or elopement can provide a generally less expensive, more intimate wedding location. Lots of my photography clients choose to have their weddings and receptions at rental properties! The Airbnb can be your home base for a nearby ceremony, used as a place to hang out and get ready for the day, or used for a mini reception.
There are so many reasons why you might choose an Airbnb venue for your wedding in lieu of a traditional venue. It can be an amazing option, so let's talk about what you need to look out for and what questions to ask before you book!
5 Questions to Ask Before You Book an Airbnb Wedding Venue
From intimate weddings and elopements to big backyard bashes, Airbnb venues offer so many unique options that streamline the experience for you and your guests.
A great thing about Airbnb weddings is you can cut down on travel time between different locations, and coordinate everything under one roof for a smooth and streamlined experience. Invite family and friends to stay together or in nearby rental locations. The options are limitless!
But as you're searching for the perfect rental property that has the location, amenities, and decor you love, make sure to keep the following things in mind.
1. Does the Airbnb allow weddings?
Before you book an Airbnb for your wedding or elopement, be sure to check the host's policies. Not all Airbnbs allow events! As a protective measure, consider getting the host's permission in writing outside of Airbnb or VRBO outlining all of the details. You may want your host to sign a contract stating that they cannot cancel your event within a certain timeframe. It's always best to cover all the bases for that priceless peace of mind.
*Disclaimer: I cannot offer legal advice, so please seek the advice of a legal professional when drafting your contract.
2. What's the parking situation?
If you have guests coming in from the airport or driving in separate cars, check that there will be sufficient on-site parking. Ask the host where overflow parking should be held to avoid damaging any land or intruding on a neighbor's property.
3. How many guests are permitted?
Confirm your guest list with the host and get it in writing that the number of guests are permitted on the property at any given time.
4. Are there noise ordinances in the neighborhood? What about neighbors?
Check with the host about any noise ordinances surrounding the property. For added protection, personally check city and county regulations for noise ordinances or other event restrictions.
Whether or not there is an official noise ordinance, you of course will want to be courteous of neighbors. Ask the host about any nearby neighbors and start off on the right foot by getting their blessing. Overcommunication is always better than under-communicating in this instance!
5. Is professional photography and videography allowed?
Some properties don't allow commercial photo and video shoots, so to confirm that there won't be any issues with photography on the premises. Double-check that the host is okay with their property being photographed and images being shared online or publicly.
It's a great idea to get the host's policies and permissions in writing, as well as their answers to your specific questions, and keep this for your records. You never know what might happen, so having all of this in writing will protect you!
Disclaimer: I cannot offer legal advice, so please seek the advice of a legal professional when drafting contracts.
Tips for a Perfect Airbnb Wedding
Here are a few things to keep in mind when choosing the perfect Airbnb venue for your wedding.
DECOR
Cut down on the cost of decorations by choosing an Airbnb that is already styled to your taste versus renting a totally blank canvas that might cost more to decorate. If your style is minimal, even better!
Consider renting or borrowing (instead of buying) decorations like tableware, centerpieces, and styled decor for photoshoots.
Work with a wedding coordinator to handle the styling and vendor coordination for a hands-off and stress-free day.
Get creative! You can use outdoor space for one aspect, the dining room for an intimate dinner, or the deck for the reception. It's like you have multiple venues in one!
SIZE of the PROPERTY
Just the two of you eloping on a romantic trip? The sky's the limit.
Want friends and family or your wedding party to stay nearby or in the same house? A large home might be perfect. Or, book a group of properties near one another so travel will be light.
Can you incorporate the outdoor space in your event? What's allowed? Where are the property lines?
Is there ample space for all guests to move about and hang out? What about inclement weather? Will there be a party tent, outbuildings, or sufficient covered spaces?
FACILITIES/AMENITIES
Is the kitchen equipped with the appliances or cookware that's needed for dinner and drinks? Or will the caterers or bartenders bring everything?
Is there sufficient dining space, surfaces, and tableware, or will that need to be brought in?
Are there sufficient bathrooms? Consider your guest count. For a larger outdoor wedding, you may consider renting a few portable bathrooms. You could provide toiletry bags and use decorations to give it a more comfortable, styled vibe.
LOCAL VENDORS
Food & Drink: Great options for Airbnb weddings are booking a food truck, a caterer, private chef, bartender, mobile bar, bar cart, and more.
Check with your Airbnb host for recommendations. Especially if the host is seasoned with hosting weddings on their property, they should be able to recommend trusted vendors. This is also great because they've likely worked out the kinks already.
Consider hiring a wedding coordinator if DIY is not your thing and you want someone to help the day run smoothly!
Photography: A photographer who is experienced in wedding photography and travel photography is a great choice. I love traveling with my clients on-location! And I help you with location research and offer guidance to help you have a great experience.
Pros and Cons of Having an Airbnb Wedding
It's a little bit of work upfront: establishing contracts, checking for event restrictions, and choosing your wedding vendors a la carte. But having an Airbnb wedding has plenty of pros!
Especially for intimate weddings, Airbnbs that allow weddings can be a lovely choice for you. And as your photographer, I'm here to help every step of the way.
Pros of having an Airbnb Wedding
Cost. Having an Airbnb wedding can be done at a lower cost than traditional wedding venues.
Non-traditional and unique locations. When you're not limited to traditional venues, you have a world of options when it comes to location, type of property, and scenery. This can be great if you're looking at getting married in a specific location but there aren't wedding venues available to book in that area.
Great multi-use options for less travel. Having a place to get ready, hang out, and have your wedding reception and sleeping accommodations all in one place can be a great stress reliever. You might choose to stay overnight with your wedding party the night before your wedding and extend your stay for a mini-moon with your love.
Freedom to choose your own vendors! At an Airbnb wedding venue, you're not limited to the vendors that come with a traditional venue. You have complete freedom to hand-pick your vendors, including your wedding coordinator if you choose to have one. As your wedding photographer, I love to help you with vendor coordination and location research. This is included in all of my Wedding & Elopement packages.
Cons of having an Airbnb Wedding
Event restrictions. Not all Airbnbs permit events, so there's a chance your dream Airbnb doesn't allow people to host weddings on the property. But not to worry! There are still plenty of great options out there.
Logistics! The logistics of finding and coordinating vendors can be stressful for some couples, so I always offer vendor research and recommendations with all of my Wedding & Elopement Packages! I'd love to help you find fantastic vendors who will travel to your location and provide amazing service on your day.
Additional rental costs. Although we listed cost as a "pro" as well, rental costs can add up too. Depending on the Airbnb's amenities and the size of your guest list, you may need to rent things like chairs, tableware, cookware, or additional portable restrooms to accommodate guests.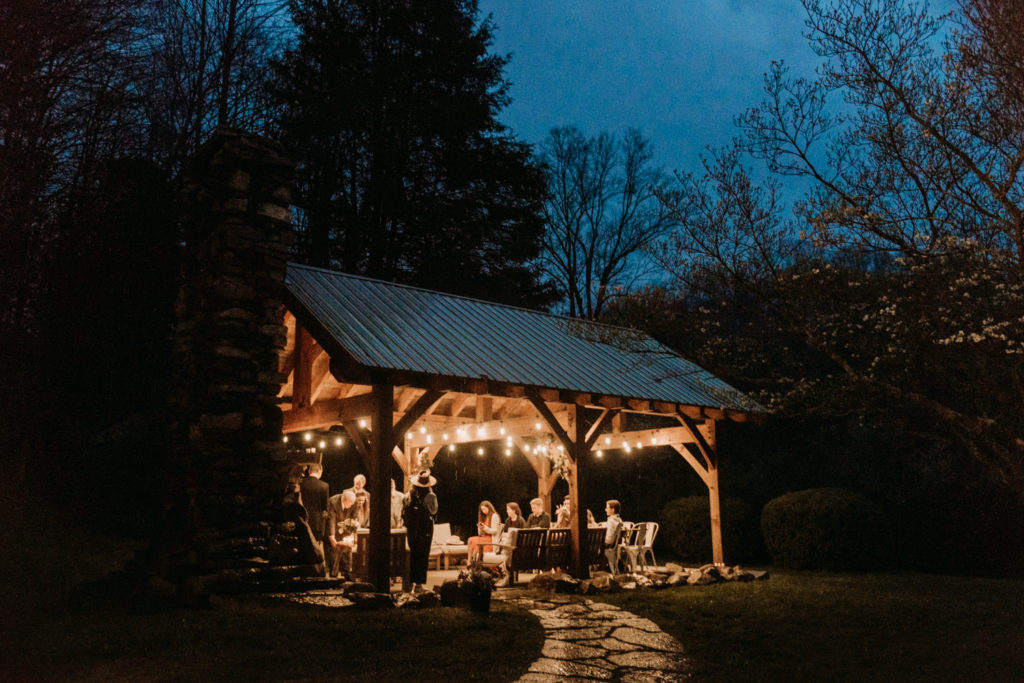 Amazing Airbnb Wedding Venues
Airbnb and VRBO offer all kinds of properties for your wedding location — from quaint A-frames in the forest to countryside mansions with huge outdoor spaces.
Here are some gorgeous Airbnbs in the western U.S. to give you some inspiration for your Airbnb wedding or elopement!
Airbnb Wedding in Oregon:
Airbnb Wedding in Arizona:
Airbnb Wedding in California:
Chateau Mountain Vineyard Home
Airbnb Wedding in Washington:
Conclusion: Finding Your Airbnb Wedding or Elopement Venue
I hope this helped you decide whether having an Airbnb wedding or elopement is right for you!
Part of the fun of being a wedding and elopement photographer is helping you find an amazing location for your wedding or elopement.
For all couples who work with me, I provide free location research and can help you find an Airbnb or VRBO venue that suits your preferences! This is a premium service that is super helpful to my clients, and I love being able to give you great advice for your elopement!
Can't wait to meet you!