Backyard wedding season is here! Backyard elopements have become so popular during the pandemic, but honestly, I hope backyard weddings continue on into the future because of how lovely they are.
Spring is a great time to plan and have your backyard wedding or elopement. Even as wedding venues start to open back up, many people are still opting to do a backyard wedding or elopement for so many reasons.
Why Have a Backyard Wedding?
Some reasons that couples opt for a backyard wedding:
Non-traditional, alternative wedding idea
Endless opportunities for DIY
Practical, low-budget option
Convenience
Invite your pets (and your friends' pets)
You make the rules!
For the environmentally conscious, a backyard wedding can be low waste and sustainable
And more!
Backyard Wedding Venues
There are so many reasons to have a small wedding or elopement. And a backyard wedding can be a truly great option for couples who want to stay close to home, have an intimate gathering, stay within their budget, or personalize everything to their tastes.
Backyard weddings give you ample opportunity to design your wedding from (literally) the ground up. If you love the idea of a backyard wedding but you don't have the space in your own backyard, consider a public park, beach, or a family member's property.
In the case of backyard weddings and elopements, less can be more. You make the rules, so you have complete creative freedom to curate your backyard wedding or elopement exactly the way you want it!
This can be super exciting for couples who know they want a smaller, more intimate wedding, and for those with a creative vision. But not all couples want the pressure to curate everything themselves. Some people want to get married with zero pressure and no stress!
I work with couples who love adventure, the outdoors, and stepping away from the norm, so backyard weddings are something they often consider. Here are some ideas to spark your creativity and get you thinking about the possibilities!
Backyard Wedding Ideas: Creativity & Curation
A backyard wedding offers a fresh canvas for you to get creative! Given the outdoorsy nature of these celebrations, many of my clients incorporate natural elements into their wedding decor. This can be anything from sourcing branches or flowers from your own property to cozying up around the fire pit for marshmallow roasting.
Whether your tastes are more rustic or more elegant, there's an opportunity for you to style your backyard wedding or elopement however you please.
Alright, are you getting excited to start planning your decor and designing your backyard wedding? I'm inspired just thinking about it!
Before you start to bring your ideas to life, here are a few things I would recommend taking into account: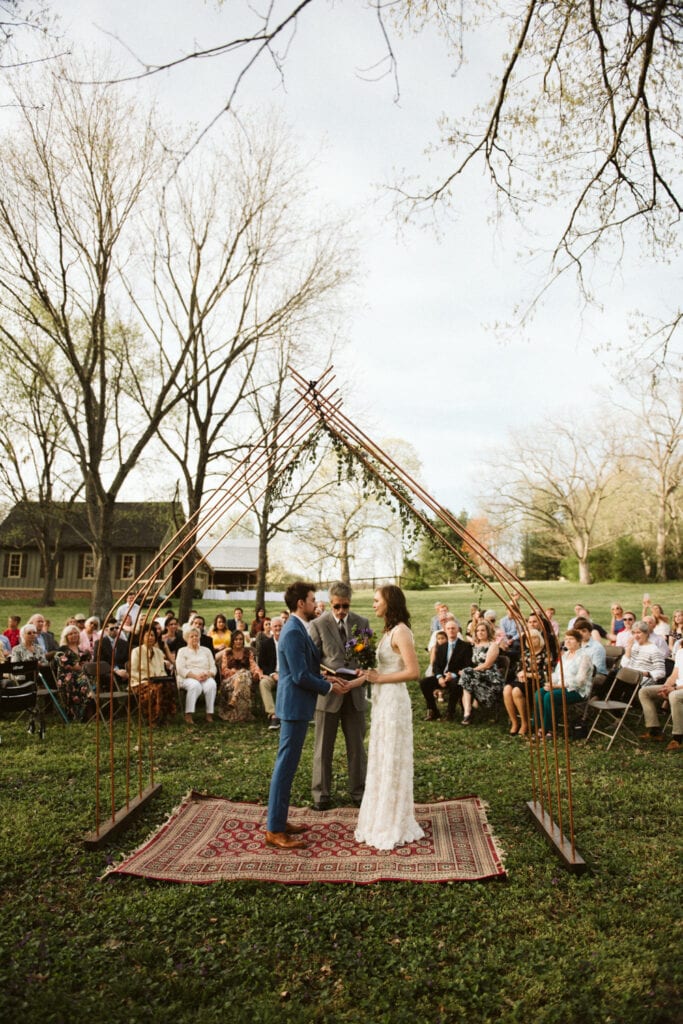 Create different spaces or "rooms."
A fun way to make your backyard wedding super festive is to carve out different spaces for guests to hang out. Maybe you'll decide to use lighting to create paths that guide guests from one space or "room" to another. Maybe you use handmade or illuminated signage to delineate sections for different activities, like a beverage station and a lounge area for guests to relax.
Curate vendors.
Some couples love having the flexibility to curate their cast of vendors. I personally love this idea because you're not limited to what a venue offers you.
Some ideas: bring in a local food truck that serves hand-held meals or snacks that fit your theme, order catering from your favorite restaurant, invite your local coffee shop that has a mobile coffee cart. Supporting your favorite local businesses and inviting them to be a part of your day can be super fun and memorable.
I know… Not everyone loves the idea of curating vendors. If you don't love the idea of finding your vendors from scratch, I'm always here to help and give you vendor recommendations, no matter where you're getting married.
Decor.
Ahhh, decor. I love photographing the small details that make your wedding or elopement unique to you. From the most simplistic setting to a more elaborately created space, decor that reflects the landscape and surroundings always looks gorgeous.
Whether it's an arbor with florals from your own garden, lantern lights hanging in your favorite tree, or centerpieces with vases of herbs, natural elements make for a setting you're sure to cherish.
Timing.
A huge plus to having a backyard wedding is the flexibility to have your ceremony and reception any time you choose. Work around your schedule and set your own timeline for your day.
One thing I'd recommend considering is shade and lighting. Will there be shade for guests during sunny hours at an afternoon summer wedding? Will you need to incorporate lighting for a late afternoon fall wedding when it gets dark at 5 p.m.?
Is your imagination running wild yet?...
Small Backyard Wedding Reception Styles
Whether you're having a simple or more elaborate backyard wedding, it's fun to think about the possibilities for a small backyard wedding reception.
A backyard wedding and reception is an amazing viable option for those with DIY tendencies, low budgets, or who simply want a more intimate wedding or elopement. Here are a few backyard wedding reception styles to think about.
Casual Backyard Wedding
A casual backyard wedding is perfect for the low-key couple who wants to step away from tradition and have a chill gathering with friends and family.
For casual backyard weddings, you can opt out of a dress code or keep it simple with sundresses for women and "just not jean shorts" for men. You can wear clothing that suits you and your partner best. Perhaps instead of a traditional embellished gown, you opt for a flowy dress in a fun pattern or color.
Maybe you opt for a BBQ dinner or tiki torches to light pathways to different areas of the celebration.
The sky's the limit!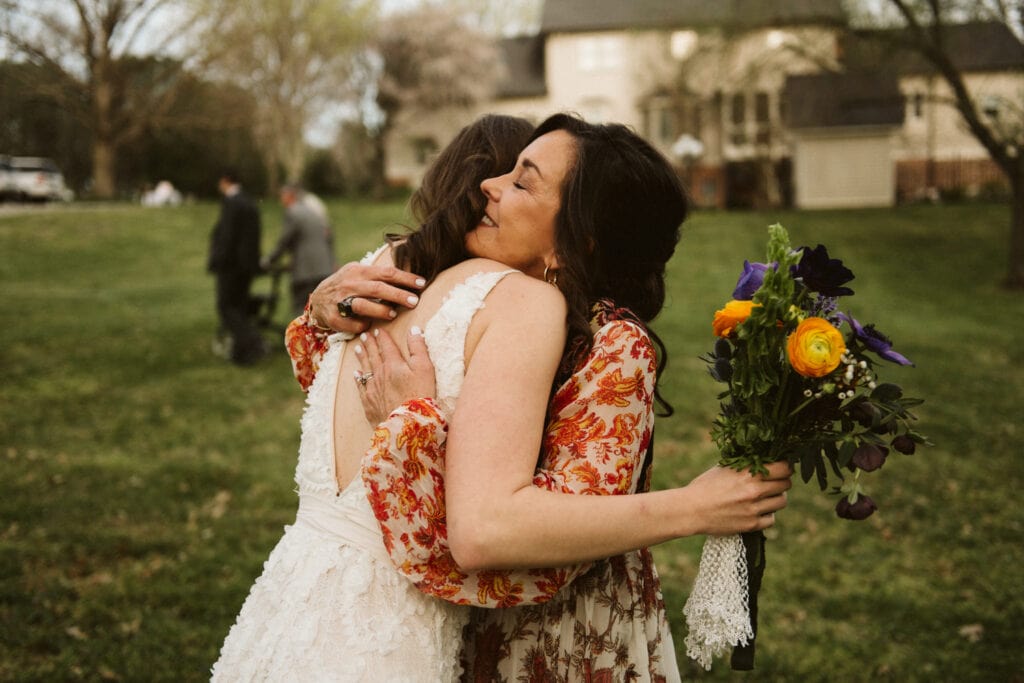 Seasonal Backyard Wedding
No matter what season you love most, there are limitless possibilities.
Check out this intimate spring backyard wedding that I had the pleasure of photographing. The couple, Chloe and Ryan, incorporated so many handmade details into their springtime wedding to make it extra special. The handmade arch, ambiance, and details like the bouquet hand-picked by the bride herself were curated perfectly to their tastes.
For fall seasonal backyard weddings, a campfire or bonfire theme can be cozy for those early dark evenings. Consider using a fire pit as an alternative to a traditional campfire. Idea: Toss bundles of herbs into the fire for an aromatic infusion—the herbal scents will permeate the air when they're burned. Other fall seasonal wedding ideas include sparklers, a hot drink station, and other seasonal favorites like s'mores and marshmallow toasting.
Low-Budget Backyard Wedding
Keeping things minimal, simple, and straightforward can get you far with a low-budget backyard wedding.
And let's dispel the myth that backyard weddings are tacky. They absolutely aren't! I've personally seen some stunning backyard weddings that rival traditional venues. Backyard weddings are perfect for the couple who wants to make sure their vision comes to life exactly as they imagined.
Elegant Backyard Wedding
If an elegant backyard wedding is more your style, great! There are countless ways to incorporate decor for an elevated vibe to truly create an outdoor experience for you and your guests — and the photos to look back on forever.
Many couples opt for beautiful lighting if your reception will last through the evening. Consider hanging lantern lights from tree branches or barn beams or using fabric or lace draping.
Intimate Backyard Wedding
Backyard weddings are inherently intimate—the smaller guest list, the curated ambiance, the extra time you get to spend with your love and your guests… Intimate backyard weddings are some of the best!
An intimate backyard wedding is an amazing opportunity to keep stress and costs low, add handmade touches, and revel in the convenience of staying close to home. Plus, an intimate wedding allows you to enjoy more time with your love and with your guests, versus a large wedding where you might only get a couple minutes with each person.
Rustic Backyard Wedding
Use the natural landscape as inspiration! You can pull in natural elements from surrounding areas to blend perfectly into a rustic backyard wedding.
Wood, branches, flower bouquets from the garden— there are abundant beautiful options to bring the natural landscape into your world. Add branches, herbs, flowers, or pine cones into your centerpieces, boutonniere, and hairpiece, or hand-pick your bouquet at the local farmer's market for a down-to-earth feel.
Of course, your backyard wedding can be a combination of all of these types! No matter what style you prefer, I'm here to help capture the details of your wedding or elopement and preserve the memories of your unique and special day.
I've written a few other posts to give you my best tips on planning the perfect wedding to suit your unique style:
Planning the Perfect Airbnb Wedding
25 Outdoor Adventure Elopement Ideas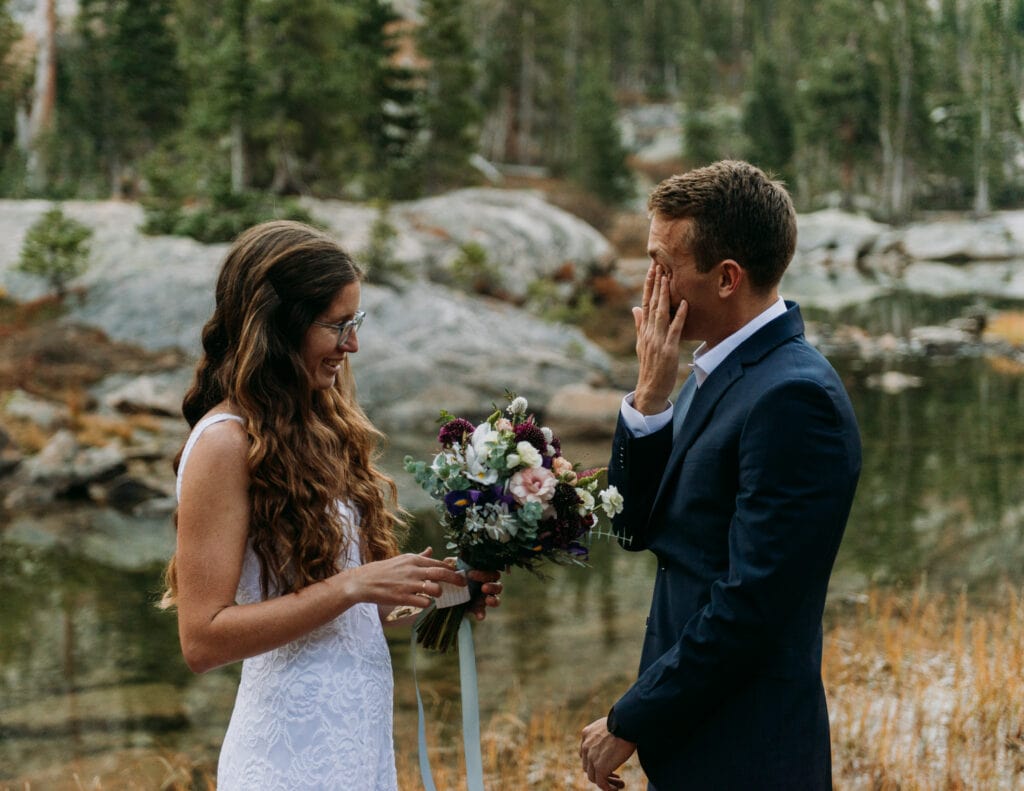 Working with a Photographer for a Backyard Wedding
When it comes to capturing the memories of your day, only you and your partner can decide whether you want to work with a professional photographer.
After everything is said and done, all that's really left of your wedding day will be the photos.
Working with a professional photographer is much less stressful than, say, asking Uncle Bob to take the photos 😉 When you put such an important task in the hands of a professional, the moments will be preserved in a way that's timeless and beautiful.
Plus, a photographer will take the right shots that are meant to be framed or displayed in an album. And you won't have to spend all day worrying about whether Uncle Bob is capturing the right moments!
In 10, 20, or 50 years, investing in professional photography won't be something you'll regret. You'll be so happy you chose to preserve your legacy in an artistic and beautiful way.
Backyard Wedding & Elopement Photographer
To capture all of your beautiful wedding day memories, I'm here for all of your wedding and elopement photography needs. I'd be honored to talk with you about your plans and desires for your wedding day.
If you're adventurous and unconventional, you're my kind of couple! I'm here to talk all things backyard weddings, so feel free to reach out! Also check out my elopement planning tips for more information.