If you're newly engaged and planning an elopement, then you're already doing this wedding thing a bit differently than the norm 🙂 You're not worried about disrupting the status quo. And the perfect way to do this is to ditch the mainstream wasteful weddings for an earth-friendly, sustainable elopement.
In honor of Earth Day, let's talk sustainability!
The sad truth is, weddings can generate so much trash. According to The Green Bride Guide: How to Create an Earth-friendly Wedding on Any Budget by Kate L. Harrison, the average wedding can produce 400 pounds of trash! This translates to about a billion pounds of trash per year, just on single-day events.
It's amazing that more couples are opting to have environmentally friendly elopements to reduce this statistic.
What is a Sustainable Elopement?
A sustainable elopement is an amazing way to cut down on waste, preserve ecosystems, respect nature, and still have the time of your life!
Sustainable elopements are planned and celebrated with a consciousness of the environment. Looking for ways to have the elopement you're dreaming of with less waste is the perfect way to do this.
Before you get overwhelmed, don't worry! You won't need to overhaul your plans and make tons of changes. Making a few small changes in the sustainable direction will make an impact.
You definitely don't have to do every single item in this post. Just pick a few things that speak to you and sound doable.
Some tenets of sustainable elopements:
Eliminate single-use items to reduce trash and waste
Use reusable and recyclable materials whenever possible
Borrow and use what you have before buying new
Choose clothing, decor, flowers, and food from responsible sources
Work with local, eco-conscious vendors
Plan ahead to dispose of trash and recycling responsibly
Always clean up every bit of trash and Leave No Trace
Now let's jump into different areas of how to create your sustainable small wedding or elopement!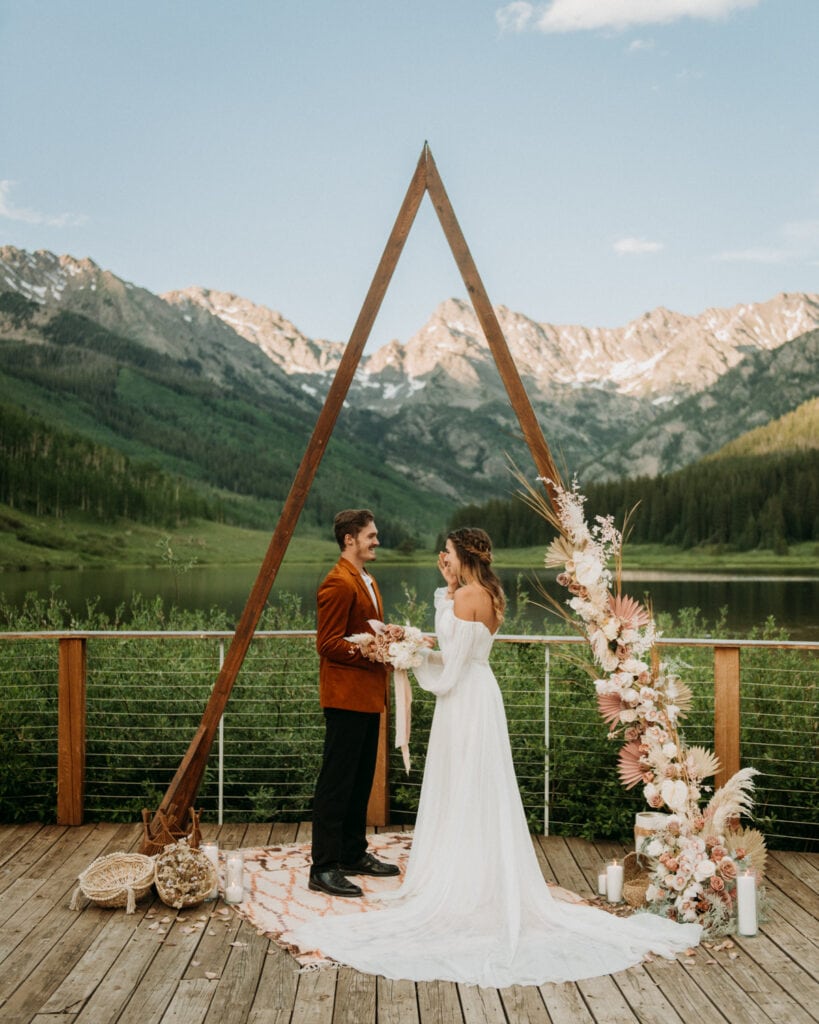 Sustainable wedding dresses
Not into the idea of buying a dress that you'll only wear once? It can be hard for the budget-conscious, as well as wasteful and expensive to "preserve" a wedding gown that will never be worn again.
Many eco-minded brides are choosing not to buy an expensive gown that they'll only wear once. Instead, there are options that are easier on the budget and come in a variety of styles, colors, and materials.
Gone are the days where everything needs to be brand new. Especially for those who choose the unconventional path (like you).
You can also choose to rent your dress, borrow a dress, or buy second-hand. You can find some charming hidden gems when it comes to bridal dress alternatives, especially if you like to shop vintage.
I love adventure elopement dresses that you can wear more than once! Dreaming of a white bridal gown? You can source it from a responsible shop, put it up for resale (so another lovely bride can enjoy it later!), or take it to a dress dyer like Leanne Marshall to transform it into another dress that you can wear again and again.
Sustainable jewelry and ethical stones
A huge aspect of weddings and elopements is the symbol of forever: the engagement ring and wedding rings!
It's now easier than ever to find fair-trade, responsibly sourced jewelry.
Reading just a small amount of information on conflict diamonds will show you the importance of buying your wedding diamonds and stones from ethical, traceable sources.
In addition to checking out ethical jewelry brands, you might also look into options like heirloom diamonds, synthetic diamonds, or alternatives like wood rings that are made from natural materials with a low carbon footprint.
Sustainable Elopement Resources: Flowers and Bouquets
The sad truth is that so many wedding flowers are wasted. But there are things you can do to reuse and repurpose them.
In addition, there are a few other things you can keep in mind when sourcing your elopement bouquet or flower decor!
Choose native plants
The first step to planning your bouquet and flower arrangements (if you choose to have them) is to choose native plants over exotics.
Not only are exotic flowers often grown with questionable practices, and shipped long distances, but they can also harm the local environment.
This is especially important if you're having an outdoor elopement or a national park elopement! National parks have rules and regulations so visitors don't bring harmful, non-native species into the parks. Be sure to check out your elopement location's list of rules before your big day.
If you're looking into having a sustainable elopement (you're amazing, by the way), you already want to be as respectful as possible to your elopement location. Invasive plants and foreign species can spread seeds that can harm ecosystems. Therefore, it's critical to choose local, native plants.
Now that you're looking into native plants and flowers, where do you find them?
Local flower growers
The best place to get ethical wedding flowers is at your local farmer's market or flower market. Or, pick fresh flowers from your property for a beautiful, personal touch.
Many flowers grown for commercial sales are treated with chemicals and preservatives to make them stay fresh longer. And many times, they're imported and grown in unsustainable conditions.
If you're working with a florist, ask them to tell you about their flowers. Are the flowers sustainably grown and fair-trade? Are they treated with harmful chemicals, grown under wasteful conditions, or shipped or imported from faraway destinations? Don't hesitate to ask for this information so you can make an informed decision for your sustainable elopement!
Dried flower bouquets
Not set on fresh flowers? Consider dried flower bouquets.
Here are some amazing benefits to dried flowers:
You can use dried flowers year-round, no matter the season.
Dried flowers are low maintenance and travel well.
No need to water or refrigerate, which saves energy.
Dried flowers bring the charm of your favorite flower—without the downsides that come with fresh flower production in off-seasons.
You might want to save your bouquet after your wedding by drying the flowers anyway—dried flowers give you a head start. 🙂
When it comes to getting dried flowers, you can buy dried flowers or dry them yourself.
Cut and dry flowers from your garden or a friend or family member's garden. You can also ask local growers or markets to dry a selection of flowers for you. This is an amazing way to support local agriculture and local farms while being sustainable and reducing your carbon footprint.
If specific flowers aren't that important to you, another option is to use reusable fabric alternatives. Just stay away from big-box store plastic flowers, which are unsustainable, non-recyclable, and often end up in the landfill.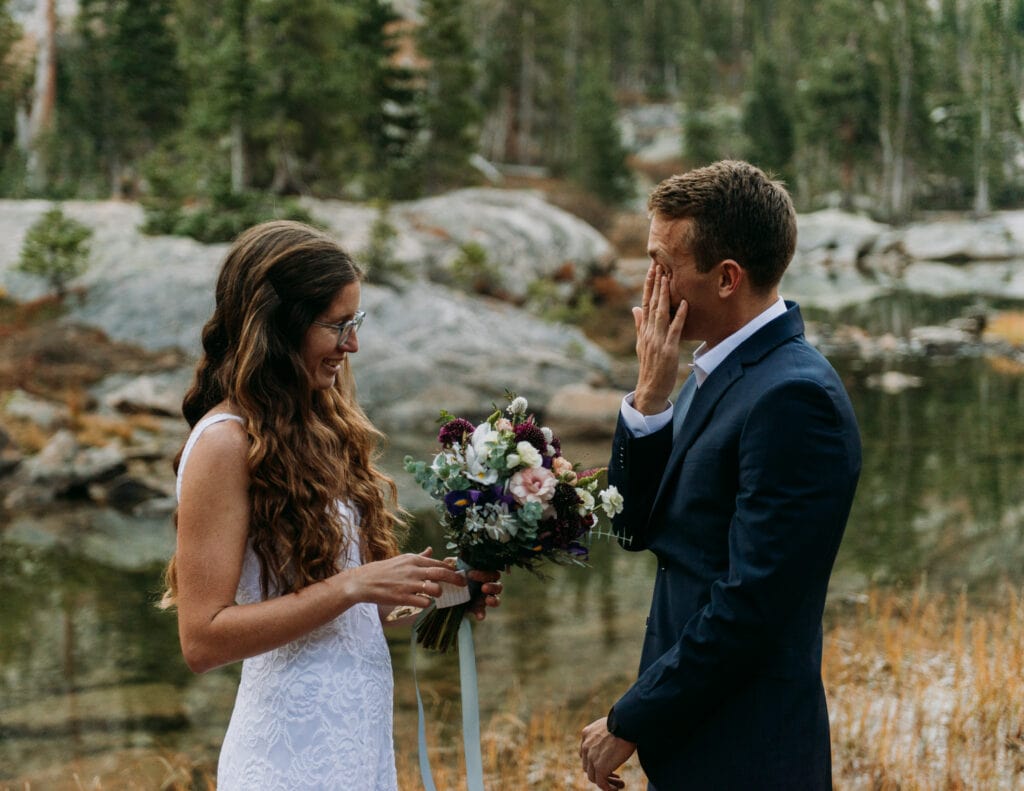 Sustainable Elopement Resources: Lighting and Decor
When it comes to lighting and decor, you don't have to spend a fortune buying things you'll only use once. You have tons of options here! You can use what you have, borrow from others, or rent versus buying something brand new.
Use what you have
In a perfect world, your sustainable wedding would be zero-waste using renewable and reusable materials. The good news is, you can get close!
First, consider what you already have. Do you already have a stash of string lights? A collection of candles? Can you borrow or get these items at a second-hand shop versus buying brand new?
Ditch one-time use decor
The norm that we need to buy everything shiny and new is coming to an end. Consider these reusable and renewable options in place of one-time-use items:
Try renewable energy options like solar lights, solar fairy lights, or string lights that you (or someone else) can reuse again and again!
If sunshine blesses you on your elopement day, use as much natural light as possible versus using electricity. Pull open the curtains before you flip on the light switch.
Ditch the single-use items. For example, opt for real glassware that you can wash and reuse versus single-use plastic cups.
Opt for recyclable and reusable whenever possible. Can't find something reusable that your heart is set on? Choose a recyclable version or something that you can pass to someone else.
Rent vs. Buy
First, use what you have. Second best, rent the things you need for the day versus buying new.
If you need dishware, decor, tables and chairs, or even your bridal gown, renting can be a sustainable alternative.
If you're set on certain decor, like candles for example, source them from a local ethical shop versus wholesale at Walmart. It will be a bit more expensive, but you'll be supporting a local business, getting a higher quality product, and feeling good about your environmental impact.
Sustainable Elopement: Food and Catering
Choose conscious catering
Support local businesses, farmers, and the community while also eating delicious and healthier foods grown close to home.
The best way to go eco-conscious for the food and drink at your elopement is to partner with local businesses that share your ethics.
Whether you're working with a caterer or you're ordering from one restaurant, opt for vendors that source locally and seasonally when possible to reduce your carbon footprint. Think about all the miles your food has to travel. The closer, the better.
If you're not sure how a caterer or restaurant sources their food, just ask! More and more restaurants and food providers are prioritizing local and seasonal food. They'll be happy to tell you more about their practices.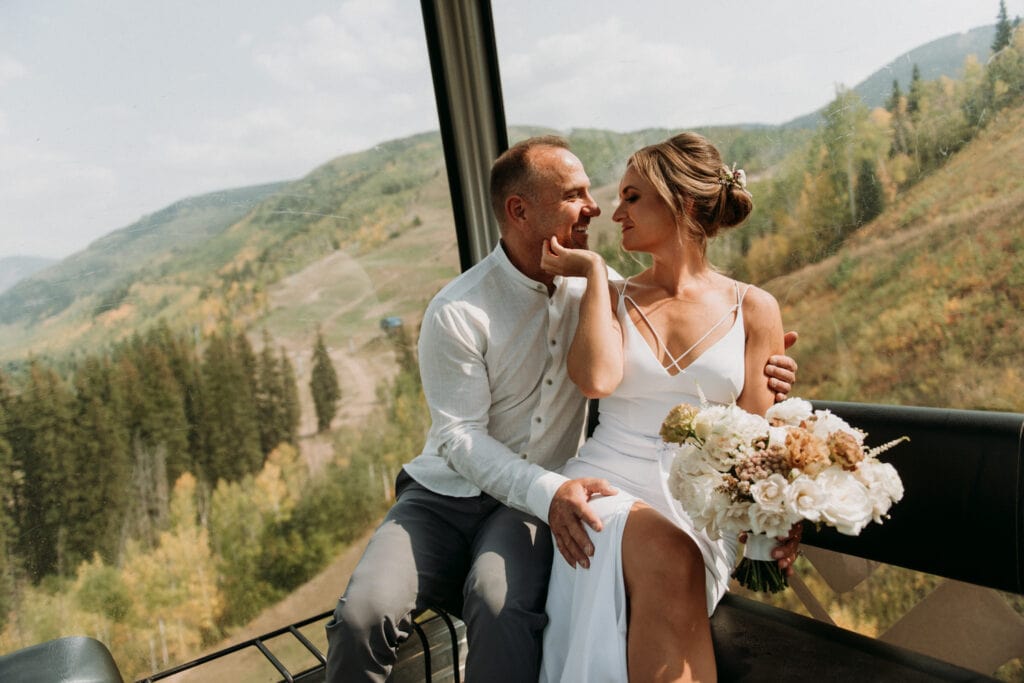 Sustainably minded photography
Some of you are eco-conscious not just on Earth Day, but it's a part of your lifestyle. When you work with a sustainably-minded photographer, they can help make sure your visions for a sustainable elopement are highlighted!
What makes a sustainable elopement planner or photographer?
First, a sustainably minded elopement photographer can help you plan your elopement location, making sure that you know the process of getting permits and that your day goes smoothly!
Second, a photographer who shares your values for sustainability can help you connect with aligned vendors, and make sure your impact on the environment is as low as possible.
If you'd like help planning your sustainable elopement with a photographer who shares your outlook, I'm here to help!