As a Colorado elopement photographer, there is nothing that inspires me more than the in-love couple with a fun-loving, adventurous spirit. The couple who longs to start the next chapter of their lives together boldly, and on their own terms, eloping in an intimate and authentic setting. If this sounds like you, you might be researching how to elope at Rocky Mountain National Park!
Rocky Mountain National Park in northern Colorado is one of my absolute favorite parks! I might be somewhat biased because I eloped there myself, but Rocky Mountain is filled with breathtaking scenery, wildlife, and so many opportunities for adventure.
In July 2019, my husband and I got married with just our family and closest friends in Rocky Mountain National Park and it was the best experience. So, congrats on considering Rocky as your elopement location!
There are so many location options when it comes to your elopement, so if you're feeling overwhelmed and you're not sure where to start, that's okay!
To help you figure out if this is the perfect spot for your elopement, this guide will walk you through everything you need to know about eloping in Rocky Mountain National Park!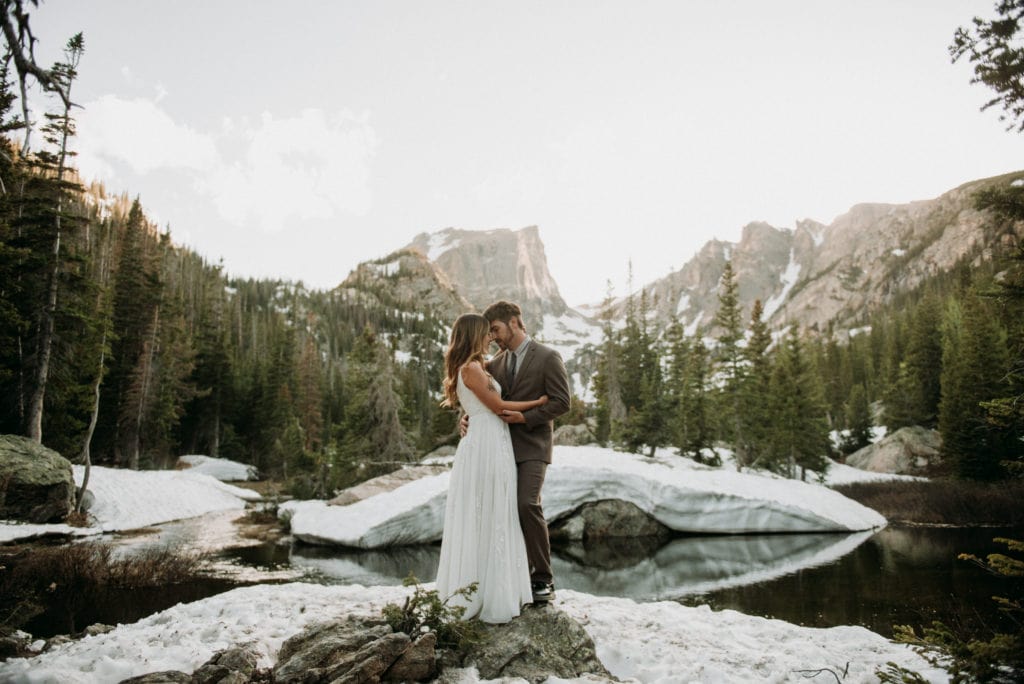 Picking Your Designated Elopement Ceremony Location In Rocky Mountain
Rocky Mountain National Park has 12 designated locations where you can book your ceremony. The ceremony sites range in scenery, wildlife, accessibility, location, and guest capacity. These are all details you'll want to consider before picking your ideal ceremony site. While these designated locations are all truly amazing options, you might prefer some of these locations over others!
One of the amazing benefits of getting married at Rocky Mountain National Park is that although you're required to have your ceremony at one of the 12 designated park locations, you can take your photos anywhere in the park, for as long as you need. In fact, the more adventurous you feel, the better!
Imagine trading your heels for hiking boots, taking a spontaneous swim in the lake or climbing up to a snowy mountaintop after your ceremony. There's honestly nothing that makes me happier than seeing couples choosing a wedding day that's honest and so true to them. The possibilities are endless, and the freedom to be yourself and be present in the moment is extraordinary. Every crazy idea you have, and any fun ways you want to express yourself, I want to make that happen for you on your best day ever.
If you're up for a little bit of an adventure, and you're looking for a location that is quintessentially Colorado - a Rocky Mountain National Park elopement might be perfect for you.
You can expand your options by looking at nearby Estes Park, too! Estes Park is the town at the base of Rocky Mountain National Park on its east side, and it has a lot to offer. Plus, if you or any of your guests choose to stay in Estes Park, Rocky Mountain National Park is just minutes away! Read more below for more information on Estes Park and the entrances to Rocky Mountain National Park.
Let's take a look at the ceremony sites in Rocky Mountain National Park!
The Best Sites For Your Rocky Mountain National Park Elopement Ceremony
Upper Beaver Meadows
Ceremony size: 30
Number of vehicles: 10
This one is my personal favorite and is the site where my husband and I chose to have our ceremony. The meadow is the perfect place to exchange your vows and take breathtaking photos, even see some wild elk! The view beyond the meadow is complete with the evergreens and the mountains. Easily accessible, wheelchair accessible, restrooms available.
3M Curve
Ceremony size: 15
Number of vehicles: 3
3M Curve is another one of my favorite options - easily accessible with a mix of beautiful views looking out over Long's Peak, meadows and moraines. This one is probably the most popular wedding spot in all of Rocky Mountain National Park.
You'll find the exact ceremony site when you follow the trail behind the big rocks. This area is rocky and uneven, so I wouldn't recommend wearing high heels for your wedding here. It also might not be the best spot for accessibility or for your older guests.
Alluvial Fan Bridge
Ceremony size: 20
Number of vehicles: 5
This location is extremely popular and is really stunning. For an intimate ceremony, it may not be the best choice because the water is loud, so your guests may not be able to hear you. The area is currently also under some construction, so there's some orange fencing up, which isn't the most aesthetically pleasing sight. I'd recommend visiting this spot for photos, but not as a ceremony site.
Bear Lake Nature Trail
Ceremony size: 20 (no weekend ceremonies)
Number of vehicles: 5
Bear Lake Nature Trail is one of the most popular locations in the park for both weddings, and visitors. Sunrise ceremonies are beautiful here, but keep in mind that it is always busy. The view is surreal. It overlooks a large lake with a skyline filled with mountains and aspen trees. Unfortunately, weekend weddings cannot be booked at this location, but there is nothing wrong with a weekday wedding (I actually encourage it)!
In the winter, Bear Lake freezes over (make sure to check with a park ranger to make sure it's safe!) and you can actually walk out onto the lake! Along with this, it's one of the more easily accessible alpine lake locations in the park.
Copeland Lake
Ceremony size: 30
Number of vehicles: 10 (limited during certain times of the year)
Booking your ceremony at this location is perfect if you would love the landscape of a lake and a forest with a ton of space for all your guests. There are restrooms close by. Bonus: this is the only site that allows dogs!
Harbison Meadow Picnic Area
Ceremony size: 30
Number of vehicles: 10 (limited during certain times of the year)
Easily accessible, Harbison Meadow is a great option for all your guests if you're staying on the Grand Lake side of Rocky Mountain National Park for your elopement. This is one of 2 locations on the west side of the park. This is a large, open, gorgeous meadow with a mountain view that is perfect for your wedding pictures.
Hidden Valley
Ceremony size: 30 (call for availability)
Number of vehicles: 10
Hidden Valley is perfect if you're looking for a wedding venue with beautiful forests filled with aspens and pines, and wildflowers during the summer months. With a wooden footbridge, a field of wildflowers, an open meadow, and aspens, Hidden Valley shows off a number of different features. This location is easily accessible with a wheelchair friendly trail, picnic shelter, and is near restrooms.
Lily Lake Trail
Ceremony size: 20-30
Number of vehicles: 10 (limited during certain times of the year)
Lily Lake Trail is a ¼ mile walk of pure beauty. A knoll overlooking the lake and the Aspen trees is the ideal place for your ceremony. This location is also wheelchair accessible.
Lily Lake Dock
Ceremony size: 10
Number of vehicles: 10 (limited during certain times of the year)
This is without a doubt the location for you if you want 360-degree views of the mountains and lake. Also wheelchair accessible, this location has restrooms nearby and a walking trail that is a great photo op.
Moraine Park Amphitheater
Ceremony size: 30 *call RMNP for specifics*
Number of vehicles: 10 (limited during certain times of the year)
A Moraine Park Amphitheater wedding is a great shout if you want a location that can accommodate a large number of guests, is easily accessible, with great views. It's also one of only a couple of sites that have benches for your guests.
Surrounded by pine trees, it has a wheelchair friendly trail leading to it, with access to restrooms nearby as well.
Sprague Lake
Ceremony size: 15-30 depending on the time of year
Number of vehicles: 3-10 cars
A visitor favorite! This location is quite busy, but for good reason, a dramatic view like this deserves a crowd. The site contains a wooden footbridge, a dock, incredible mountain and lake views. Restrooms are nearby and it is wheelchair accessible.
Timber Creek Amphitheater
Ceremony size: 20
Number of vehicles: 5
There are restrooms here and it is wheelchair accessible. It's within the Timber Creek Campground area, so you and your guests could actually camp there. I don't usually recommend this one unless the accessibility features are important for your guests.
How To Book Your Ceremony At Rocky Mountain National Park
I have a secret to share with you… Wedding planning does not have to be stressful! With my help, and how easy Rocky Mountain National Park makes it for you to book your wedding, you can get rid of so much of the stress that is associated with wedding planning and just enjoy your time.
So, I want to share with you a few tips that will help you when you are booking your ceremony:
Book Your Ceremony ASAP To Get The Date You Prefer
To ensure that all couples getting married have the time for their dreamy, intimate ceremony, only 6 weddings are booked per day in the park. Only two weddings can be booked at the same site within one day. You can book your wedding up to a year in advance and up to 7 days before the ceremony.
Once bookings are opened up for the season, it can be difficult to get the exact ceremony and site, time, and day you prefer. If your dates are flexible, that can definitely help if you don't have that much time before you want to get married!
How To Elope In Rocky Mountain National Park
Do I need a permit to get married in Rocky Mountain National Park? Yes, you do!
The permit for weddings at Rocky Mountain National Park is $300, but as an amazing bonus, the fee you pay goes towards preserving our national parks! This permit fee does not include the entrance fees for you and your guests. Entrance fees are $25 per person. You can find the information to apply for a permit here.
Know what is included in your ceremony package
Rocky Mountain National Park does not provide an officiant for your wedding. You'll need to hire and provide all the vendors that you need for your ceremony (videographer, photographer, officiant, witnesses, etc.). Your vendors do count towards the guest count for your site.
Go with the flow when it comes to weather
Rocky Mountain National Park can be cloudy and chilly one minute and then sunny and warm the next. During my wedding we experienced sun, rain, snow, and rainbows and we wouldn't have had it any other way!
Just be prepared and go with the flow! Your day is too important to let something as silly as the weather get in the way, so bring some layers and a smile and enjoy your day no matter what happens.
Expect traffic
Rocky Mountain National Park is always busy. Why wouldn't it be? It's beautiful! Be aware of the traffic you may encounter and plan accordingly. Some areas of the park that you want to visit may have limited parking.
Book your lodging in an area that makes sense for your ceremony
Rocky Mountain National Park has amazing lodging around, including hotels and Airbnb's that we recommend. You'll also find some amazing options in Estes Park, the town at the foot of Rocky Mountain National Park on the east side of the park, and in Grand Lake, on the west side of the park.
When choosing lodging and your ceremony site, you should take accessibility and location into consideration. The park is just as large as it is beautiful, so why not make it easy on yourself and book lodging close to your ceremony site?
Estes Park and Grand Lake
If you're looking for accommodations for larger groups, it's worth looking into lodging on the Grand Lake side of the park. While Estes Park is incredibly accessible to most of the ceremony sites, the Grand Lake side typically has more options for bigger cabins and houses. 
If you're planning on having a larger guest list for your elopement, you could also consider renting out a traditional venue in Estes. Or, you could have an Airbnb wedding, since there's a great selection of Airbnbs in Estes! 
I've spent a ton of time searching for the most beautiful Airbnb's for elopements and intimate weddings, or just for an incredible place to stay when traveling. Below are a few of my top picks. Not all properties allow events or extra guests that aren't staying on the property. Make sure you always contact the host to ask permission before booking if you're planning on having people over for a big dinner, ceremony, or anything else wedding-related.
Here are a few cool spots to check out!
As an Airbnb Associate, I may earn a commission when you book through these links.
Estes Park:
Estes Park Mountain House
1914 Cabin Bordering Forest
Grand Lake Side:
Classic Colorado A-Frame on the Creek
Scarlet Paintbrush at Wild Acre Cabins
An Estes Park Elopement Near Rocky Mountain National Park
Estes Park is at the base of the east side of RMNP and is a stunning place for an elopement. You'll experience panoramic rocky mountain views, outdoor recreation and features like Lake Estes, and lots of arts and culture to experience.
Estes Park is a place to look into if you or any of your guests want to stay close to town. Estes also has its own network of trails with wildlife viewing opportunities and gorgeous panoramic views of the Rockies. Once you've arrived at Estes Park, you'll have a ton of options for an incredible Estes Park elopement!
Not to mention, for adventurous folks who also appreciate a good restaurant and maybe a winery or brewery, Estes Park has plenty of things to do!
Estes also offers the easiest and most direct entrance to Rocky Mountain National Park: the Beaver Meadows Entrance Station. When you enter here, you can stop by the Beaver Meadows Visitor Center to pick up maps and get any info you might need for the park!
Day-After Shoot At Rocky Mountain National Park
If a full-on elopement is not really your style, but you still want to incorporate your adventurous side in beautiful scenery to celebrate your union with your partner, consider a day-after shoot!
Enjoy getting dressed up again in your wedding looks and explore while I capture your day as you do whatever makes you happy! Take a swim in your wedding dress, hike up to a snowy mountain, or even go paddle boarding. It doesn't necessarily even have to be the day after your wedding, just do what works best for you!
Leave No Trace
The two most important rules to remember while eloping in Rocky Mountain National Park: enjoy your day and leave no trace! If you are not familiar with the term "leave no trace" it's super simple.
All trash, equipment, personal belongings, and anything that you bring into the park, take out of the park or put in the proper trash receptacles. We are lucky to be able to enjoy such a beautiful park and to keep it that way, we must be respectful and clean up after ourselves.
Rocky Mountain National Park is an outdoor, rustic, natural environment, so you're not allowed to bring chairs, carpets, tents, or sound amplifiers. You're also not allowed to scatter or toss rice, flower petals, or confetti to help protect the fragile ecosystems. You are, however, allowed a couple of portable chairs for the elderly if needed.
Get In Touch With Your Rocky Mountain Elopement Photographer!
If you have any questions or are considering an elopement, I would love to hop on the phone and chat with you about all your ideas! Contact me about your elopement at Rocky Mountain National Park. I can't wait to get to know you!