Congratulations on choosing an adventure elopement! One of the biggest decisions you'll soon be making is choosing your elopement photographer. This is an extremely exciting time, but it can also be overwhelming.
But don't worry! In this post, we'll dive into all the things that will help you pick the best elopement photographer for you!
Ready to embark on the adventure you'll always remember?
First, what is an adventure elopement?
What is an Adventure Elopement?
Instead of having a large or more traditional wedding, an elopement lets you create your day exactly how you want it! Eloping is all about you as a couple, sharing intimate moments together and enjoying each other and your wedding day.
An adventure elopement is all of this, plus the fun outdoor activities that you enjoy together—whether that's hiking, skiing, canoeing, or just being outdoors at an overlook with epic scenery surrounding you.
If you choose to hire an elopement photographer, you'll want professional photos that capture your unique love and adventurous spirits. You'll be able to look back on your images for years to come and share your adventure with family and friends through your images. So, finding a photographer who works with you and your partners' style is so important!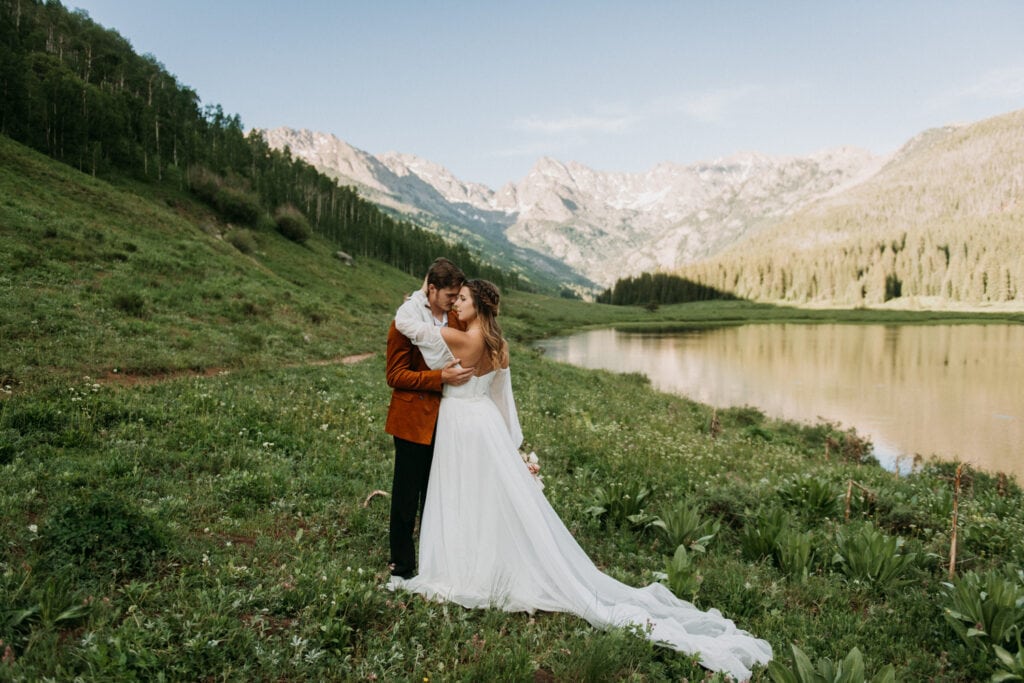 What Makes a Good Elopement Photographer?
Your elopement photographer will be present with you throughout your elopement. They play a key part in your day, and they're responsible for capturing all the special moments and preserving your memories... But they'll also help you to coordinate your elopement, give you advice, and be a dedicated helper every step of the way—from travel and permitting, to assisting with locations and accommodations, to getting your images and prints to you in a timely fashion!
Your photographer should be someone you trust and vibe with.
It's so important to find an elopement photographer who gets you and your vision for your day. And it helps if they're someone you like to be around 🙂 After all, they'll be accompanying you on your most important adventures!
Your photographer should have a style you love.
Of course, you should be thrilled with their photography style and excited about what they can provide for you!
Is your style more laid back and down to earth? (If you're eloping, it just might be.) Are you more into bold and show-stopping images? Your photographer should have a creative style you like, while also bringing energy, helpfulness, and genuine excitement for you as a couple.
I believe your photographer should pay attention to what you want and deliver that and more! They should capture the big picture and small details of your story, and carefully take care of things in the background so you can relax on your wedding day knowing your images are being captured professionally.
The best photographer will listen to what's important to you.
They'll help you dream, plan, and then tell your unique story through beautiful images.
Finding the Best Elopement Photographer for You
There isn't an overall "best elopement photographer" that's right for everyone. But I understand how important it is to find the best elopement photographer for YOU as a couple.
Every couple has their own personalities, preferences, styles, and dreams for their elopement day. You want to find the best intimate wedding photographer who will help you create images that will preserve your memories for a lifetime.
So what should you look for in adventure wedding photographers? Let's dive in.
Choosing an Elopement Photographer for Intimate Wedding Photography
So, you've decided that elopement photography is an investment you definitely want to make. But with so many talented elopement photographers out there, how on earth do you choose the right one for your intimate wedding?
There are so many things you could consider, but if you start with these 10 tips below, you'll be well on your way to narrowing down your options and finding the right photographer to capture your day!
1. Narrow down the styles you like.
Like I mentioned above, start by having an idea of the styles of photography you like. Do you love images with lots of moody lighting? What about fun and candid shots versus posed? There are so many talented creatives out there, so knowing the style of photography you're looking for will help you narrow down your options.
2. Be honest about your budget.
Just like any product or service, photographers' rates vary widely. Be upfront about what you can afford and find someone who aligns with what you're able to spend. Some couples don't want to spend money on photography and would rather spend that money elsewhere. That's totally fine! Find someone whose rates fit within your budget.
3. Get to know them!
You'll be spending the most important day of your life with your photographer near you, so it's super important that you get along, that they complement your style, and that they listen to you. Some ways to get to know them are to meet via phone or Zoom, meet in person, or even hire them for an engagement session or adventure session first as a "test run."
4. Make sure your timelines align.
A professional photographer will be timely with getting your edited images back to you, and they'll be able to walk you through timelines of what happens before, during, and after the elopement photo shoot.
5. Ask about their experience.
So, you've seen images you love, and you want to make sure you'll get the same results? Your photographer should be open and honest about their experience. A good mix of education and real-word photography experience is essential!
6. You can trust them as a professional.
An experienced, professional photographer will come prepared with their best, and will be prepared for the worst. This means they'll bring backup gear, memory cards, you name it, so that your photos won't get lost or deleted. Keep this in mind if you're considering hiring someone just because of cheap rates. In photography, you will often get what you pay for.
7. They make you feel comfortable and at ease!
No one wants to feel the pressure of being a professional model or put into awkward poses that don't feel "you." Your photographer should help you feel comfortable being photographed. Better yet, you don't even notice they're there 😉
8. They're organized, a good planner and guide.
Especially with adventure elopement photography, your photographer must be organized and a good planner. They'll be dealing with travel itineraries, permits and fees, possibly coordinating vendors, and assisting you along the way, so these traits are super important! There'd be nothing worse than to show up at your elopement location without the right permits!
9. They listen to you and are empathetic.
Instead of just wanting to execute their vision, your photographer should be there for YOU and listen to your desires for your elopement wedding photos. If they're showing signs of taking the reins past where you're comfortable, reel it in and find someone who can get excited about YOUR vision, not the one they're pushing on you.
10. They're adventurous.
Hopefully your adventure elopement photographer, well... likes adventure! You'll want someone willing to go the (literal) extra mile with you to capture your moments in adventurous situations.
These 10 tips should get you started toward finding the best elopement photographer for you!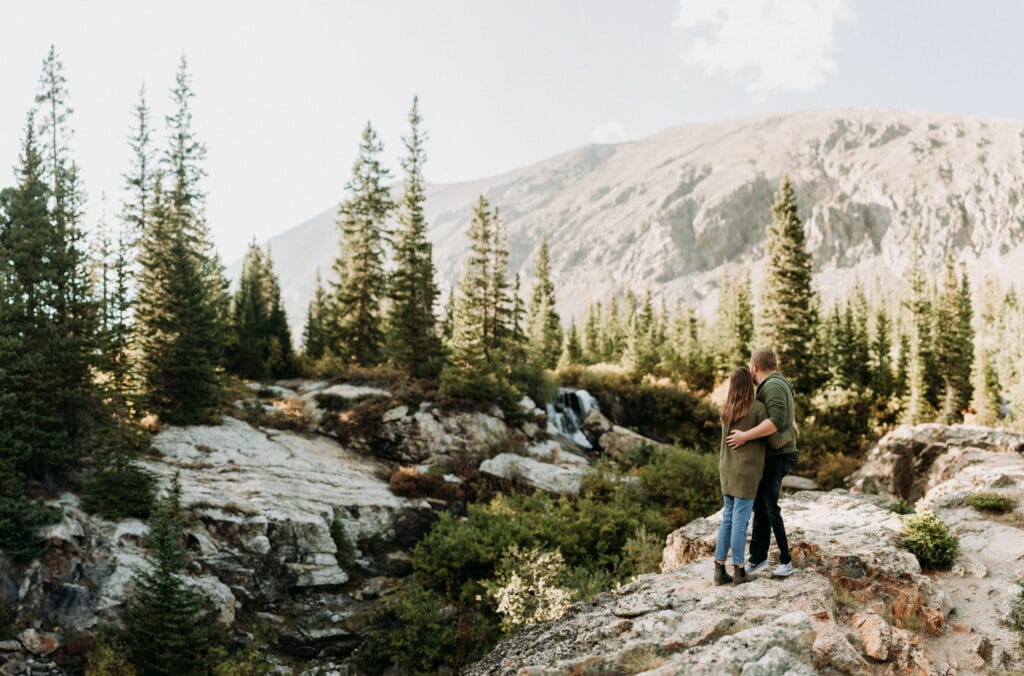 How Long to Hire Your Elopement Photographer
A full day for a wedding photographer can vary between 6 and 12 hours of shooting, and many elopement photography packages work the same way. But if you don't feel that you want a full 12-hour day of coverage, and would rather have someone for just a few hours, don't worry. I'm not here to upsell you on a 12-hour day if you don't want it!
My elopement photography packages start at just 4 hours but I'm available well beyond 6 hours. How long to hire your elopement photographer will vary based on your plans. Some couples want first looks captured; others don't. Some couples want to stay in one location; others are set on multiple locations!
Your elopement package should be tailored to you. Look for a photographer who will work with you to customize a package based on your wants and needs.
Talk to any prospective photographers about their packages and feel free to ask questions! They should be open to helping you select the right option so you get everything you dream of.
Destination Elopement Photography
Is a destination elopement in the cards for you and your love? Amazing! I love traveling to meet my couples throughout Colorado, Oregon, California, and more as their destination elopement photographer.
As a frequent traveler, I typically have my trips planned well in advance. I always post where I'll be next on my Travel Dates page. If you have a specific location in mind, send me a message and I'm more than happy to talk it out with you!
Here's more info on my Colorado and Destination Elopement Packages.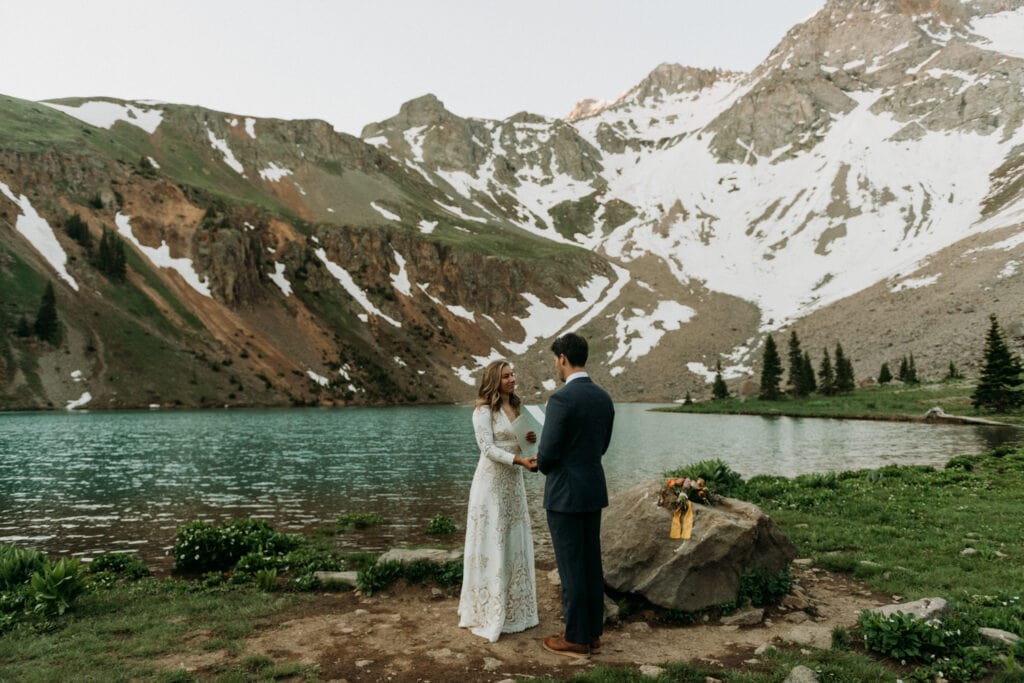 Outdoor Adventure Elopement Photography Packages
So you're weighing your options for a creative professional to take your elopement wedding photos. I'm an open book and you can ask me all the questions! (Actually, I encourage you to.)
I'm an enneagram 2, "the helper," so I LOVE helping you come up with ideas and activities that match your personalities for your elopement day!
Here's more info on my elopement packages.
I'm always here to guide every one of my clients—from planning and timelines, to photo shoots and logistics, to getting you your final images in a timely manner… I'm here for you all the way!
You shouldn't have to worry about your photographer on your elopement day. The focus should be on YOU. I'd love to help you make your elopement the best day ever, stress-free and worry-free.
Related Posts: