You deserve an elopement that is 100% true to you, your vision, and the expression of your love! If that means eloping just the two of you: great! If that means eloping with family and friends involved in your day: perfect!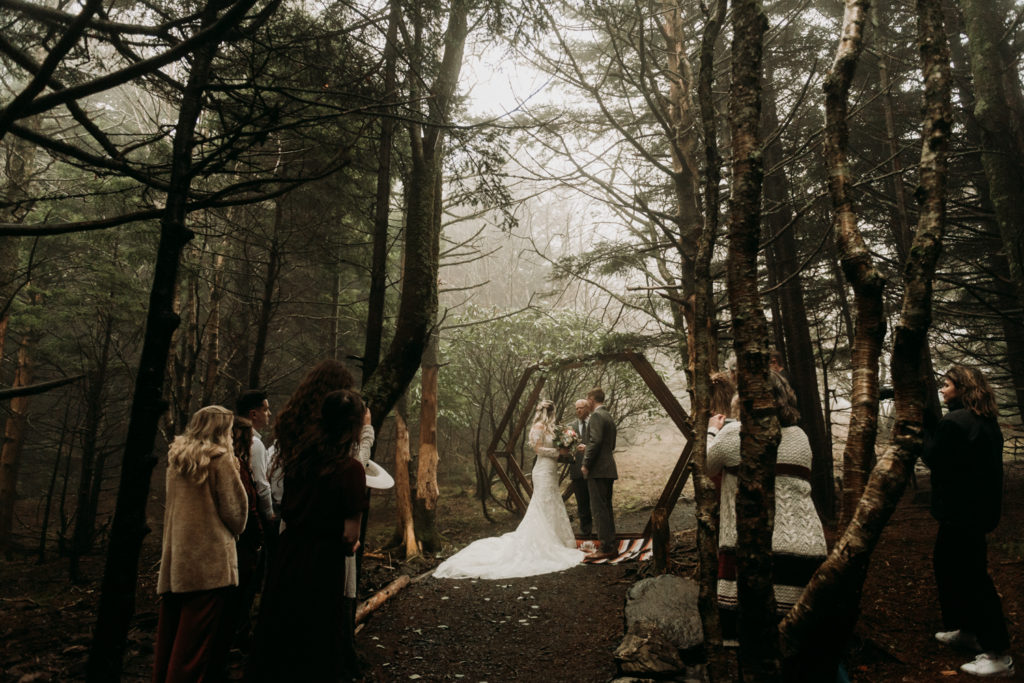 Why elope?
The modern elopement doesn't mean you're running away to get married in secret. (Although you could!)
Deciding to elope really means that you're looking to have the wedding that you and your love dream of—a smaller, more intimate wedding without the stressors of a large ceremony that tends to cater to guests more than the couple.
Other reasons to elope? Maybe a traditional wedding celebration just doesn't feel right to you. Or you don't want to be center stage. Or you want to spend your wedding budget on an experience, photos, and travel, not on a large wedding venue or decor. I get it!
What's better than getting married amidst nature, surrounded by your closest family?
There are plenty of ways to include your family in your elopement day and STILL have the elopement of your dreams.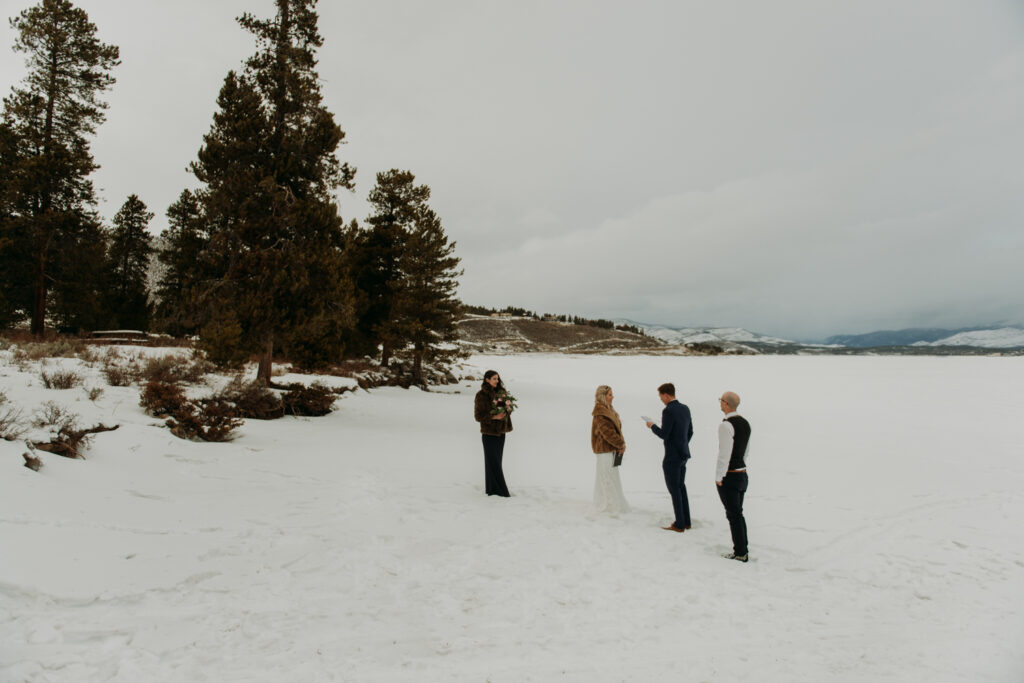 Tips & Ideas for Eloping with Family
A lot of people ask if it's common to include family on your elopement day. The answer is absolutely yes! When I eloped, we had some of our closest family attend and it made the day that much more special.
So, maybe you really want to include family in your elopement day celebrations, but aren't sure how to make it all happen. How many people can you invite? How do you include family in your elopement? Can you still have a reception? How do you choose a location when eloping with family?
Here are a few common questions I get asked and answers from experience! Then, stick around for my top ideas and tips for including your family in your elopement.
Q: How many people can I invite to an elopement?
A: I've seen elopements with just the couple and I've known elopements to have around 20 guests. This part is totally up to you! You're a unique couple with unique dreams, and you can create your elopement however you choose. This includes the guest list! There's no rule book here, but you will have to be mindful of limitations on some outdoor ceremony sites. More on that below 🙂
Q: Can we include close family in our elopement?
A: As a couple looking to elope, you probably don't do everything in life the "normal" way. And guess what? Elopements have no rules. This is YOUR day. If you can't imagine getting married without close family by your side, then by all means, include them!
There are so many ways you can include family in your elopement… some you might not have heard of before!
Below I'll walk you through my best ideas and tips on how to include close family in your elopement—whether it's in person, virtually, or before or after your ceremony.
Q: How do we choose a location when eloping with family?
A: Rental properties like Airbnbs or VRBOs are great options because there's such variety in rental spaces. And, you can find something that'll accommodate a larger number of people. With a little planning ahead, you can find something really special. Just make sure to talk with the host about events, parking, number of people, etc. beforehand!
• Check out my guide on how to plan an Airbnb wedding!
• Check out my tips for 25 outdoor elopement activities
Tips & Ideas for Including Family in Your Elopement!

Here are some of my top tips for including your family in your elopement, and still having as stress-free of a day as possible!
1. Make your guest list.
If you're looking to elope at a National Park, you'll first want to consider your guest list. National Park ceremony sites have limits on the number of guests, so the first step to take is to look at the National Park Service's website at NPS.gov.
Here you'll be able to locate ceremony sites and see the max number of guests allowed. Remember to include your officiant, photographer, and yourselves in the total 🙂 You might find that your dream site only accommodates 11 people, limiting your guest list from the get-go.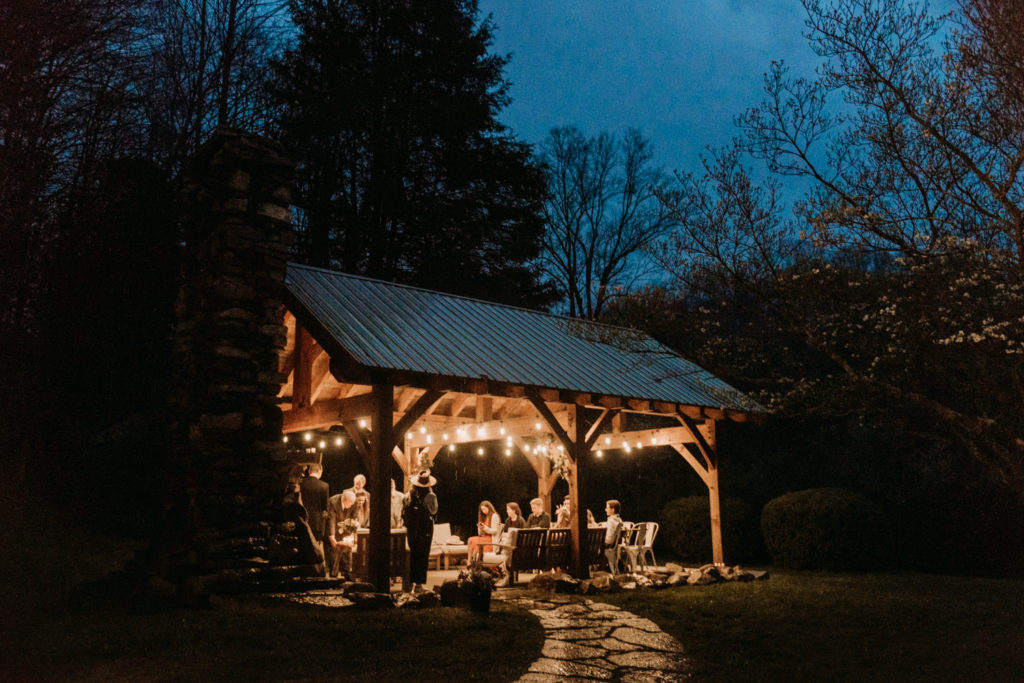 2. Have an Airbnb elopement with family.
Or VRBO. Whatever you like. Having a home base for family to gather, whether they're accompanying you on your outdoor adventures or not, makes it easy for everyone to feel involved!
You and your love can go out on your own adventure, then come back to spend time together for meals, chill activities at the house, casual walks, or exploring a town you're near. It's so much fun to think about all the possibilities! Your photographer can take private images of you during your ceremony, and come back to the airbnb to snap shots of your family together.
3. Remember: You don't have to compromise.
You can have all you want. That's why you're choosing to elope, right?! You get to avoid a lot of the headaches that come with a large wedding by choosing to make your day exactly how you want it. I'll say it again: there are NO RULES! Whether you want your closest family by your side while you get ready, during your ceremony, or throughout the day, go for it. If you'd rather have family near, but just involved in select parts of your day, that can happen too!
4. Have two ceremonies.
WHAT?! Yup. You can hike together or adventure to a place to say your vows with your officiant, then go back to the home base and have a second ceremony surrounded by family. You can truly have it all! Family doesn't miss out, and you also get your private space with your love to express yourselves however you like. You can even say more private vows just the two of you, then have different vows in front of family.
5. Elope over two...or even three... days!
If it feels overwhelming to squeeze everything into one day, why not make it a two-day (or more) adventure? On the first day, you can spend the day with just the two of you, say your private vows at your ceremony, hike, adventure, kayak, whatever you choose to do. Then, retreat back to the rental home to relax in the evening and invite family to join on the second day for more festivities.
6. Include family virtually.
Have family around the country or internationally? Whether pandemic-related or not, some people just can't, or don't want to, travel. So, consider streaming to them via a platform like Zoom or video chat!
7. Have family and friends send letters or videos for your elopement.
If your family is expressive, they'll love the opportunity to send you a message for your wedding day! Collect letters or videos from your closest friends and family, then read and watch them together on your day.
Your photographer can actually get photos of your reactions as you read their letters or watch their videos. Then, share those photos with your family so they can see how their words touched your hearts.
8. Have a send-off party.
Having a send-off party is a great way to include family who can't (or won't) travel to an adventure elopement. Or maybe you just want to elope with only your love and limit your ceremony guest list to your officiant and photographer. All options are completely 100% okay.
Many of my couples want to incorporate adventure in their days—giving truth to the name "adventure elopement!" But not all family members are able to or want to hike. Make everyone feel a part of your elopement by having a send-off party! It can be super casual, too. Those are some of the best ones!
9. Choose an accessible location for your family.
For those couples who want to invite older family members or people who need special accommodations, be sure to choose an accessible location!
I really wanted my grandparents to be at my wedding, so we chose a beautiful location at Rocky Mountain National Park, but made sure it was accessible for every guest to easily get to the ceremony site.
Just check with the National Park Service to get a list of accessible ceremony sites, or check beforehand to make sure everyone you want to be a part of your wedding can be there!
10. Throw a reception.
Everyone's vision for their elopement is unique to them, and many couples like to throw a reception! Whether it's at an Airbnb, a cabin in the woods, or in your own backyard, a reception is a great way to include family in your wedding day. Don't be afraid to get creative!
You could have a reception at the foot of a mountain, at a local venue, or outdoors at a park. The options are endless! Ask your photographer how they incorporate multiple locations into their packages so you can capture your whole day at every location.
11. Document your day.
Documenting your elopement is priceless! Not only can you relive your day forever by looking through your albums, but your family and friends can experience your elopement too.
You can work with a photographer to have parts of your day documented, or hire them for a full day to capture everything from getting ready in the morning to the ceremony to any adventurous activities you have planned. You'll never regret having photos of your day 🙂
12. Include family in pre-wedding or engagement celebrations.
Go shopping with family for your wedding dress, have a spa day, have a sendoff party, the options are endless! Pre-wedding or engagement celebrations are great because it gets your family involved in your elopement, and also relieves some pressure couples feel about coordinating travel, accommodations, and activities for bigger groups.
13. Think outside the box.
This is the best part about having an elopement: You make the rules and you decide what to do on your day! Think outside of the box of what's typical to help get the creative juices flowing.
Q: How do we navigate reactions from family when we tell them we want to elope?
A: Families can react in all types of ways to your elopement announcement! For some family members, eloping might still mean running away and getting married by Elvis in Vegas. But today, that is (usually) far from the truth! 😉
Your loving family just might not understand why you want to elope, especially if there are wedding traditions in the family. But sometimes all it takes is a little explaining. Let questioning family members know why you want to elope, and explain what modern-day elopements mean. They'll probably soon realize that it's not all that crazy after all. 😉
Here are some ways to navigate reactions from family:
Get them involved! Families who are involved in the planning process will not only feel helpful, but they'll feel like a bigger part of your day. They want to help, so let them! They could help you choose from a few airbnbs that you can't decide between, help you choose your dress, go shopping with you for any accessories, etc.
Assure them they'll be on your mind!
Invite them along!
Ask them to stream with you via zoom or skype on your big day!
Get a photo album. This way, you can share all your memories and re-live the day over and over with all of your family and friends.
Conclusion: Including your families on your elopement day is possible and even easy!
You CAN have the best of both worlds: an elopement that's 100% honest to you, AND be surrounded by family and friends if that's what you want!
Your elopement photographer should be your right-hand person helping you to create your dream elopement. They'll be able to suggest ways to include your family in your photos, like getting shots of just the two of you at your ceremony then together to say your vows again with your family.
There's so much flexibility when it comes to your elopement. I want all my couples to know that you can have everything you're dreaming of! Sometimes you just have to think outside the box and get creative!
To talk about your dream elopement, get in touch. I'd love to help you plan and create your dream elopement that includes your family!