When you're choosing an elopement dress, you're already picking a non-traditional wedding. There's so much opportunity to get creative, express yourself, and feel amazing on your wedding day by choosing a dress that feels like YOU!
You'll have plenty of flexibility to express yourself in any style—even one that veers from the traditional path.
If you're embarking on an adventure elopement, you want to be comfortable, but also feel special and stylish.
In this post, I give you my top tips on choosing the right elopement wedding dresses for you, info on prepping for weather and adventure, and links to some of my favorite elopement planning resources!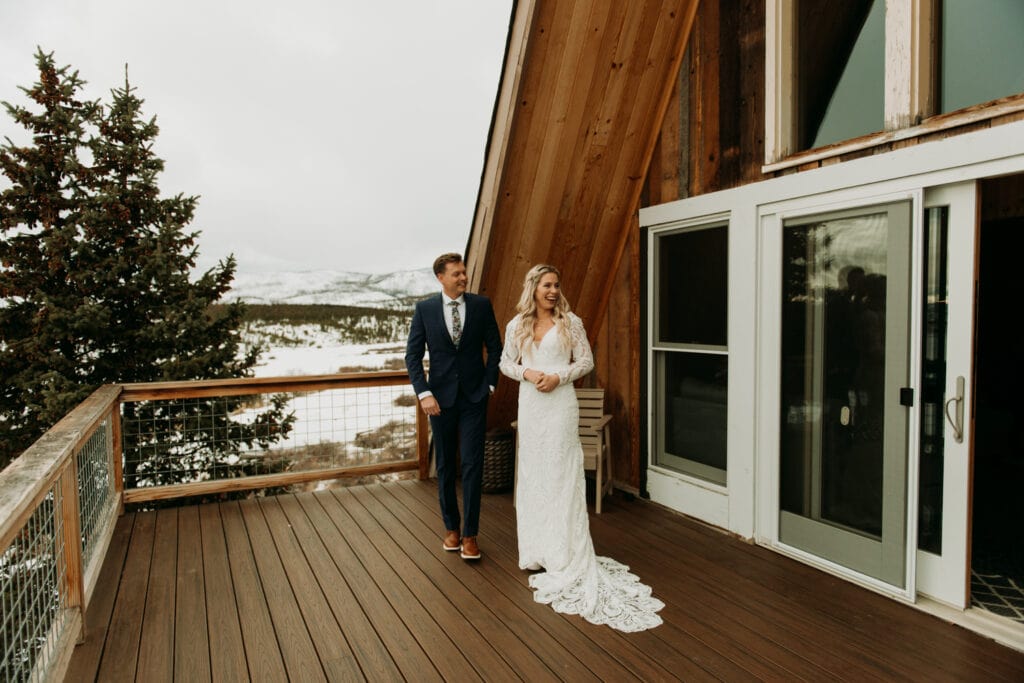 Picking a Dress to Elope In
You want to feel amazing on your wedding day in something that makes you feel confident and beautiful—and look great in your elopement photos.
Start by thinking ahead to the activities you'll be doing. The couples I work with love to get adventurous on their wedding day. Many couples plan to hike to a mountain vista, elope in a national park, and experience other outdoor activities. My first piece of advice is to dress for the weather and type of activity.
Not into dresses? Enter: the jumpsuit. Some brides opt for comfy jumpsuits or other unique attire.
No matter your preference, still consider the same things:
Choosing a fabric for its weight and durability
Layers, dressing for the weather and activities
Expressing yourself and your unique style
Step 1: Choose Your Elopement Dress Fabric
When you start shopping, you'll see elopement dresses in a variety of fabric types. Silk, cotton, satin, delicate fabrics, natural fibers, synthetics… How do you choose?
The first thing I recommend is to consider the activities you have planned for your elopement as well as the weather. From there, choose the type of fabric and durability you'll need. For example, wearing a floor-length tulle skirt will catch on branches and collect debris, and wearing a lightweight dress in winter will require layers!
Bonus: When you decide on the best fabric type first, you'll be able to narrow down options more quickly and easily!
If you're new to the world of wedding dress fabrics, have no fear! Check out this wedding dress fabric guide that does a great job of explaining the different types of natural and synthetic fabrics—from traditional bridal looks to more laid-back fibers and blends.
Choosing a Dress Fabric: Weight and Durability
When choosing your dress, take into account the weight and durability of the fabric. In winter, you might want something heavier, while in summer, something more lightweight.
Depending on the type of activities you have planned, you'll want your attire to fit with your agenda.
Be sure to avoid uncomfortable, heavy, or constricting fabrics if you'll be moving around during your wedding day. Some woven fabrics like taffeta, satin, or velvet will be heavier and could weigh you down and feel cumbersome.
On the other hand, if you're hiking or adventuring in your dress, you'll want to opt for something comfortable, lighter weight and free-flowing. Lightweight fabrics like crepe, chiffon, organza, rayon or cotton blends can feel lighter and easier to hike in.
The biggest thing you'll want to look for is attire that will allow you to move freely. Lightweight fabrics with flowing skirts will also allow the wind to pick it up, which always looks amazing in photos!
Choose the durability of the fabric depending on your environment. A fabric like tulle might pick up the entire forest floor and get caught on things. Some brides are fine with that, so it's ultimately up to you!
Choosing a Dress Fiber: Natural vs. Synthetic
Natural fibers like silk will be more expensive and tend to be more formal, while synthetic fibers like rayon, lace, polyesters or nylons will generally be more affordable and can look more laid back.
Choosing a Dress Color: White vs. Colorful
You're opting for a nontraditional wedding day, and if you find your heart set on a colorful dress, then you should definitely go for it!
Any color goes, from solid brights to floral patterns. It's your day, so the color of your elopement dress is entirely up to you. Both traditional and non-traditional elopement dresses look stunning in elopement adventure photos!
The Best Elopement Wedding Dress Brands & Designers
On a budget? Looking for a laid-back adventure elopement dress? Want to go for a more traditional bridal look?
Whatever your style and budget, here are some of the best elopement wedding dress brands and designers to check out.
The following brands make gorgeous dresses perfect for adventure elopements. You'll be sure to find one that gives you the freedom and flexibility to adventure while feeling (and looking) beautiful and inspired.
Budget Elopement Dress Brands
You don't have to spend a fortune on a dress to elope in. The following are my top five options if you're on a budget. They also ship fast!
Asos
For a modern, trendy elopement dress, check out Asos bridal dresses.
Lulus
View Lulus dresses for a variety of colors, patterns, drapes, cuts and styles for the modern elopement.
Free People
For a flowy, boho, laid back feel, Free People dresses will give you just that.
Etsy
Etsy has elopement dress options from designers all around the globe. Choose from custom designs at all kinds of price points. You can find anything from vintage dresses to modern options and custom elopement attire.
Amazon
Amazon has everything, including elopement dresses! Knowing your fabric, style, color, and size will allow you to narrow down options to make shopping on Amazon less overwhelming.
Boutique/Designer Elopement Dresses
Here are my top five favorite designer dress boutiques:
BHLDN
Whether traditional classic or modern gowns, bold or minimalist, BHLDN has options. Ships fast and also offers free shipping from time to time.
Lovely Bride
For the Lovely Bride who wants a modern, daring, designer look with a budget of at least $1,000.
A&Bé
Modern, unique, romantic designs from A&Bé range between $1,500-5,000+. Visit the local shop in Denver, Colorado!
Rue De Seine
Modern, chic, boho elopement dress designs by Rue de Seine are stunning and stylish. Order direct or via retailers around the U.S.
Leanne Marshall
Bridal and ready-to-wear seasonal collections in candy colors, in structured and flowy designs. Leanne Marshall will hand-dye your elopement dress after your wedding and transform it into a gorgeous dress you can wear again and again.
Winter Elopement Dresses: Dressing In Layers
Attn: cool weather lovers.
Planning a winter elopement? Traveling to a cooler-weather locale? Layers are your friend.
Base layers and long sleeves will help insulate and keep you warm in an outdoor winter wedding.
You might consider a long-sleeved dress in a warm material like velvet, or layer other pieces over your dress.
A faux fur shawl, cozy wrap, or bridal sweater in a contrasting color can look gorgeous. Consider matching it to your flower bouquet or to the groom's attire.
For a cold-weather wedding, you'll want to be prepared with base layers. I love these fleece-lined leggings that will keep you warm while still looking great in photos.
Here's my guide for everything you need to know to stay warm for a winter wedding: Winter Wedding Guide.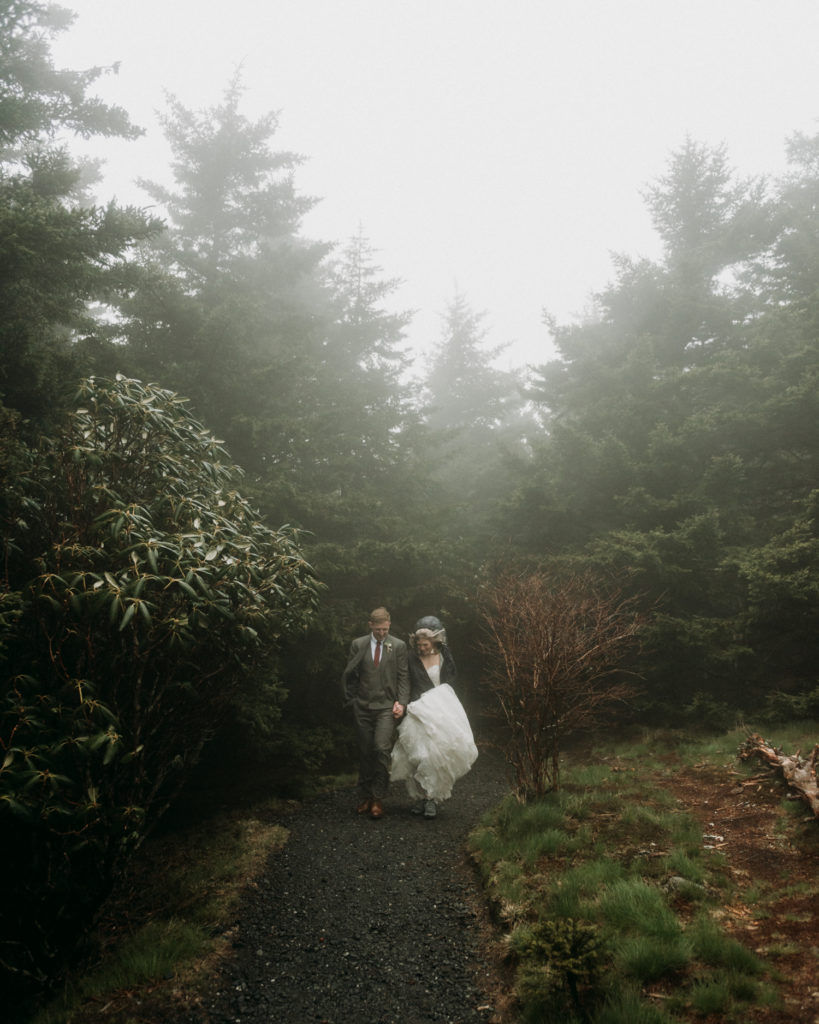 Elopement Accessories and Shoes
So you've picked out your dress, selected your layers, and you're ready to accessorize.
Elopement Accessories
Accessories are the final touch that can take your elopement outfit from "I love it" to "I cannot wait to see my elopement photos!"
Amp up a laid back, flowy dress with stunning jewelry or keep it simple and minimal.
Accessories are also a way to infuse more of your personality into your outfit.
Whether or not you're opting for a veil, headpiece, or hair accessories, jewelry can be another way to elevate a more casual look easily. Gold, silver, mixed metals, or a colorful pop of color — play to your unique style.
Elopement Shoes
For any adventure session, comfortable shoes are a must! Hiking boots are always great. If you don't have a pair you love, there are some great stylish hiking boots you can purchase to match any look you're going for.
Stylish boots like Timberland ankle boots or Sorel booties can also work great.
There's always the option to change into other shoes before the photo shoot if there's a pair that you really love.
Packing for Your Adventure Elopement
Worried about unpacking a wrinkled dress on your big day?
If you'll be traveling, you might want a dress made from fabric that is low-maintenance and won't wrinkle easily. Some travel-friendly options are lace, rayon or polyester blends. Crepe fabric is also great because it has a naturally crinkled look to it already.
If you're packing your elopement dress in a backpack or suitcase, rolling it up is the best way to keep it from getting tons of wrinkles!
If you want to wear one outfit for the trek, then change into your dress for the ceremony, I suggest packing layers to wear! There might not be facilities at your destination, so wearing layers is the perfect way to keep your clothing clean, without worrying if there will be a place to change.
Ready for More Elopement Planning Inspiration?
It bears repeating that the #1 thing to consider when picking an elopement dress is to find one you truly love and feels like you!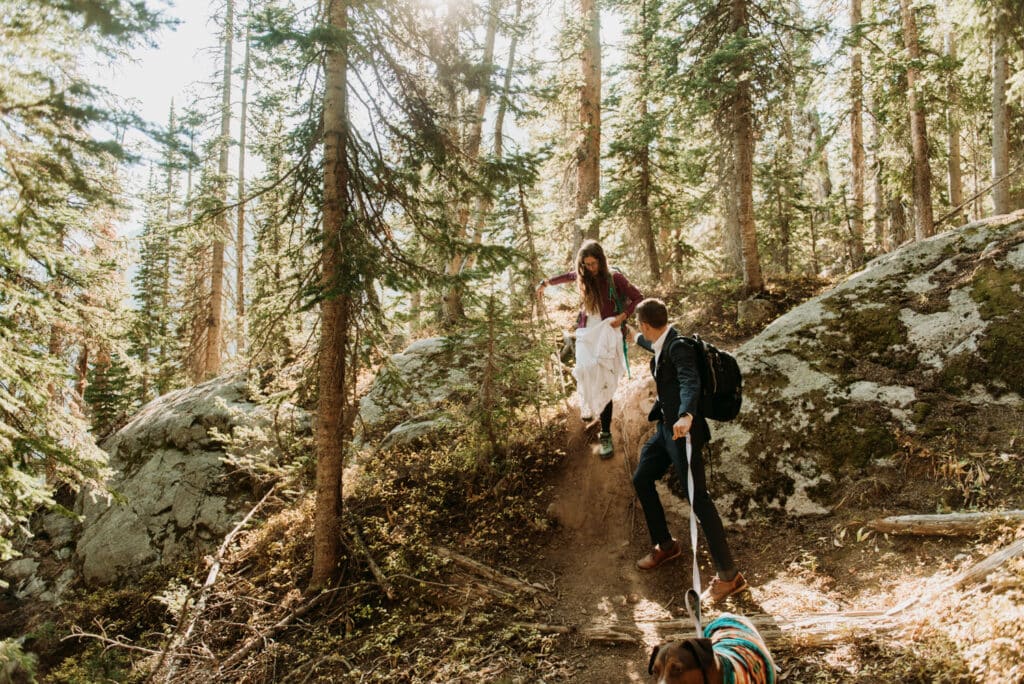 For more info on planning your elopement day, check out my elopement resources:
And if you want to talk about how I can help you with elopement planning and capturing the details of your perfect day, just send me a message here.
Wishing you the most magical adventure elopement!