I always knew I probably wouldn't have a traditional wedding. I've never really been one for doing things the way that everyone else does, and I'm way too much of a wanderer to have had a "normal" wedding. We had an intimate ceremony in Colorado with just our closest friends and family, and I would absolutely recommend doing something a little different to anyone who thinks a traditional wedding doesn't really sound like them.
Maybe you never thought a traditional wedding sounded like you, or maybe you started planning a big wedding and decided along the way that it was too much planning, too much money, or too much stress. That's totally okay. Maybe an elopement is for you! And yes, you can absolutely include your family and friends in your elopement day! Whatever you might be thinking for how you want to get married, I'll be here cheering you on the whole time because you deserve it.
So if you're asking yourself, "should I elope?" here are 5 reasons a small wedding or elopement might be for you.
1. You value experiences over things
To you, experiences are more valuable than things. You'd rather put a new stamp on your passport than drive the newest car or have the biggest house. The average cost of a wedding in the US is over $30,000. Imagine spending a fraction of that cost on an experience that you get to enjoy together, visiting somewhere you've been dreaming of for years, and spending a couple days with the people you love most. Not many couples choose something like this, but when you do, you're allowed the time to really slow down and take in everything as it happens.
You want time to soak everything in, slow down and truly ENJOY and FEEL everything on the day you say your vows. When you elope, you have the space and time to truly connect with each other instead of trying to talk to each of the 150+ people at your wedding. You can have the most memorable day of your life
If you're trying to figure out what kind of experiences you might like on your wedding day, here are 5 of my favorite ideas!
1. Cliff jumping
2. Helicopter ride
3. Stargazing
4. Sunset hike
5. Offroading in an ATV
2. Authenticity is important to you
For some, a traditional wedding isn't an honest reflection of you want, and for some it is - either way is absolutely perfect. I believe that you deserve to experience your wedding the way you want to. You deserve a day that feels right to you.
Maybe you started planning a big, traditional wedding, and somewhere along the way you got frustrated because you didn't feel like it was about you at all. Often times it's not; there are a hundred different opinions you have to think about and incorporate and it's pretty easy to lose sight of what is truly who you are.
With an elopement, you can pick the things that truly represent who you two are as a couple, with no limits to the activities or places you go.
Imagine getting to do all of your favorite things on your wedding day instead of fulfilling traditions that might not be important to you. You can wake up and have a slow morning hanging out with your future spouse, go on a walk, make coffee. Later in the day you could have a picnic, go swimming, explore a new place, or have a mini road trip, watch the sunset and see the stars gently begin appearing as the sky deepens into blue.
You don't have to feel like your wedding day is just a list of boxes you have to check off - you can experience the day you say your vows in the most authentic and beautiful way, and do the things that are truly important to you.
3. You want a highly intimate and intentional celebration of your love
A big reason that we eloped is that we wanted to spend time with our loved ones. We wanted time to spend with them, exploring Rocky Mountain National Park, eating together, just enjoying the days leading up to our wedding. And it was absolutely perfect.
Most big wedding timelines don't really allow much, if any, time for the couple to spend connecting with each other, and only allows a couple minutes with each guest, and that's typically just the nature of big weddings. Perhaps you're someone who really values the outdoors, and really values intimate and meaningful interactions. With a smaller guest count, you get the time and space to truly interact and connect with all of your guests, and you get to experience all of the emotions, mishaps, and sweet moments together. It can be just the two of you, or you can choose to have guests.
Eloping is really all about choosing to experience your wedding in a way that is honest and a reflection of who you are, choosing to say your vows and focus on the relationship you two have built together.And that's what it's all about, isn't it?
4. Low stress and anxiety
While it's not the case for everyone, the pressure to throw a perfect wedding celebration can be a lot - pair that with the amount of planning, time, money, and expectations, and it can be an incredibly stressful thing to do. Don't get me wrong, the idea of a traditional wedding is truly beautiful - having everyone in one place, a day devoted to celebrating your love. It can just be easy to get caught up in the production aspects of the big day, making it an extravagant event for everyone else to enjoy.
An elopement can ease some of the anxiety and stress that comes with the planning, while keeping the focus on you and your relationship. Or if you have social anxiety, you can totally eliminate that by paring down your guest list.
Eloping or having a small wedding can also create a safe space where you don't have to be anxious about family drama, friend drama, feeling your emotions, or making it about anything but the love you two have for each other.
5. Beginning your life together with an adventure
This last reason is so fun because you have the option to do something you've always wanted to do together and create a wedding experience that is wildly and authentically you. You can form your own traditions and memories, in any way that you want.
You get to be in your true element, and along with this, photos are really important to a lot of couples, and you have the option to go anywhere in the world! You're not limited at all to place, or time and this invites more space for connection, which in turn allows for intimate and real moments documented.
Your memories are important, and having amazing photography to look back on for years that shows the genuine connection and emotions can put you back in that day, letting you feel every feeling again.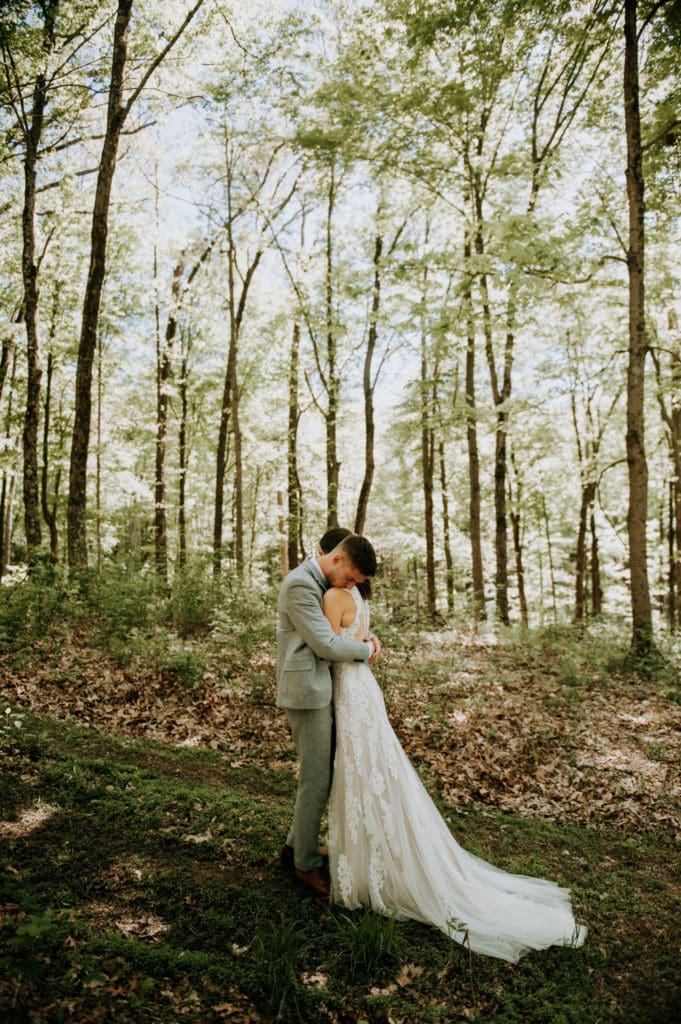 If you loved this post, check out this Intimate Spring Wedding in Tennessee or this Small Woodland Wedding. You can also check out Green Wedding Shoes' Guide 25 Places to Elope.
Contact me here to talk about your dream wedding day.