Do you imagine an outdoor adventure elopement in the incredible state of Utah? The mind-blowing canyons, red rock mountains, hoodoo rock sculptures, and epic sunsets and sunrises make Utah so alluring to those interested in a Utah elopement!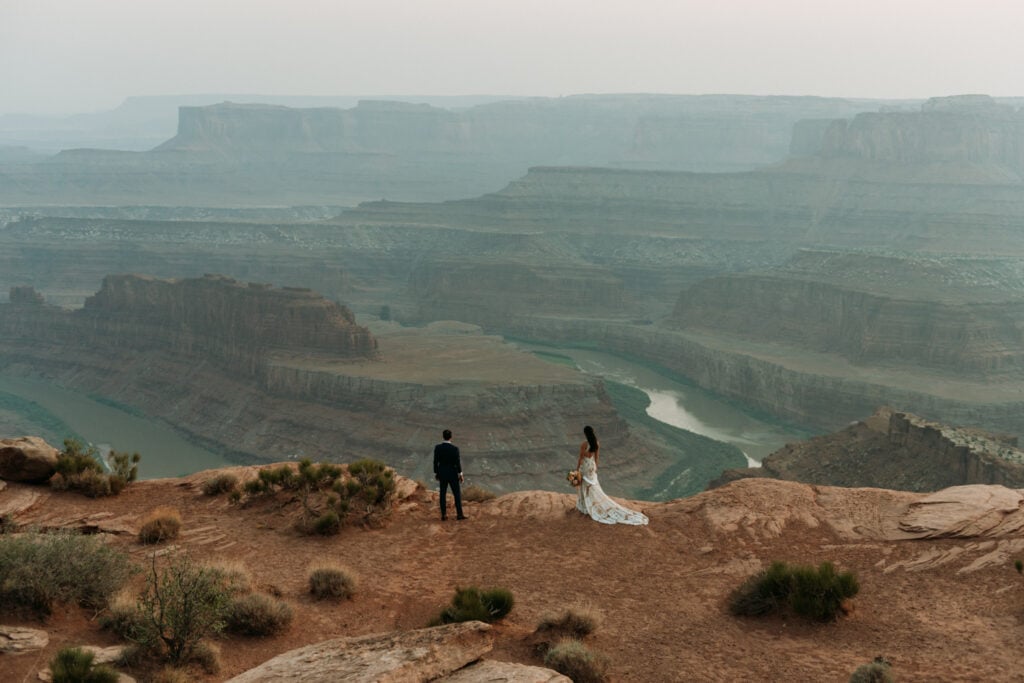 You can hike to catch the most amazing sunsets in Utah, look out over breathtaking deep canyons, and explore dozens of incredible parks and nature preserves.
Utah is home to five National Parks (known as the "Big Five") and 43 state parks and recreation areas.
In this post, I'm sharing how to elope in amazing locations in Utah—plus a few tips I've learned from photographing dozens of Utah elopements!
Utah has 5 national parks, nicknamed the Mighty Five: Zion National Park, Bryce Canyon National Park, Arches National Park, Canyonlands National Park, and Capitol Reef National Park.
We'll cover:
Eloping at the Big Five National Parks
Utah elopement activities
Marriage licenses, permitting, and fees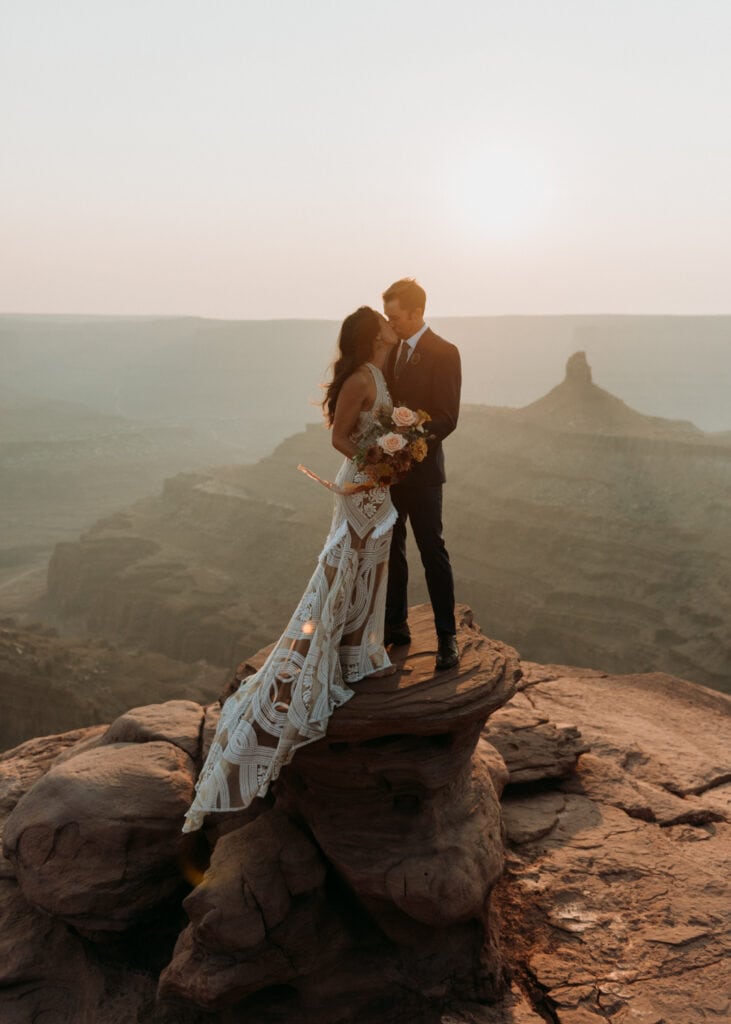 Zion National Park
Zion is perhaps the most popular National Park in Utah, and it's easy to see why. Surrounded by the serenity of nature and the awe of steep red cliffs and meandering forest trails, Zion is a special place for a destination adventure elopement.
Within Zion, you can explore winding rivers, roaming wildlife, historic sites, and participate in adventurous activities like canyoneering.
For your elopement in the park, you have 6 ceremony sites to choose from in the Zion Canyon Area and Kolob Canyon Area. Your guest list can vary from 10 to 100 people depending on where you choose to hold your ceremony.
Check out this Zion Wedding Information Sheet from NPS for more info!
Permits and Fees
The special use permit is $100 regardless of number of guests and the ceremony location. You'll need to submit the special use application at least three weeks in advance of your wedding day. Of course, I recommend planning as far in advance as you can to ease any worries of last-minute approvals!
Bryce Canyon National Park
Bryce Canyon is a stunning National Park filled with tall, totem-pole-esque hoodoo rock formations that tower up to 150 feet tall. This preserve has an amphitheater for wedding ceremonies, and another wedding ceremony site at Sunset Point.
The park contains a host of overlook points where you can catch epic sunsets and sunrises. Check out this list of the best hikes in Bryce Canyon!
Permits and Fees
Then, you and your guests will need to pay the recreational pass entrance fee to get into the park. The fees run $35 per vehicle and are good for 7 days. Check out the National Park Service website for information on getting married in Bryce Canyon.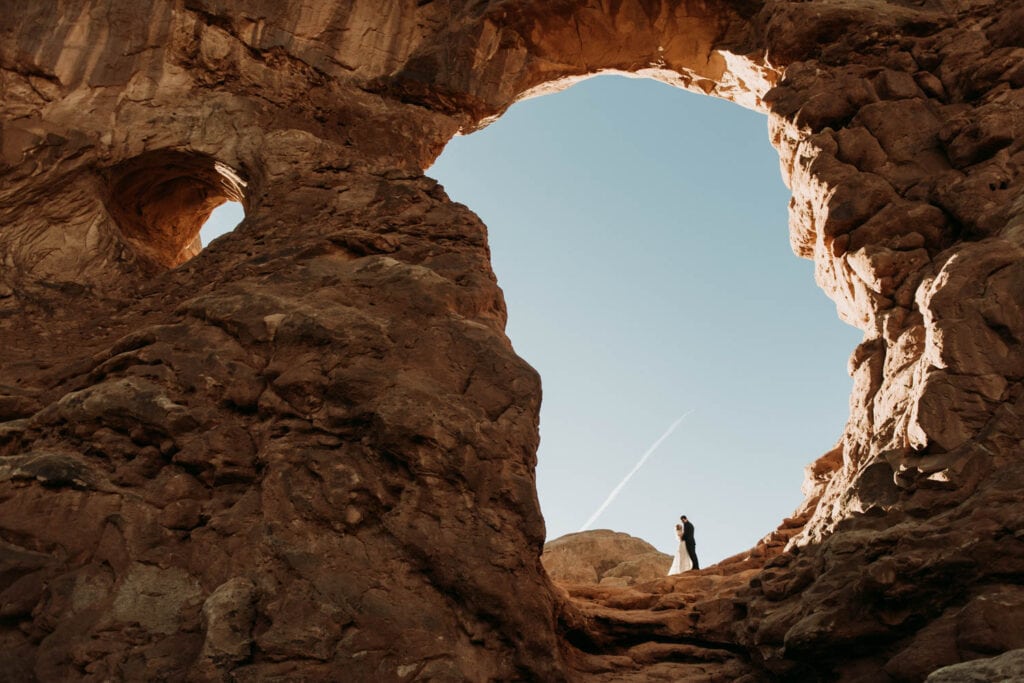 Arches National Park in Moab
Arches is a popular National Park in Moab that's a top choice for many elopements. Take note that Arches gets very busy in prime spring and summer months, from around March through October. If your eye is set on Arches, be sure to plan ahead and be prepared for crowds.
There are 10 ceremony locations to pick from at Arches. Check out my post all about planning your Moab Elopement for more info!
Wedding Permits & Fees
You'll need a special use wedding permit, which costs $185. Be sure to apply for your permit at least 4 weeks before your wedding, but you can plan your Arches National Park wedding up to a year in advance.
Canyonlands National Park in Moab
Canyonlands National Park is remote, open and filled with canyons and vistas. It's home to Mesa Arch, which is an iconic must-see landmark in Moab!
For your Canyonlands elopement, you can choose from 3 ceremony sites located at Island in the Sky.
Check out my Moab Guide for more info on eloping in Canyonlands - this is an amazing park you won't want to miss!
Wedding Permits & Fees
You'll need a special use wedding permit, which costs $185. Plan to apply for this permit at least 4 weeks prior to your ceremony. However, you can plan your Canyonlands wedding up to a year in advance. The sooner the better, so you have plenty of time to plan your perfect day!
Capitol Reef National Park in Torrey
Capitol Reef is a desert location in south-central Utah, and this is a park to remember! Sandstone domes, arches, and mind-blowing views abound at Capitol Reef.
For elopements, this is the place for small, simple, and rustic ceremonies. The park doesn't allow you to bring in much by way of decor, chairs, music, or tents, so this is really the place for a simple, intimate elopement ceremony!
You can have your ceremony around the campground, picnic area, and in the "front-country" areas. The front country includes the 15+ maintained trails along Highway 24 and Scenic Drive, plus Pleasant Creek and Castle Trail areas. The total number of people allowed at the ceremony sites range from 15 to 100.
Wedding Permits & Fees
You'll need to apply for a wedding permit, which costs $50. You can schedule your wedding up to a year in advance, and as soon as 7 days before the big day! I always recommend planning ahead whenever possible for a more stress-free experience.
Eloping in Zion National Park in Springdale, Utah
Fun fact: Zion National Park is home to the most-liked Airbnb property on Instagram: the Zion EcoCabin. Check out this beautiful a-frame cabin overlooking the stunning landscape of the Zion mountains!
Wedding & Photography Permits & Fees
You'll need to have a permit to get married at any of Utah's National Parks. Fees vary depending on the park, so it's best to check the park's page on nps.gov for up to date information.
You also typically need to have a photography/videography permit for wedding ceremony photography. But don't worry—I take care of all photography permits, so you'll never need to worry about that!
Keep in mind that some hikes require permits, such as the hike to Angels Landing in Zion. You can find all the permitting info you'll need at the National Park Service's website.
Utah Marriage Licenses & Fees
Unlike Colorado and a few other states, Utah does not allow self-solemnization, or self-uniting marriages. So, you won't be able to marry yourselves. You will need to be married by a qualified official, plus have two witnesses over age 18 at your ceremony.
One of the convenient things about getting married in Utah is that when you apply for your Utah marriage license, you can get married right away. There isn't a waiting period, so if you wanted, you could get your license and get married the same day. Your marriage license will be valid for 32 days.
Note that there will be a waiting period for wedding ceremony permits!
Marriage License Fees
Some counties in Utah charge fees for your marriage license, but not all of them. Visit the Utah Courts page for more information. You can apply for your marriage license entirely online, which is super convenient as well. You won't need to show up at the clerk/auditor's office to obtain or return your marriage license.
Utah Elopement Activities
Now that we've reviewed some amazing Utah elopement locations, what fun adventures will you get yourselves into while on your trip? Utah is a huge state and you could spend a lifetime exploring everything—but here's a roundup of some fun adventure activities you'll never forget!
Explore Petrified Sand Dunes
Petrified sand dunes are a super cool thing to see while on your trip to Utah. The dunes were formed from ancient sand that has hardened to stone known as Navajo Sandstone. You can see petrified sand dunes in Arches National Park, in Snow Canyon State Park, among others.
Ski at Park City Mountain Resort
One of the top ski resorts in the country, Park City is a great place to hit the slopes for skiing or snowboarding.
Explore a Geothermal Spring in a Crater
There's plenty of opportunity for soaking in natural hot springs in Utah. One cool location to scout is Homestead Crater—concealed under a limestone rock dome, this crater is filled with 90-plus-degree mineral water that visitors can enjoy year round. You can even go scuba diving here!
Float on the Water in the Great Salt Lake
The salt content in this lake makes you float atop the water, which is a unique experience that you have to try for yourself.
Hike Angel's Landing
This attractive landmark in Zion is popular with tourists and offers incredible views. It's known as one of the scariest hikes in the country—but also one of the most spectacular. At 5.4 miles round trip and gaining 1,500 ft in elevation, this is one to put on the books for the most daring hikers. Hiking permits are required, and you must enter the lottery to obtain one. Learn more at Angels Landing page on nps.gov.
View Wildlife at Antelope Island
Natural springs, mountain views, and wildlife viewing opportunities are many at Antelope Island. This is the largest island on the Great Salt Lake, and it's the place to go for amazing views and getting close to nature.
Kayaking at Lake Powell
This reservoir is not only beautiful, but offers a bunch of water activities for you to enjoy. From kayaking to wakeboarding and swimming, Lake Powell is a top Utah destination to visit.
Explore Coral Pink Sand Dunes
Coral Pink Sand Dunes is popular for ATV off-roading, but it's also an amazing place to sink your toes into the sand and scope the sunset.
The Navajo Sandstone here is blown off the surrounding mountain cliffs and accumulates in the valley below. There's even abundant plant life considering the sandy landscape, so expect to see pines, tall grasses, and lots of spring wildflowers.
Snowshoeing and Cross-Country Skiing
Utah's parks often offer snowshoeing and cross-country skiing on the trails in winter months, which is a fun and adventurous way to explore Utah without all the crowds. Check out snowshoeing and skiing opportunities in Bryce Canyon and Coral Pink Sand Dunes for a sparkling winter adventure.
Check Out Goblin Valley State Park
Do mushroom-shaped rock formations known as "goblins" sound intriguing? Check out Goblin Valley State Park, which is filled with these unique formations known as hoodoos. Referred to as a "strange and colorful" landscape, Goblin Valley attracts interested visitors to experience its interesting terrain through hiking and camping. Check out the starry night sky above these intriguing land "gnomes"!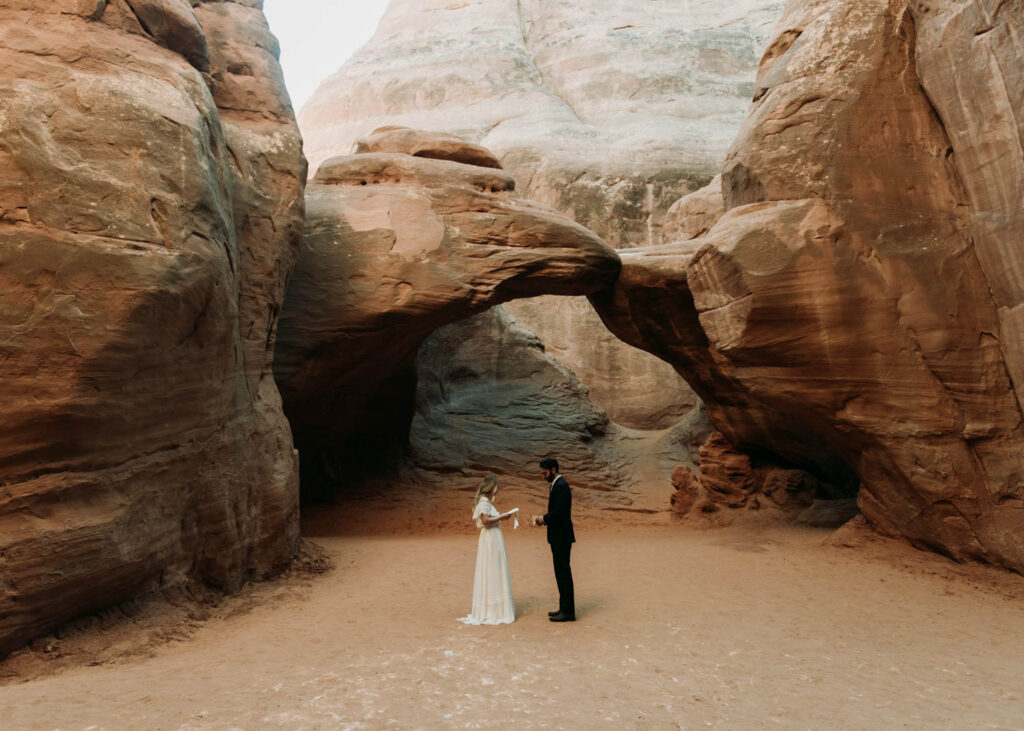 Finding Your Utah Elopement Ceremony Site
One of the best parts of being an elopement photographer is helping amazing couples like you find an elopement location that ticks all the boxes on your dream list.
As your photographer, I help you with location research, vendor research, ceremony sites, and more for your Utah elopement. This is a premium service included with every elopement package. Check out my elopement packages page for more information.
Contact me with any questions or to get started with the planning! You can also book a free 30-minute call with me and we can find something perfect for your Utah elopement!
I hope this guide helped you decide to take the leap for your dream Utah elopement.

For more elopement tips and resources, check out the blog and my collection of planning tips!