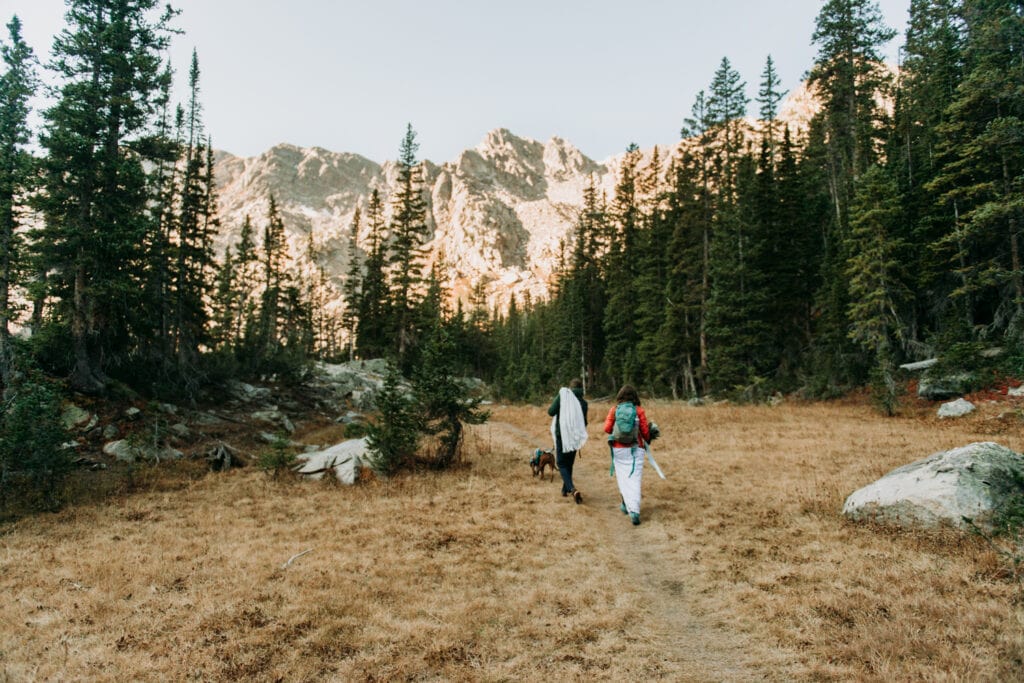 Your wedding day is one that you'll cherish forever. If you and your partner are the adventurous type, if you love the outdoors and a great hike and are looking to add that special touch to your wedding day a hiking elopement might be the perfect plan for you.
Planning a hiking elopement, though? How do you do it?
I'm here to help you every step of the way! Adventurous hiking elopements are the most fun and I love getting to be a part of something so special, so I have created a guide to help you seamlessly plan every detail.
Decide Where to Hike
Where do you start? Well first thing first, decide your ideal hiking location!
Considerations to keep in mind:
How long do you want your hike to be? How difficult? What about altitude?
What kind of scenery do you envision?
Are you bringing guests?
What time of day are you planning on hiking? Getting married?
Are you okay with other hikers being around or would you prefer privacy?
Inviting guests is always super special, and especially bringing them on a wedding day hike with you! You'll want to make sure they're able to do whatever hike you decide, and fill them in on all of your important elopement day details.
When you're deciding the length of the hike and the difficulty, keep in mind what you'll be bringing along with you. What you plan on wearing, how you'll want to look for the ceremony, and the times that you'll want to begin, and end your hike.
Find your Vendors
There's a whole lot that goes into planning a traditional wedding, so many vendors that you need. Catering, florist, glam, baker, linens, officiant, the list goes on and on. So, how do you find vendors for an elopement? Do they need to hike with you? Where do you find somebody who is willing? I've got your back, let's dive in.
What vendors do you need?
Let's start with the vendors that will need to do this hike with you.
Officiant: Colorado is an amazing choice for hiking elopements. Not only is the weather beautiful, the hikes and views are stunning, but it is also one of only a handful of states where you actually don't need an officiant or witnesses. Otherwise, you'll need to find an officiant that is willing to climb that hike with you.
Photographer: This is the biggest and most obvious person that you'll need by your side. They are also probably going to be the most knowledgeable for hiking elopements - in terms of helping you plan, pack, and giving you advice for your big day.
Videographer: This is more optional, but always an amazing idea. If you can find a great videographer to document your hike, you'll not end up regretting it.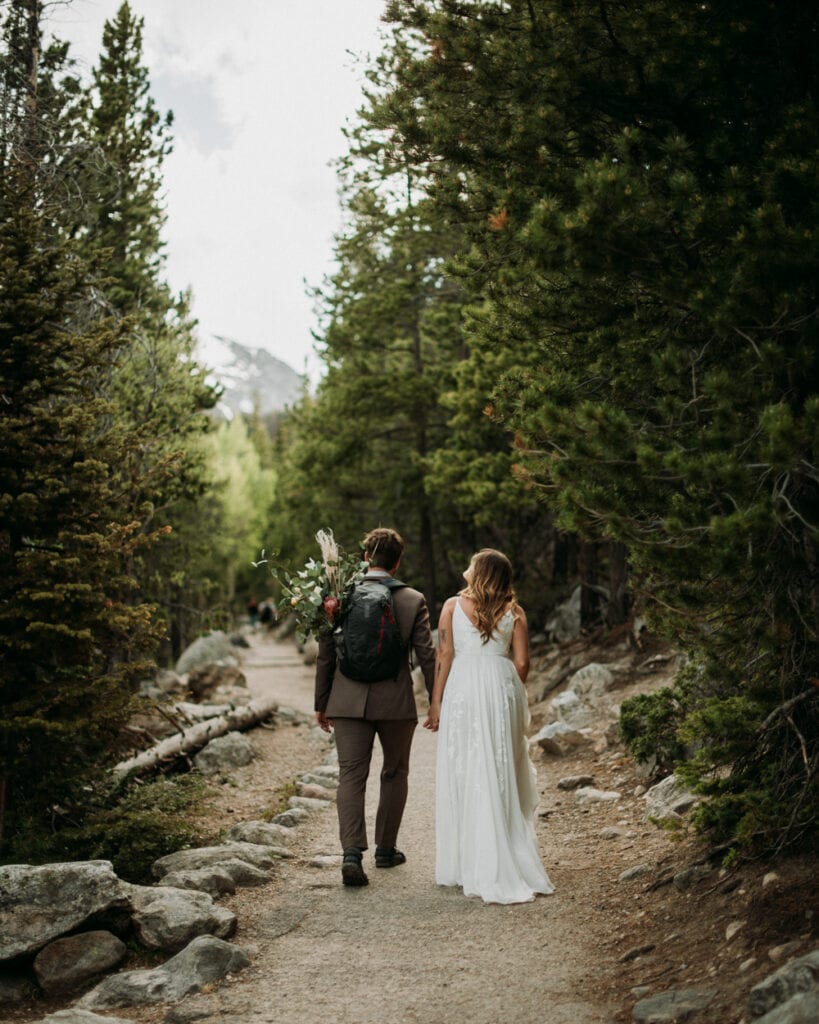 There may also be vendors that you will work with prior to the big day.
Florist: If you want to bring a bouquet, you'll want to let your florist know what you're planning. They'll know the hardiest flowers that will stay looking beautiful even after hiking several miles. You'll likely want to pick up the flowers the night before your wedding, depending on the time that you plan on beginning your adventure elopement.
Hair and makeup: There are two ways that you can go about hair and make up for your big day if you aren't comfortable doing it on your own. You can get it done in the morning before you go on your hike. Have the stylists give suggestions on a hair style that will stay secure, and have them help you learn how to touch it up as needed. Same goes with makeup, if they do your makeup before you begin your hike, ask them to teach you how to fix or touch up your makeup when you hit the peak of your hike as you're getting ready. You could also ask your hair and makeup stylist to join you on the hike, they might be down for some adventure also!
Cake: Just because you're having a unique wedding doesn't mean you need to forego ALL the traditions! If your hike isn't going to be extremely long, you may be able to bring a tiny cake or cupcakes with you to celebrate once you have your ceremony! (Don't forget some for the vendors too!) Pick it up before you head out on your hike, or the night before, and be sure to get a cake that will last a few hours without refrigeration.
Where/ How to Find your Vendors
I recommend starting with your photographer! If you pick an experienced adventure elopement photographer, they'll be really knowledgeable in helping you find locations and hikes, they'll know the terrain and weather and any safety precautions, and can give you all the info you need to know for timelines, permits, and anything else that might come up.
Once you select your photographer, they will be able to recommend other amazing vendors you might be interested in.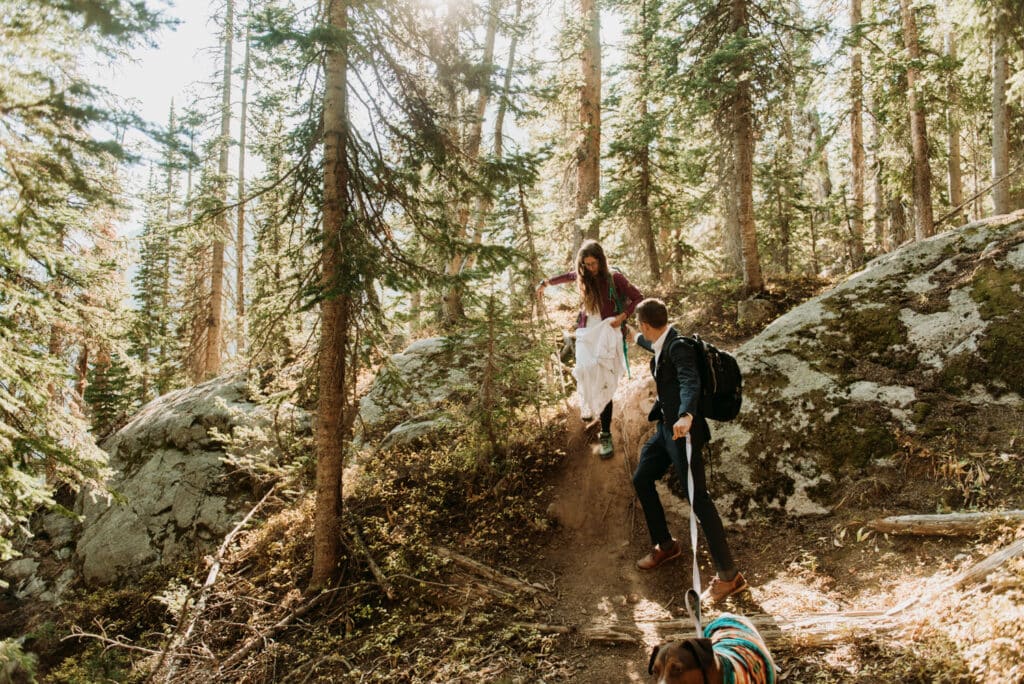 Prepping for your hike & ceremony
The wedding plans are set, congratulations! Now we'll make sure you're fully prepared for your big day. You'll need to know about rules and restrictions, permits for your marriage, what to pack, and how to plan the day.
Permits
Chances are, for either hiking or getting married in a national park, state park, or national forest, you're going to need a permit. Every location is different - some may require you to book a date and time for your ceremony and only allow specific locations within the area to get married, others may have less strict guidelines.
To find out what the requirements are of your park, you can check their website or call the park directly. When you book your elopement with me as your photographer, I'll handle all of the permitting for you!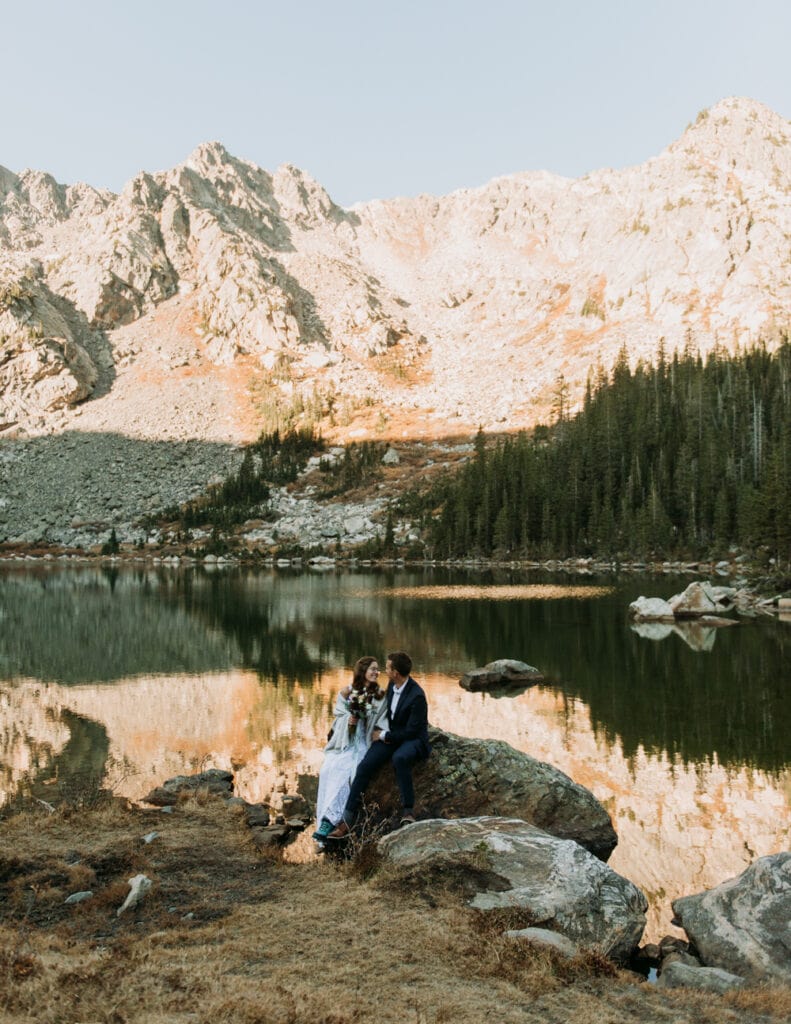 Packing
It's your wedding day! And you're doing it in the coolest way possible. The last thing that you want is to feel unprepared or stressed. Here is a packing list of some of the essentials that you may need during your hiking elopement. It's easy for all of this to seem overwhelming, but I'll help you narrow everything down and make sure you're not unprepared!
Snacks (fruit, trail mix, granola bars, sandwiches, etc.)
Tons of water
Bear spray (check the website for your hiking location. Some locations require you to carry bear spray, and some locations don't allow it.)
Bug spray
First aid kit
Head lamps
Layers - raincoats, insulating layers, etc.
Bridal emergency kit (You can either DIY your own, or purchase one on etsy. They usually include items such as: bobby pins, hair spray, fabric tape, deodorant, stain pen, tweezers, earring backs, tampons, advil, super glue, clear nail polish, nail file, q-tips, scissors, a small mirror, eye drops, makeup wipes.)
Celebratory items - rings, small bottle of champagne, a small cake or cupcake, speaker for your first dance
Wedding clothes
Wedding License
To get your wedding license, you'll need to apply for it the town/city hall just as you would any other wedding. Be sure to bring your birth certificates, and ID. Visit the town or city hall website for a complete list of anything else you may need and instructions on how to fill out your license.
Rules & restrictions
Check out the guidelines for the park where you'll be hiking. Usually park sites will have updates on trail and road conditions, weather advisories, bear activity, and anything else you might need to know. The more prepared you are for the area you are hiking in, the smoother your day will go. I'll help you be as prepared as you can - so don't let all these details stress you out. I've got you!
Tips for your hike & ceremony
Now time for the fun wedding details!
There are a few ways to go about getting ready for your wedding ceremony and they are just based on preference, safety and convenience.
Get ready before your hike:
If you would like to get fully ready before your hike, hair, makeup, dressed and ready to go, you can totally make that work! We recommend a hike that is not too difficult, and will be no more than 2 miles until your ceremony destination if you'll be hiking in your wedding dress.
Schedule with your hair and make up team accordingly and pick a hairstyle that will stay secured. Since you packed a mirror you can touch up whatever you need before you begin your ceremony.
There is nothing more important than safety and comfort, so keep this in mind if you're looking to get ready before the hike. Select a dress that allows you to move freely and wear undergarments that will keep you comfortable while hiking. Leggings under your dress are an especially great idea if it might be cold.
You'll also want to be cautious of your material and choose something light and flowy. Selecting a dress with a train is a choice that is always gorgeous, makes for great movement and adds the perfect drama to your photos. If this is an option that you'd like to go with you should definitely hire a seamstress to add a bustle to your dress.
Be sure you can sit in the dress, climb stairs in the dress and it doesn't feel restrictive at all so you can complete your hike without any issues. It's almost impossible to keep the dress clean throughout the day - but that's not what we're here for is it?
When it comes to hiking shoes, comfort is of the utmost importance. If your hike is somewhat difficult, you'll want to make sure you have a broken-in supportive shoe that won't cause any blistering. Hiking boots or trail runners are a great place to start depending on the hike, but if you're feeling unsure, just message me and I'll let you know what will function best! And if you found some other shoes you love, we can always bring them along.
Where to Get Ready
If you're looking for a unique place to get ready before your hiking elopement, there are a ton of great options for that! If you're close to a town or city, a fancy hotel is always a good bet. Personally, when I'm staying somewhere new, I love to stay in Airbnbs, VRBOs, or use Outdoorsy (if you click this link, you'll get $50 towards your first stay!) to rent a campervan or RV!
Any of these options are going to be really great, and I can always give you my opinion if you're not sure if the space will photograph well!
Get ready when you reach your destination:
If you're looking to accomplish a more difficult hike, or don't want to get ready before you reach your destination because of comfort or weather, there are options to be able to get ready once you're there.
Have your hairstyle and makeup routine already selected and practice a few times before your wedding day. You can also find a hair and makeup stylist who is willing to do the hike with you and can get you ready once you have reached your location. Wear the undergarments that you need for your dress during your hike to make it easier to change while you're there.
When picking out your dress, pick a fabric that is less likely to wrinkle since you'll be packing it. Roll the dress rather than folding it and secure it in a spot where it will stay clean and beautiful! Then change your shoes if you want and you are ready to go!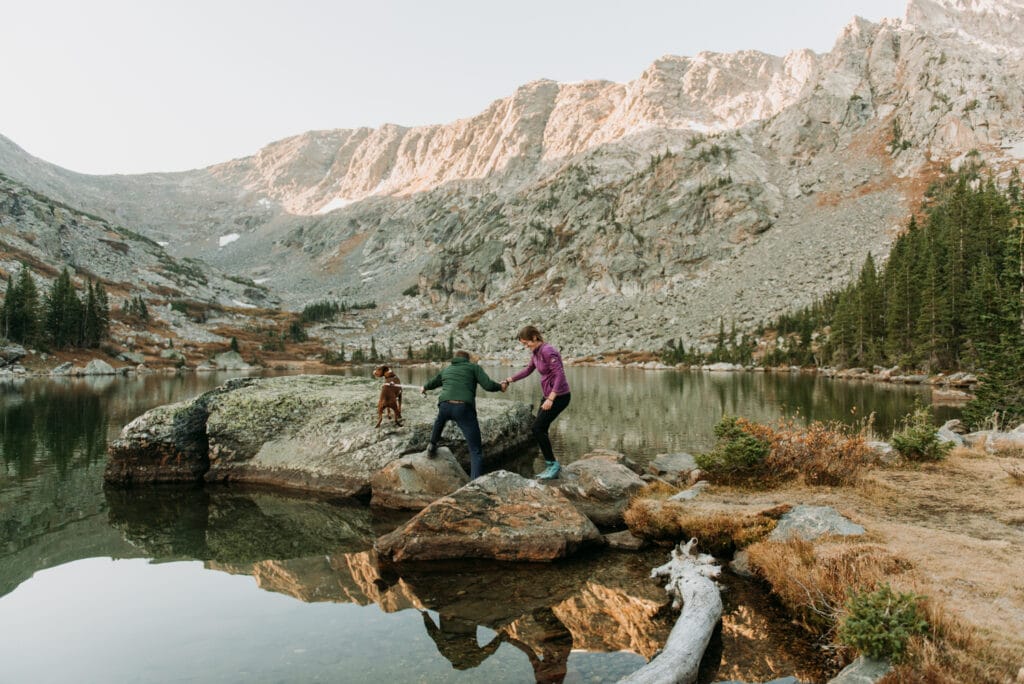 Have Fun & Leave No Trace
The two most important rules to remember during your hiking elopement– enjoy your day and leave no trace! If you are not familiar with the term "leave no trace" it's super simple. All trash, equipment, personal belongings, anything that you bring into the park, take out of the park or put it in the proper trash receptacles. We are lucky to be able to enjoy such a beautiful park and to keep it that way, we must be respectful and clean up after ourselves. You can find more information on Leave No Trace's website.
Planning your elopement? Check out these other articles for more planning tips to get you headed in the right direction:
Everything You Need To Know for Your National Park Wedding
25 Adventure Elopement Ideas
How to Elope at Rocky Mountain National Park