Having a mountain elopement is a dream in itself, but including everything that you love makes it even more special. The best thing about mountain elopements is getting to curate your experience to you as a couple! Start dreaming of the activities that the two of you love doing together, and let's make your dream mountain elopement happen!
A mountain elopement is simply an elopement held in the mountains—whether you hike to the top of a mountain peak for your ceremony or get married next to an alpine lake… Sounds dreamy, right?
Why Choose a Mountain Elopement?
Ahh, a mountain elopement is a dream for many couples (it was for me too!). There are so many reasons a couple might opt to have a mountain elopement, like:
Hiking to an epic vista for those breathtaking views and amazing photos
Incorporating the outdoors and getting married surrounded by nature
Hiking to an alpine lake for stunning scenery and maybe a canoe float adventure
Experiencing nature's beauty, wildlife, and all the magic of the outdoors while adventuring to your ceremony site
Saying your vows on a mountain top with an incredible backdrop
Incorporate camping, glamping, campfires and stargazing
Making your elopement anything you want it to be!
Find Your Dream Mountain Elopement Location
So, eloping in the mountains sounds amazing, right? You want to have your dream mountain elopement surrounded by nature. But where will you go?
Whether you're looking to travel to a foreign country like Iceland, or want to stay local to the U.S., you have plenty of options! So, where to begin?
For information on Iceland elopements, check out my Iceland elopement guide.
Within the continental United States, I've shot my share of stunning mountain elopements in Colorado, California, and Oregon! These states are incredible for mountain elopements. You can experience some of the most spectacular mountain views and an impressive variety of landscapes, stunning arches, rock formations, rivers and lakes, meadows filled with wildflowers, amazing wildlife spotting opportunities, and so so much more.
The Best Places For Mountain Elopements
No matter which mountains are calling to you, I can help you find the best ceremony locations for your mountain wedding. And of course, I'll bring any advice I have to assist you with all the planning.
As an adventure elopement photographer, I help all of my couples coordinate travel, ceremony locations and activities based on your dreams, preferences and ideas.
[Get to Know Me] link to about page
Below are a few of my favorite places for mountain adventure elopements.
Please see the CDC travel page for updates regarding Covid-19 and travel precautions and guidelines.
Rocky Mountains
This is Colorado, a state renowned for its mountains! Venturing into the Rocky Mountains for your mountain view wedding is an absolute dream! This is where I chose to get married, so I know first-hand how exciting it is to make your RMNP wedding come true.
For all the details on getting married in the Rockies, check out my guide on how to elope at Rocky Mountain National Park
You also have so many ski resorts and mountain towns to add to your list of potential mountain elopement locations!
Check out this stunning hiking elopement in Telluride
Learn more about my Colorado elopement packages
Cascade Mountains
Starting from Northern California in the south and leading to central British Columbia in the north, the Cascade Mountains span Oregon and Washington states and offer so much opportunity for adventure.
North Cascades National Park is a popular option for mountain elopements with its incredible mountains and glaciers, waterfalls, mountain towns and all you'd expect from one of the most beautiful regions in the country.
If you love hiking, trek for just a couple miles to get to some stunning and more remote elopement locations. In addition, this National Park can be a bit less touristy than other parks. So, if you want a more remote location for your mountain elopement, consider the Cascades.
Here's my post on how to elope in Oregon
Sierra Nevada Mountains
Extending from the Mojave Desert to the Cascade mountain range, the Sierra Nevada Mountains in California are an amazing location for a mountain elopement.
Contained within this mountain range is the Pacific Crest Trail, Lake Tahoe, amazing national parks like Yosemite, and other notable and incredibly beautiful areas of the U.S. for adventure elopements!
Whether you want to elope near beautiful Lake Tahoe or at Sequoia National Park or Yosemite, the Sierra Nevadas check every box on the "must-have photos" list. South Lake Tahoe was even just named the most popular place in 2021 according to Zillow.
Check out my guide to eloping in Yosemite
Permits For Mountain Elopements
How do you elope on a mountain? Well, your first step is getting there! You can choose to hike, or find a hidden gem that gives you views without having to walk very far.
For most mountain ceremony locations, you'll need to register and pay for a permit for your elopement ceremony and photos. Your elopement photographer should be more than willing to help you each step of the way to make sure all required permits are taken care of.
I have extensive experience acquiring national park ceremony permits and photography permits. Here's a quick overview of how to get permits and how I can help you get them.
Typically, you'll want to find your park's page at nps.gov. Scroll down to "Find a Park" and select the state in the drop-down menu.
Then, you'll see a list of parks for that state. Click on the park of interest and you'll see lots of helpful information about the park including maps, things to do, and information on fees and passes.
Each park sets its own rules in terms of permits to protect wildlife, the park, and to be considerate of other visitors. Read all about special events permits here.
Remember, your photographer should be available every step of the way from planning your shoot locations to helping you navigate permits for those locations.
When to Elope in the Mountains
You can have an amazing winter elopement in the mountains and one that's just as amazing in the summer. This all comes down to personal preference.
Keep in mind that weather is more variable in the mountains and higher altitudes, so you'll want to be prepared to encounter varied temperatures, potentially fewer hours of daylight, and more unpredictable chances of precipitation, wind, and the elements.
Even though it's geared specifically for a winter elopement, my winter elopement guide advice can apply to mountain weddings during all seasons. 
As you can imagine, late spring through early fall make incredible times of year for a mountain elopement. The days are longer, the weather more mild, and trees and flowers will more likely be in bloom. But some couples want snow, and they should have snow!
Considering a wintery elopement? Check out this wintery A-Frame elopement in Grand Lake.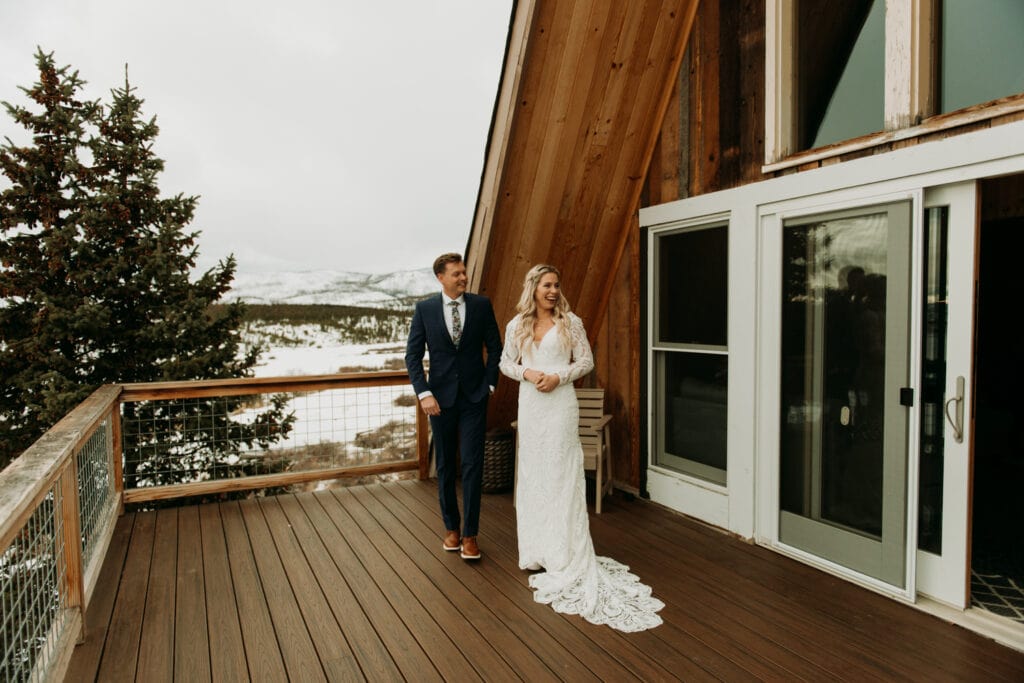 Where to Stay for Your Mountain Elopement
When it comes to mountain elopement accommodations, you've got options!
Some of my favorite places to stay have been Airbnbs, but you can also find mountain cabins, camping and glamping options, VRBOs, and of course hotels near some spectacular mountain towns.
Airbnb or VRBO
Whether you choose to elope just the two of you or you'd like to have family and friends get in on the celebration, an Airbnb rental can be a great choice. Here you can have your ceremony or reception, use it as a place to get ready for the day, or just keep it as a home base for a tight-knit crew to reconvene in between activities.
As for Airbnbs and VRBOs, it's super important to check with the host to make sure they allow events. Check out my Airbnb elopement guide for my top tips on hosting an elopement reception at a rental property. Renting a whole-house Airbnb in the mountains is also a great and flexible option if you have family or friends traveling who all want to stay at the same place!

Camping or Glamping
If you're truly outdoorsy, your mountain elopement might not be complete without some camping! Camping or glamping is a fantastic budget-friendly option to immerse yourselves in nature. Get ready to cozy up around the campfire and do what you enjoy the most: enjoying each other's company outdoors.
Keep it simple with tent camping, or go glam with an option like renting a luxury airstream or trailer. Once you start researching glamping, you might just be mesmerized by all the options! These accommodations can make for an incredibly memorable mountain elopement home base.
Cabins or Hotels
Mountain towns will often have a selection of cabins or hotels to choose from. Sometimes you can find a bundle of cabins close together or even rent an entire resort town. You could also book multiple rooms in a hotel block if this is the route you choose.
Tips for Your Adventure Elopement
I love helping newly engaged couples plan their perfect dream adventure elopement. I'm always here for questions you might have! Feel free to check my resources and planning tips to help you start planning your magical adventure.
Read more Elopement Planning Tips here