Moab Elopement Tips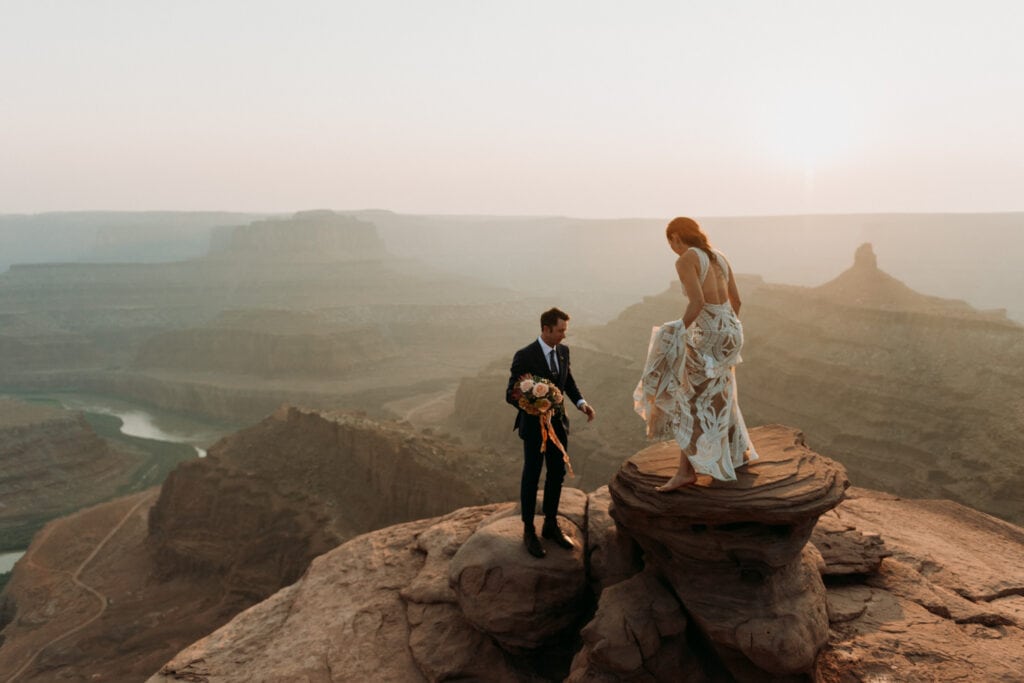 What an exciting decision to elope in Moab, Utah! Eloping in this area of the U.S. is an amazing choice for so many reasons: You've got mind-blowing views, incredible desert landscapes, awe-inspiring canyons, sandstone arches, and miles of endless sky. This blog covers my top Moab elopement tips, including everything you need to know about how to elope in Moab!
Moab is beautiful all year round, and especially outstanding in the fall and spring. The two national parks — Arches National Park and Canyonlands National Park — along with Dead Horse Point are incredible settings for intimate Moab weddings or adventure elopements! Bonus: they're all easily accessible!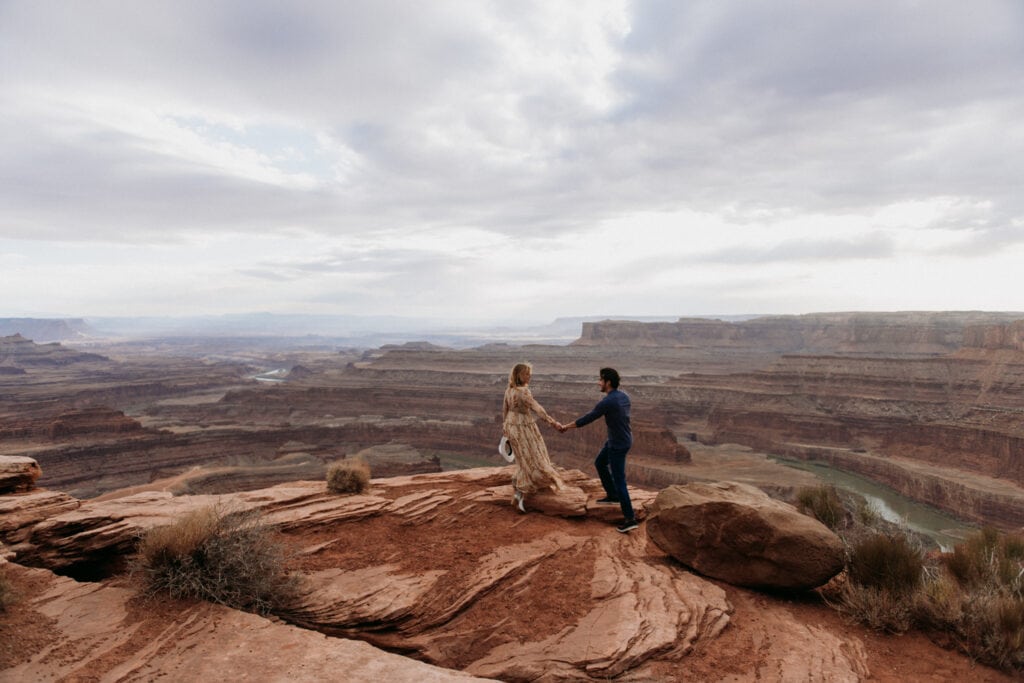 Where To Elope In Moab 
If you're looking for unique elopement ideas, Arches National Park, Canyonlands National Park, and Dead Horse Point State Park in Moab are incredible places for an adventure elopement!
National park weddings are incredible no matter which location you choose! You'll get the stunning scenery of canyons, rock formations, sandstone arches, and endless skyscapes.
If you're planning to have your Moab elopement during a popular time of year (fall or spring), expect to be among tourists, especially at popular landmarks.
But, remember that we can always take your elopement photos anywhere in any of the parks! And I love helping clients who are eloping in Moab to find lesser-known spots where tourist traffic won't be as heavy. (Don't worry, we always follow leave no trace policies and have utmost respect for the land as well as all rules set forth by the National Park Service).
Because it's only a 30 minute drive from Arches National Park to Canyonlands, you can spend time exploring both on your elopement day.Let's talk about the three park options and ceremony sites for your Moab elopement!
The Best National Parks To Get Married In Moab
Arches National Park
If you're wondering, "Can you get married in Arches?" the answer is YES and it's STUNNING.
The park has over 2,000 sandstone arches that will blow your mind, and tons of trails to explore for your photos. This is an extremely popular site, for good reason. Within the park there are 10 different locations where you can schedule your ceremony, but you might want to act quick! Spots can get taken up quickly!
Fall and Spring are the most popular seasons for elopements in Moab because of the incredible weather. Remember though, a beautiful park + beautiful weather = lots of tourists. Just don't expect to have the place to yourself if you are picking a popular time of day and time of year.
Arches is just a super short drive from town, so this park is easy to get to and very accessible.
Arches National Park Elopement — Permits, Rules & Restrictions
Does Arches require a permit? Yes — to apply for your permit visit NPS.gov. This website has all the information that you need for your Moab permits. They will ask for your preferred location, date, time, and alternates to make sure they can get you a spot that you will love. The more flexible you are, the better, as they only allow two ceremonies per location, per day.
Be sure to speak with your photographer when deciding what time of day would be best for you. If you're getting married at an epic place, you're for sure going to want to catch the epic lighting!
The permit costs $185 total which you can pay for online. The $185 covers the administration fee and the application fee, but when you are planning your budget make sure you keep in mind there is still an entrance fee per person, and a parking fee per vehicle.
The permit is only for your ceremony. So, once you are married, feel free to roam the park to explore and hit up all the spots you would like for your portraits and some adventure, if that's your thing.
Also remember, the permit is only for the ceremony in the park, it's not your wedding license. You must apply for your wedding license at a city/town hall. Be sure to do research on what will be needed for that.
You will also need a Utah wedding officiant to marry you, as well as two witnesses to sign your wedding license. The maximum guest count for each site includes the officiant and witnesses, along with you and your partner, plus any vendors. Each site allows a different amount of guests, but we'll get to that!First, let's go over some national park rules and restrictions.
What Is Prohibited In Arches National Park? 
There are some restrictions set in place to protect the flora and fauna in the park and to maintain safety and access for all visitors.
During your Arches National Park wedding, there are a few rules and regulations to keep in mind:
Do not release butterflies, doves, or any other wildlife
You may not use any rice, birdseed or non-native plant during your ceremony, or at any time during your visit to the park
You may not bring folding chairs (unless approved by the park), tents, tables, caterers, or sound systems
Alcohol use is prohibited
No one may play musical instruments or use speakers or amplified sound
You may not bring dogs or animals onto the site
Let's get to the fun part: picking your ceremony location at The Arches!
Where To Have Your Arches National Park Elopement
There are 10 locations to choose from for your ceremony in Arches National Park. These are all amazing locations for a Moab elopement! 
La Sal Mountains Viewpoint
Ceremony size: 50 people
So, this spot is not an arch…but it will give you heart-eyes. The landscape view from this viewpoint is AH-MAZING. Even if this is not the spot you choose for your ceremony, it's the perfect place for a photo op, and it comes highly recommended.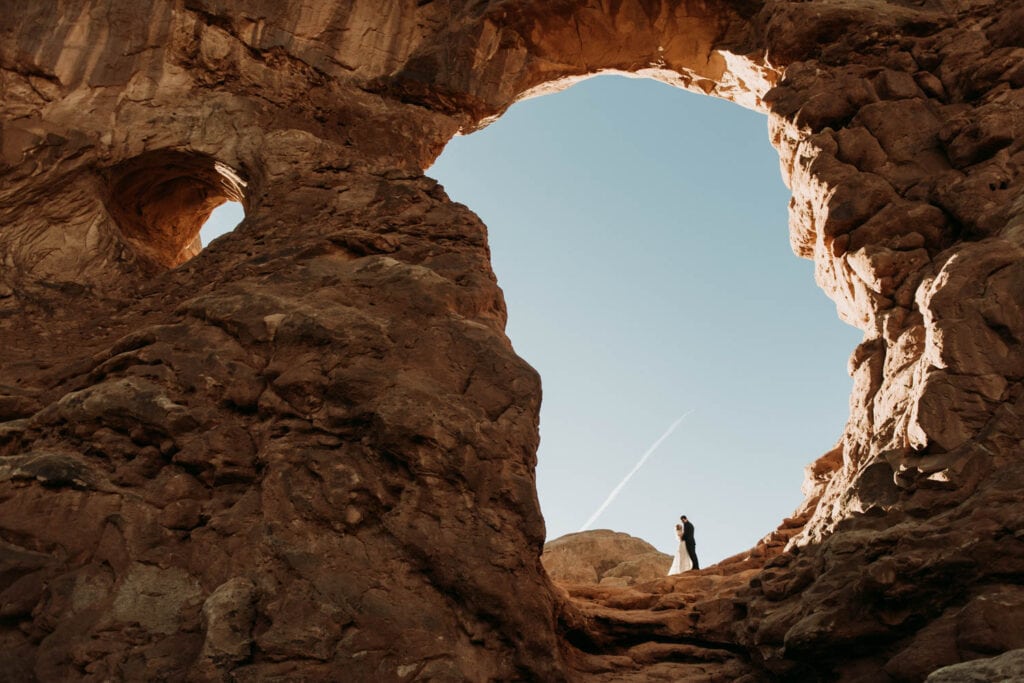 The Windows Section
Ceremony size: 25 people
The Windows Section is one of the most scenic locations in the park due to its abundance of iconic arches. You get to pick from four spots within this site that are easy to get to by trail: The North Window, South Window, Turret Arch or Double Arch. 
The benefits of this site go beyond the magnificent scenery: it's easily accessible, the different sections are reasonably close to each other, and you get so many different views from one central location!
Because it's so beautiful, the Windows Section is an extremely popular location and gets busy during the day, so it would be best for a sunrise elopement.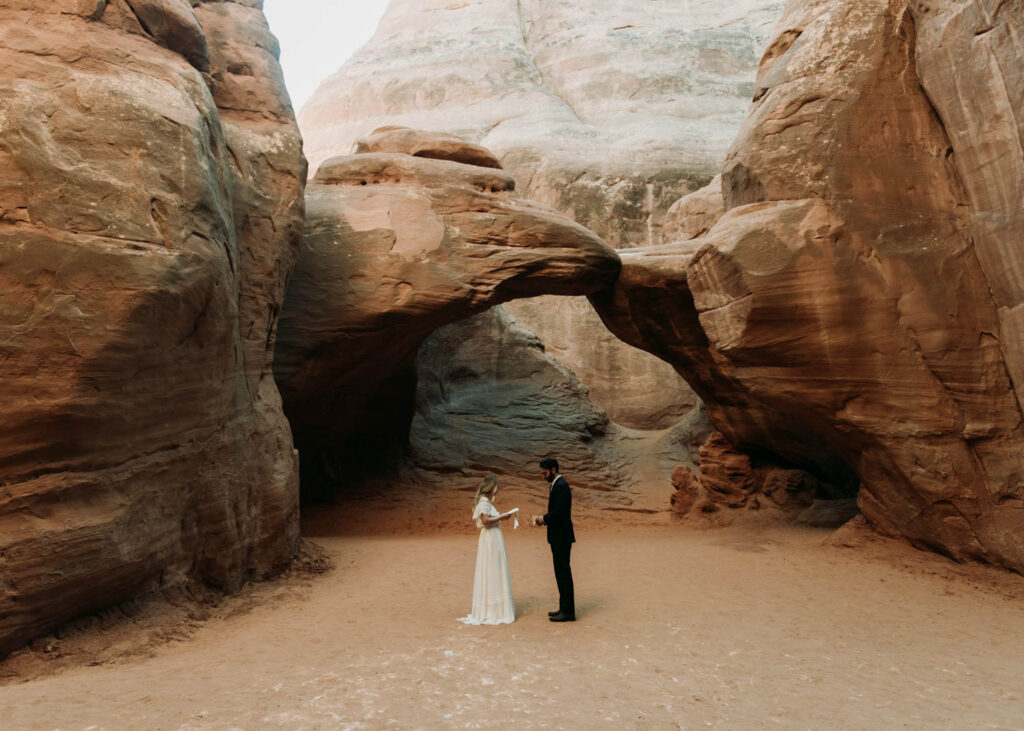 Sand Dune Arch
Ceremony size: 25 people
This location is gorgeous! It's not difficult to get to, and you get to trail through some beautiful and amazingly quiet sandy canyons before you reach the arch.
This is perfect for early risers, as it makes for awesome photos, especially in the morning!
Delicate Arch
Ceremony size: 10 people
Delicate Arch is one iconic arch that is definitely worth the hike, but do keep in mind that it gets busy, even at sunrise. Weddings are limited to 10 people, so this might be a good location if you only have a few people in your wedding party.
And make sure your guests, your officiant, and your photographer don't mind heights or moderate hiking! Delicate Arch is about a 3-mile trail that isn't terribly difficult, but you should definitely be prepared for it.
There's a reason people go out of their way to hike Delicate Arch: the views are spectacular! It's a popular viewing spot, and this location often draws a crowd.
Delicate Arch Viewpoint
Ceremony size: 25 people
Delicate Arch Viewpoint is the opposite view of Delicate Arch. It's far more accessible than Delicate Arch, but it can get icy, so I don't recommend it for a winter elopement. 
The view is beautiful, and you can have up to 25 people in your wedding party at Delicate Arch Viewpoint, versus just 10 people at Delicate Arch.
Pine Tree Arch
Ceremony size: 25 people
This arch is a little secret spot which is perfect for a couple who may not want as many tourists around. It's very accessible and absolutely beautiful!
Landscape Arch
Ceremony size: 10 people
True to its name, Landscape Arch is a site that overlooks some killer views, and the trail to get there is just as amazing. This is a confined area, so the tourist traffic is likely to be lower. That makes Landscape Arch ideal for those who don't want to draw a crowd. Note that the ceremony party size is limited to 10 people.
Park Avenue
Ceremony size: 25 people
This is one of the trademark sites, and a very popular favorite. It is easy to get to and has views to die for. If you have a picture in your head of what Arches National Park looks like, this site is probably it.
Devils Garden Campground Amphitheater
Ceremony size: 80 people
Devils Garden Campground Amphitheater is the only ceremony site in the park where you can have a large group of people attend your wedding. With a ceremony size capacity of 80, you can be more flexible on the guest count and still have an intimate Moab wedding!
The same rules and restrictions still apply to this site as they do to the others. Devils Garden is paved, so it may be a better option for couples or guests with physical limitations. This might not be the location with the most incredible views, but once the ceremony is finished, you can still roam the park to get those incredible pictures that you came here for.
Panorama Point
Ceremony size: 25 people
This is a great location if you're looking for a variety of views, and easy accessibility. Panorama Point is about halfway through the park so you get the views of the landscape of the park, La Sal mountains, and The Windows Section.
If an Arches National Park wedding is something you want, I'm here to help! 
Contact me to start planning and let's talk about your Arches National Park elopement. I'd love to help you explore your options in Arches as well as other locations in Moab.
Canyonlands National Park
Canyonlands National Park is a National Park like Arches, so many of the same rules apply.
The permit process, restrictions, and cost of permits are all similar. But there are two big differences with a Canyonlands National Park wedding: the scenery and the accessibility.
Canyonlands National Park has a much different feel to it than Arches. This park is more remote, more wild and open, and is filled with vistas and canyons. Although it is not as busy or popular, it does have one of the Utah landmark icons, the Mesa Arch… which is pretty much a MUST SEE!
Canyonlands is a pretty big park, so if you are going to want to explore, make sure you have a timeline and schedule out your day so you can hit every area at the right times.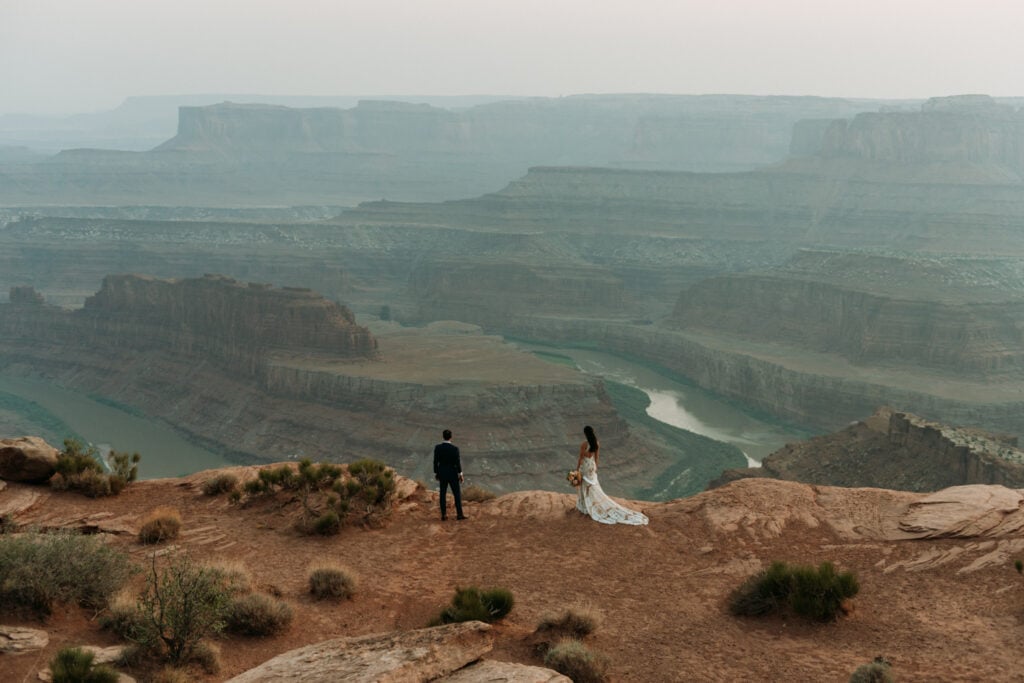 Where To Elope In Canyonlands National Park
There are three ceremony sites to choose from in Canyonlands National Park. They're all located at Island in The Sky. Island in The Sky is about a 40 minute drive from Moab, and it's worth the drive.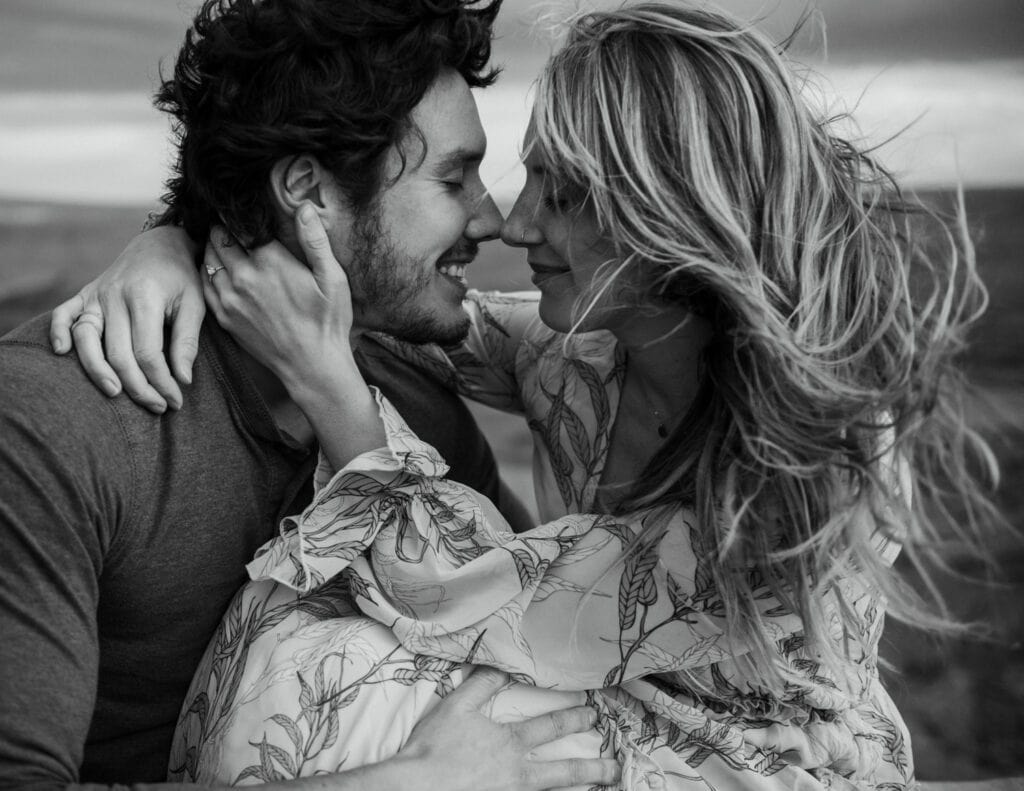 Grandview Point
Ceremony maximum: 25 people
Grandview point overlooks a beautiful vista that is unlike anything else. I suggest visiting this location at sunrise. It's the southernmost point of Island in the Sky. There are multiple viewpoints to visit, and paved walkways to make it easy.
Green River Overlook
Ceremony maximum: 25 people
This overlook stands over a canyon, the view is dramatic and otherworldly. It's a fantastic option for a wedding, but keep in mind this location doesn't have any areas of shade if you are bringing guests.
Mesa Arch
Ceremony maximum: 25 people
Mesa Arch is one of the most incredible, and iconic arches in Moab. The views from this arch range from canyons, mountains, roads, and wide-open spaces. Again, photographers are obsessed with this sunrise view, but there is no time of the day when it isn't jaw-dropping.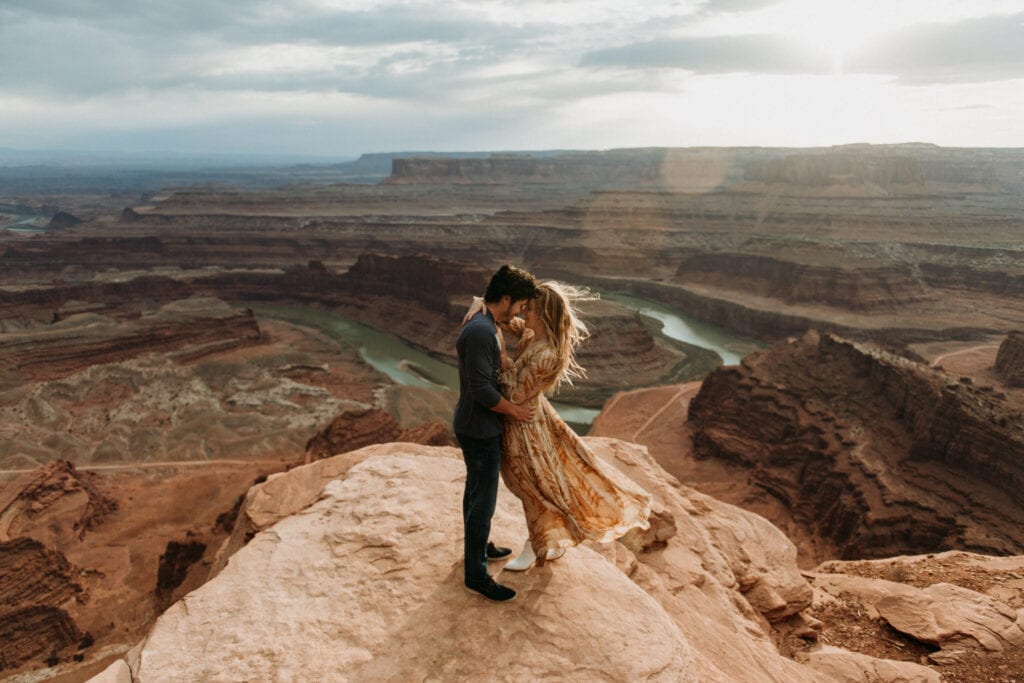 Dead Horse Point State Park
While the name might not be the most appealing when it comes to an elopement location, Dead Horse Point State Park is BEAUTIFUL. You can even get a view of the river that you don't get at Canyonlands!
Dead Horse Point State Park is right between Arches and Canyonlands, about an hour away from Moab. Once you're in the park, it's easy to get around and navigate. Even though getting married in Dead Horse Point State Park may not be as popular as Arches, some of the views are unique to this park, so it's worth going out of your way for!
If you're heading from Arches National Park to Canyonlands National Park, stop off at Dead Horse National Park to round out an incredible Moab trip. Of course, you'll want to allow yourself plenty of time for this adventure. But that's what you're here for, right?!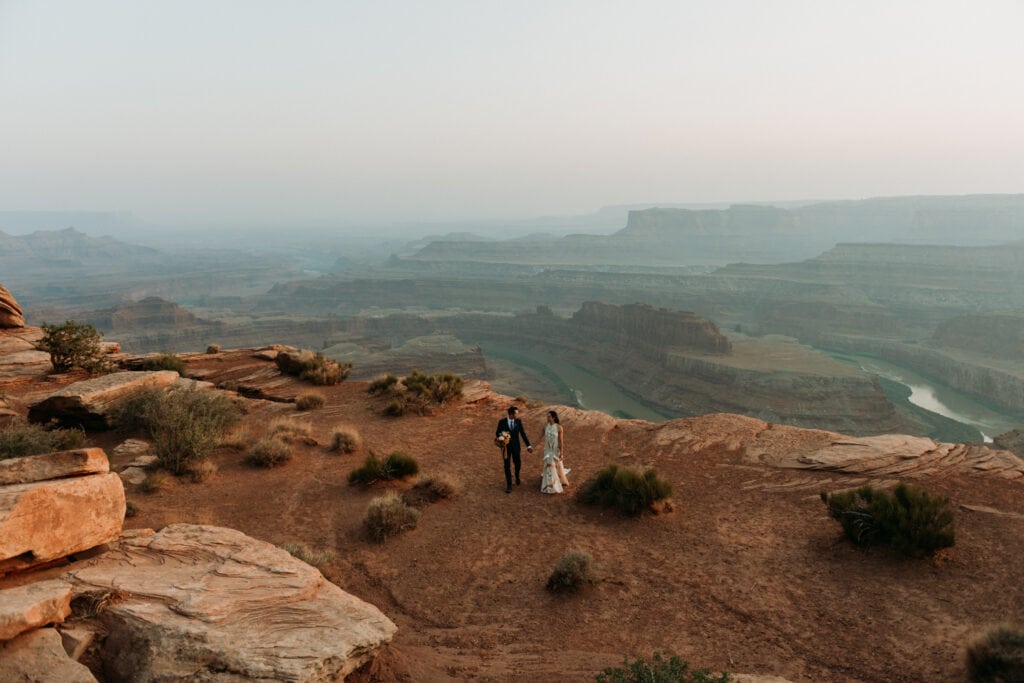 National Park Permits, Rules & Restrictions
There are 5 ceremony sites within the park for you to reserve, and the pricing is a bit lower at $60 (opposed to the $185 for the national parks). You will still have to pay for parking and entrance for your guests on the day of your ceremony.
You will still need to obtain a marriage license from your town or city hall and follow their rules for having a Utah wedding officiant, and two witnesses.
Before we get into the restrictions, there is one BIG perk to your wedding here: dogs are allowed! Feel free to bring your furry best friend!
Some points to keep in mind while planning your elopement at Dead Horse Point State Park:
You may bring real flowers. However, the park highly discourages pampas grass and any other plant species that could become invasive. Always remember to follow leave no trace principles and take out what you bring in.
Seeds, confetti, rice, or any other type of object may not be thrown within the park.
Drone use is prohibited between March and October. From November through February you must have a special permit to use a drone.
Everyone must use trails to access the wedding location. There is no off-trail access.
Cars must be parked in the designated parking area.
Amplified music, lighting and decorations are not allowed in the park.
Where To Have Your Dead Horse Point State Park Wedding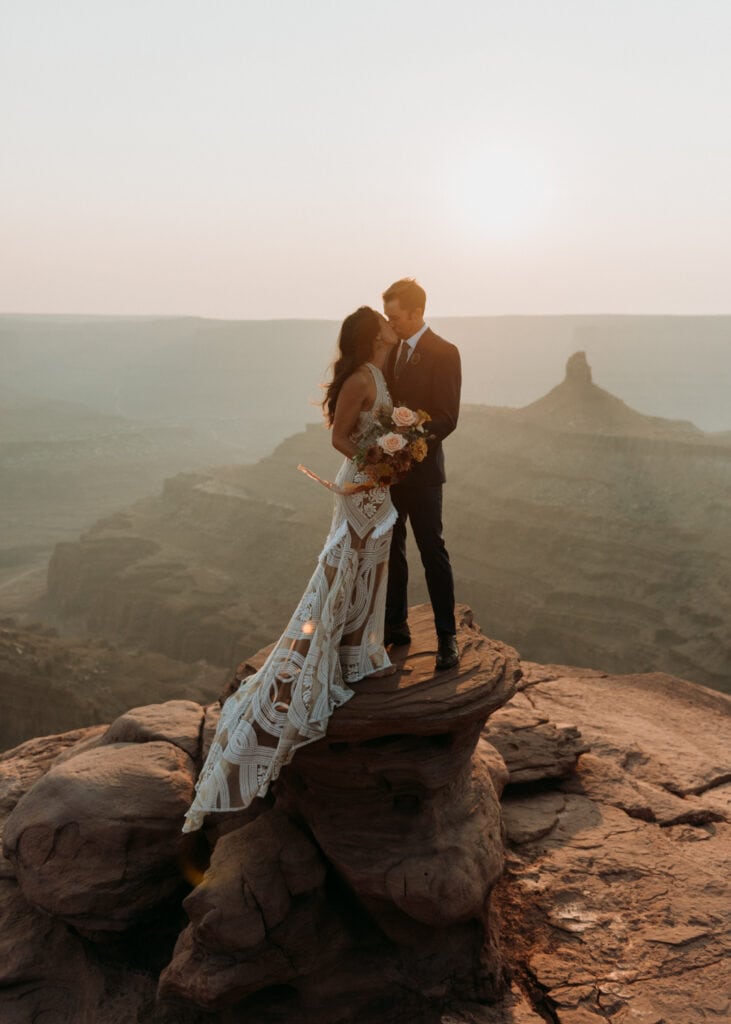 Shade Shelter Site
Ceremony maximum: 100 people
The major upside to this site is the number of guests you may have. However, that does not change the rules about flowers, music, or catering. It's extremely accessible for everybody and ADA accessible. Chairs are permitted and there is shade.
If you want guests, this site could be for you! Although the view is not the most favorable, after your ceremony you can still roam the park to get those killer views and photos!
Cliff Side Site
Ceremony maximum: 20 people
The view here is awesome! The view of the river and canyons, **chef's kiss**. This site is more isolated so there will be fewer tourists standing by during your ceremony. However, keep in mind that this surface is a little uneven so it isn't as easy as the other sites.
Point Bench Site
Ceremony maximum: 5 people
The obvious downside to this location is you can only have 5 people with you… And because you need a Utah wedding officiant and two witnesses, that means no guests can join. This view is pretty much the same as the Cliff Side Site, but from another perspective. Easily accessible and beautiful, sounds good enough for us!!
West Bench Site
Ceremony maximum: 50 people
This area has a perk that is also a fault: it is a favorite viewing area for tourists, meaning the view is amazing! But you might have some on-lookers joining you for your ceremony. To avoid this, you could choose a weekday, an early morning, or an off-season elopement.
You can have more guests here which is great and it's still easy to access. Make sure your guests know it is an uneven surface and they may have troubles if they have physical limitations.
La Sal Site
Ceremony maximum: 25 people
Last, but certainly not least, is the La Sal site. Another place where you can bring guests to enjoy the killer views with you, but not the easiest land to stand on. Same as the West Bench Site, if your guests have physical limitations, it may be more difficult for them to stand on this for the ceremony.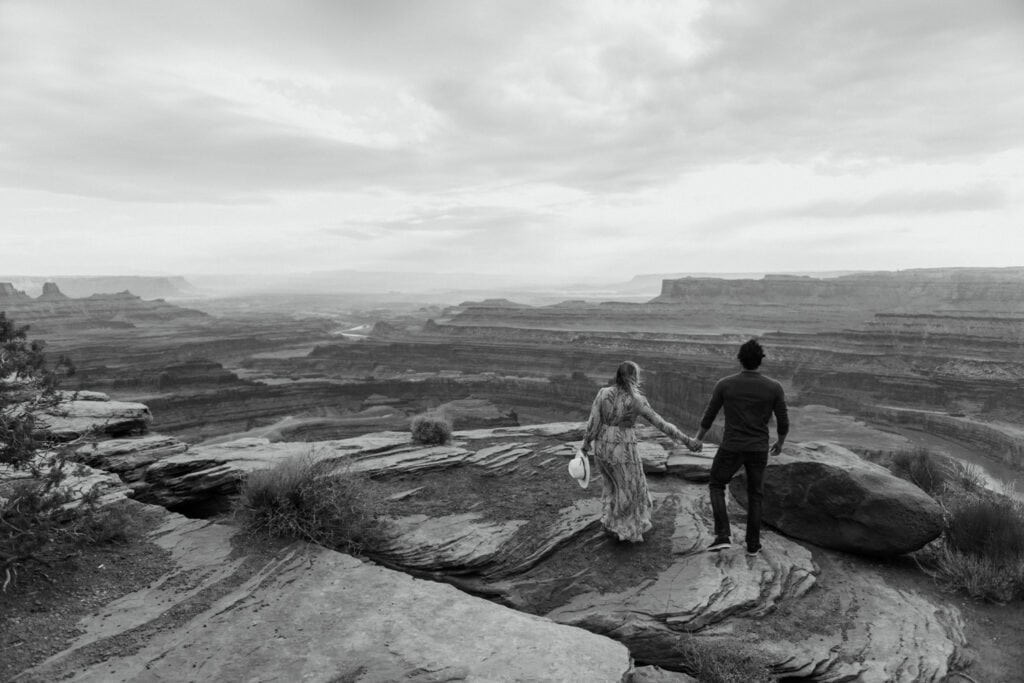 Best Places To Stay For Your Moab Elopement
Here are some recommendations for great places to stay for your Moab elopement.
Under Canvas Moab is just 7 miles north of Moab near Arches and Canyonlands and is the perfect place for desert glamping.
Hoodoo Moab is a beautiful hotel located just 10 minutes from Arches with beautiful views.
One of my other favorite recommendations is to rent an RV or camper from Outdoorsy (this link will give you $50 towards your first rental!) for something super unique 🙂.
Leave No Trace
There are so many incredible options for your Moab elopement, but there are two most important rules to remember while visiting these awesome parks: enjoy your day and leave no trace! 
If you're not familiar with the term "leave no trace" — it means that all trash, equipment, personal belongings, and anything that you bring into the park, you must take out of the park or place in the proper trash receptacles.
We're so lucky to be able to enjoy such beautiful parks and I'm committed to following these principles for each and every shoot.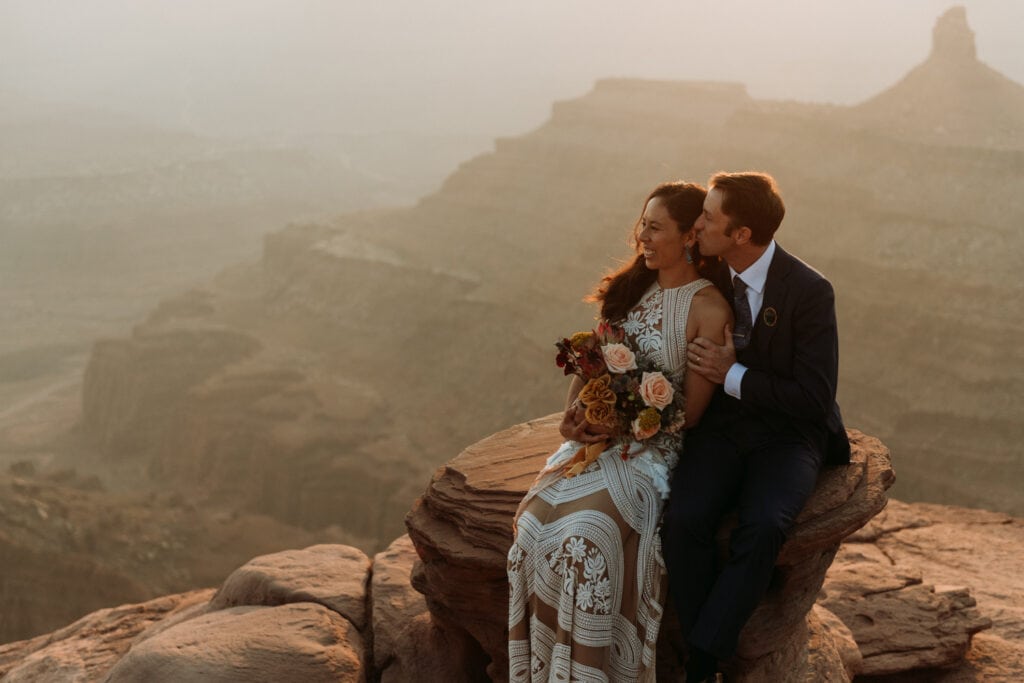 Let's Talk About Your Moab Elopement!
If you have any questions or are considering eloping in Moab, I would love to hop on the phone and chat with you about all your ideas! Contact me about your elopement in Moab, Utah. I can't wait to get to know you!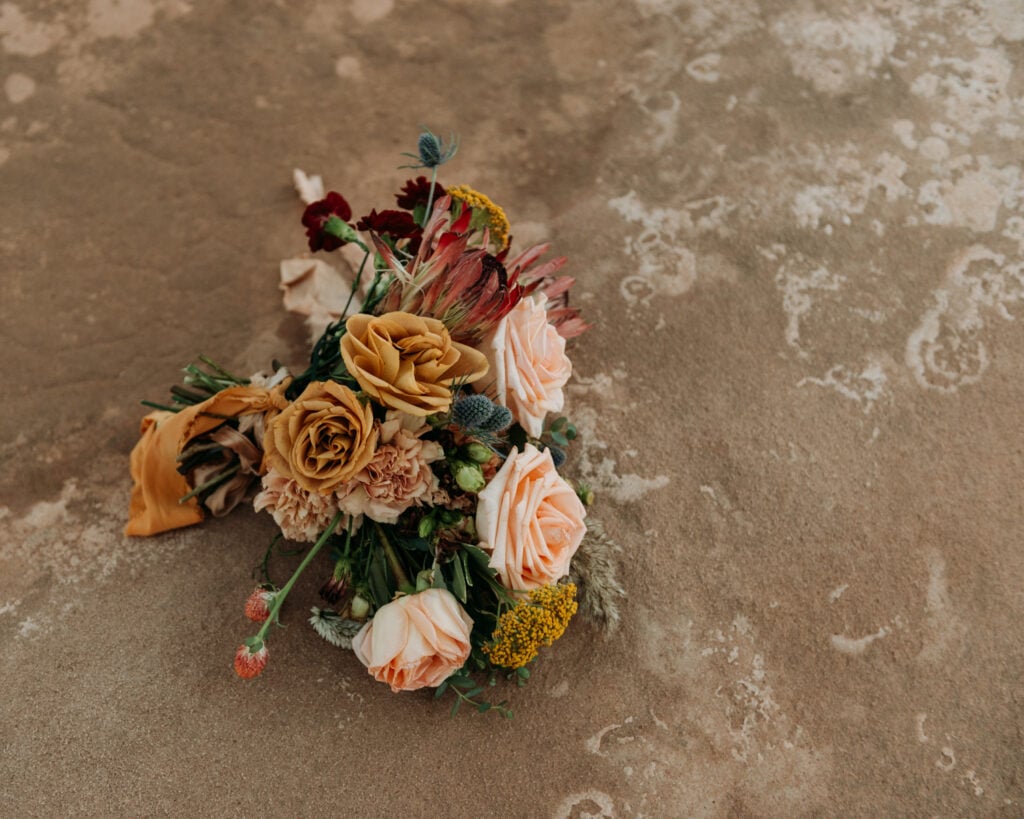 Moab Elopement Packages 
Your adventure photographer is more than the person taking your pictures.
As an experienced Moab elopement photographer, I'm here to help you with so many aspects of planning your elopement, including:
Timelines
Location research
Activities/adventure research and planning
Permitting and fees research
Local vendor research, if applicable
Whether you want a full-day photo album or a shorter adventure session, I'm here for you!