Congratulations on considering a desert elopement!
Having an intimate desert wedding is so much fun. Not only does the landscape make for an absolutely stunning experience (and photos!), but you and your love will be able to immerse yourselves in a once-in-a-lifetime adventure.
The desert isn't just miles of flat sand—you can explore massive canyons, towering sandstone arches, diverse plant life, and lots of fun and adventurous activities for your elopement in the desert.
Here's what we'll cover in this desert elopement guide:
When to elope in the desert
Preparing for your desert elopement
Your 10-step desert elopement checklist
Ideas for what to wear to your elopement
Getting your marriage license
Desert elopement permits & fees
Choosing your desert elopement location
Let's get started!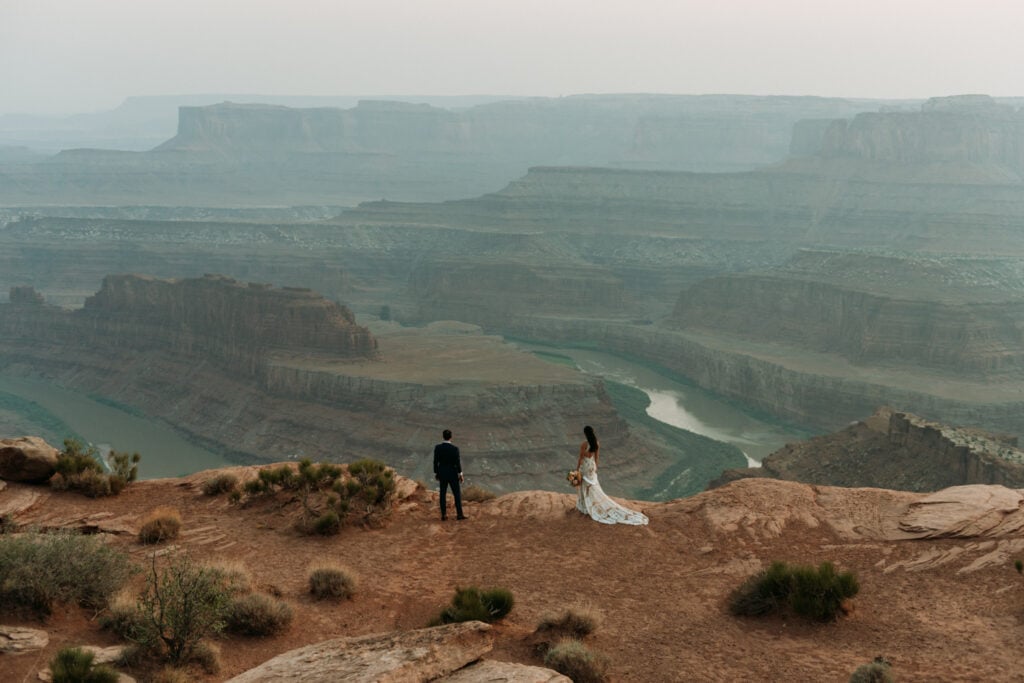 When to elope in the desert
You can get married in the desert at any time of year, but the most popular times for a desert wedding are late spring through early fall.
To avoid crowds and have a more secluded experience, I suggest to my couples to aim for the off-seasons if possible. Off-season desert elopements are usually held in late fall (October/November) and the beginning of spring (March/April).
Read on for my tips on preparing for a desert elopement, ideas and suggestions on what to wear, and the logistical stuff: licenses, permits, fees, and of course, locations.
Preparing for your desert elopement
If you're playing with the idea of having a desert elopement, your mind might be filled with questions. What will the weather be like? Is getting married in the desert practical? Can you actually elope in the desert? Will it be hot and dry? What do we wear?! All totally normal thoughts.
Since I've photographed many desert elopements, I'll say that you'll definitely want to be prepared for all types of weather. Whether you're traveling to Moab or Joshua Tree National Park, there's a chance you can experience snow, wind, and even rain in the high desert. It's always smart to be prepared for your desert elopement.
Below you'll see my desert elopement checklist.
Desert elopement checklist
Here are some tips and tricks for starting the planning:
1. Determine your guest count. Depending on which location you choose, the number of guests you can have will range from 10-25 generally. Some locations, like Devils Garden Campground in Moab, allow up to 80 guests. Make sure you choose a location to accommodate your must-have guest list.
2. Decide on your ceremony location. Once you have your guest count, it's time to decide on your location. Where you'll get married is such a special decision, and it's one I don't take lightly! I love helping my couples find the perfect ceremony location for them. I can point you to resources that will help you decide on the most magical spot for you to say your vows—and suggest lesser-known locations for your before or after photos.
3. Decide on your accommodations. Nearby Airbnbs or hotels, cabins and even camping and glamping are all popular options to stay in for your desert elopement.
4. Choose your photographer. Make sure to preserve your memories by having a professional photographer capture your desert elopement! I have a whole post on choosing the best photographer for your elopement.
5. Get your marriage license. See info below on obtaining your marriage license in Colorado, Utah, Arizona, and California.
6. Hire your officiant and your witnesses as required by law. Some states let you elope with just yourselves (called self-solemnization) while other states require you to have witnesses. Check the state's requirements to find out what you'll need before your big day.
7. Get your wedding permits. When eloping outdoors, you'll generally need a special use permit. Each park has its own rules and regulations when it comes to permits and fees. Check out the National Park Service's website, search for your park, and read all about the permits and fees required. I always take care of any photography permitting and fees required, so no need to worry about that. Just look for your wedding/special use permit and fees. I'm always available to help you find this information too!
Planning your desert elopement checklist continued...
8. Pick your color palettes. Are you going to dress bold and colorful or warm and neutral? Don't want to choose between the two? No problem. Bring along an extra outfit and let's take photos with a variety of options.
9. Consider your style. A lot of people think "boho vibes" for a desert wedding, which is amazing. But, any style can work! You can absolutely work in your personal style with a stunning desert backdrop.
10. Consider your decor. Natural arches and canyon views make the desert an amazing place for natural decor. Some opt to keep it purely natural, without any decorations or florals. (Plus, you have to consider leave no trace principles and follow all park regulations, which limit decor in sensitive desert landscapes). Couples who want to bring personal touches to their elopement might want to bring artificial flowers or another approved decor item. The most important rule here is to follow national and state park guidelines, then let your imagination run wild.
What to wear to your desert elopement
This is your day, so the top priority is that you feel confident and beautiful in whatever you choose to wear. But here are some tips I have on attire that I've seen work great for photoshoots I've done!
Dresses
For dresses, think lightweight, flowy, and not too constricting. Flowing fabrics catch the breeze beautifully and look amazing in photos. If you love color and high contrast photos, you might want to consider a colorful dress, which can look stunning. If you're set on white for your wedding, bring a change of clothes and let's get a variety of shots on the earth-toned background.
No matter your style, I'll accommodate you for exactly what you want to wear to be the most comfortable. This day is all about you, and you should be able to be 100% yourself.
If you're wearing a long dress with a train or long veil, consider materials that won't catch easily on spiky desert plants! If you'll be catching an epic view from an overlook that requires some trail hiking, natural materials are wonderful. I always love the look of a wedding dress in natural materials paired with hiking boots!
Two-piece Suits/Jumpsuits
If you like the style of a suit or jumpsuit, there are some great options out there. Check out these suits and jumpsuits from one of my favorite elopement dress brands, BHDLN.
Not into white? Darker colors and bright colors can look stunning against the warm sandy desert backdrop. If you're set on white for your gown, feel free to bring a change of clothes to explore some high contrast shots for before or after your ceremony.
Shoes
For any desert elopement where we're taking photos in the sand, I always recommend flats or hiking boots. If you want a heel, a chunky or platform heel can work too. But definitely keep away from stilettos or high heels that can sink into the sand.
If you won't be hiking, or you're set on that pair of heels but are still committed to a desert elopement, by all means, bring your heels along. Just be sure to have hiking boots or flats for the hiking part 🙂 Did I mention that hiking boots can look stunning with dresses and two-piece suits? Check out some of my favorite boot styles:
Veils
A flowy veil can look fabulous in your elopement photos. Although, I don't recommend super long veils or trains in tulle for hiking because they can get stuck in cacti. However, veils do look stunning caught in the desert breeze and if you want this, go for it!
Layers
Weather can be variable, so bring layers. Even though we typically think of the desert as arid and hot, it can get cool too. Check out my post on preparing for a winter elopement to get my top tips for layering and what to bring to be prepared for the elements.
Now, we'll get into some info you'll need to know about marriage licenses, wedding permits, and permit fees.
Getting your marriage license for your desert elopement
Marriage license requirements vary depending on the state in which you're eloping. Be sure to apply for your marriage license as soon as possible so you can be sure to have all the legal stuff taken care of before your elopement.
Some states like Colorado allow you to elope the same day that you get your license! Other states have longer waiting periods. Typically, you'll have a year to get married from the point your marriage license is active.
Here are quick links to marriage license information for your desert elopements in Utah, Colorado, California, and Arizona:
Desert elopement locations, permits & fees
If you've read my post on National Park elopements, you've probably seen info on permitting and fees. For desert elopements, permits and fees are generally required.
Be sure to check NPS.gov and search for your location. Then, you can read all the relevant info on your desert elopement location to be sure you're covered.
Here are some popular desert elopement locations and links to the permitting and fees info!
Colorado
Great Sand Dunes National Park
Utah
Check out photos from a windy desert Moab Adventure Session at sunset.
California
Check out my photos from a super fun Joshua Tree Anniversary Session at sunset.
Arizona
Last but not least, check out my tips on choosing your elopement photographer.
Choosing your desert elopement photographer
To wrap things up, I have a few tips for you for choosing your desert elopement photographer.
First, choose a specialized adventure photographer. Adventure photographers won't be afraid to hike to your favorite location, they appreciate the outdoors just as much as you do, and they'll be experienced with snapping the best adventure and outdoor shots.
Second, search for photographers who have experience photographing couples in the desert. This will better ensure they'll be familiar with preparing for the elements, plus they'll know how to use the stunning backdrops to get amazing shots of you and your love out in the gorgeous desert.
Third, an experienced photographer will bring backup gear and make sure that all of your memories are preserved and that absolutely nothing gets lost.
I'd love to talk to you about your desert elopement dreams. Contact me and let's talk about capturing your magical desert elopement!