There are countless beautiful locations around the world that make for the best places to elope—everything you can imagine from turquoise alpine lakes, to rocky coastlines and endless deserts. Countries filled with epic mountain views, dense green forests abundant with unique flora and fauna, and glaciers, caverns, and all the adventures you can imagine.
It's great to have options, but when you have 195 countries filled with magical landscapes and wild adventures to choose from, how do you decide where is the best place to elope?!
How to Choose the Best Place to Elope
With so many incredible locations, the world is entirely your oyster! It can be a little overwhelming to consider every beautiful place the world has to offer, so here are my top 3 things to consider when choosing the best place for YOU to elope!
1. Scenery, Weather, & Accessibility
When you elope, one of the most notable benefits is your choice of scenery! You can pick anything from snow-capped mountain peaks, to glaciers, to deserts, or black-sand beaches.
To start off, think about what kind of places have been on your bucket list for years. Do you dream of that feeling of being on the top of a mountain? Maybe dipping your toes in the ocean? Taking a helicopter ride over an iceberg lagoon?
Think about what type of weather you'd like to experience on your elopement day. Do you love cooler weather? Fall colors? Rain? Fog? Maybe you're more inclined to warm weather, sun, and clear skies. Weather can vary a lot by location type, so it's definitely something to consider when picking your ideal location!
Here, I would also suggest considering accessibility. Are you planning on hiking? Would you prefer to just drive up to your ceremony location? Will you be including guests? If you have guests, how much adventure are they able to participate in?
2. Experience & Activities
The experience you have on your elopement day is arguably the most important part! What kinds of activities are you hoping to include on your elopement day? Do you want to go swimming? Watch the stars come out?
Consider the different types of activities you might want to incorporate. This can also really help narrow down the location. For example, if you're really set on swimming, somewhere tropical might be a good place to start!
Related Post: View more elopement ideas!
3. Meaning
The meaning of your elopement location is also really important. It's definitely worth considering places you've been going together for years, or somewhere that's been on your list since you met!
Getting married in a meaningful location is one of my favorite parts of elopements. You can visit on your anniversary and do more adventuring in your favorite place! Or someday you might bring your children or grandchildren to explore with you.
Best Places to Elope in the USA
Colorado
Rocky Mountain National Park
Anyone visiting the Rockies will know Rocky Mountain National Park in Estes Park, Colorado. Between stunning evergreens and endless mountains, wild elk, wildflowers, and all the nature to soak in, this park is certainly one to consider for your Colorado elopement.
At Rocky Mountain National Park, you have 12 ceremony sites to choose from. Facilities at a few of the sites are great too, which is perfect if you're having guests at your ceremony.
Great Sand Dunes National Park
The tallest dunes in North America are the centerpiece in a diverse landscape of grasslands, wetlands, forests, alpine lakes, and tundra.
San Juan Mountains
Ouray and Telluride are some of the most beautiful mountain towns in Colorado. Tucked away in the San Juans, there are endless ways to spend your elopement adventuring here—whether that's a 4x4 drive up to 12,000 feet, a dip in an alpine lake, or a hike through the forest.
Looking for jagged mountain peaks, incredible adventures, and charming mountain towns? If so, the San Juans might be your perfect location!
Garden of the Gods
Garden of the Gods is a stunning park in Colorado Springs with sculptural red rock formations and mountain views of Pikes Peak. The park itself is beautiful, and is easy to navigate by car with parking lots and roads. This is another location that's really great when you're inviting guests to your elopement!
California
Yosemite National Park
This park is one of my personal favorite best places to elope in the entire U.S. Yosemite is filled with 3,000-foot granite cliffs, a rich history, and see-forever views. If you're looking for those iconic sunset photos, Yosemite is easily one of the best locations for epic sunsets!
Joshua Tree National Park
Located in southern California, Joshua Tree is one of the best elopement locations if you want a unique desert landscape. The Mojave Desert is truly one of a kind, with its fascinating variety of plants, wildlife, and places to explore. Joshua Tree also happens to have some of the coolest Airbnbs!
Check out my post on how to have an Airbnb wedding here!
Big Sur
Does rocky cliff edges overlooking magnificent beaches and icy blue water sounds like your perfect place? Combine that with lush green redwood forests, and Big Sur might be your best elopement location.
Beach Locations
California has some of the best beaches—rocky coastline, soft white sand, and beach campfires. Ranging from San Diego to Malibu, to any of the other 800+ miles of coastline, California beaches hold some of the best beach elopement locations in the U.S.! Because of this, I encourage couples to consider California for their one of a kind beach elopement.
Utah
Arches
When imaging your Moab elopement, you probably envision Arches National Park! The experience of exploring the thousands of arches is otherworldly—you'll feel like you've been transported to another planet. If you're interested in geological formations unlike any other, have your Moab elopement in Arches National Park!
Check out my guide that features my best Moab elopement tips!
Dead Horse Point State Park
This is probably my favorite spot in Moab. You get killer sunsets mixed with an incredible view of the Colorado river below. It's even a great place to do some mountain biking. The layers of rock, see-forever views, and unique colors make it the perfect spot for your Moab elopement!
Zion
Zion is perhaps the most popular National Park in Utah, and it's easy to see why. Surrounded by the serenity of nature and the awe of steep red cliffs and meandering forest trails, Zion is a special place for a destination adventure elopement.
Within Zion, you can explore winding rivers, roaming wildlife, historic sites, and participate in adventurous activities like canyoneering.
Bryce Canyon
One of the Mighty 5 parks in Utah, Bryce Canyon is filled with unique desert features like hoodoos, which are red rock formations shaped like spires. Because of the special features in Bryce Canyon, this is a unique and beautiful place for an adventure elopement in southern Utah!
Capitol Reef
Capitol Reef is another of southern Utah's hidden gems. Less visited than the other parks, you'll have more solitude here, but equally incredible views of red rocks and the white sandstone domes.
Montana
Glacier National Park
Glacier National Park has some of the most unique and stunning mountains, making it one of the best places to elope.
Yellowstone National Park
One of my favorite parks in the U.S., Yellowstone has some of the best wildlife! In the spring, you'll see bison roaming everywhere, and you might get lucky enough to spot grizzly bears. Yellowstone is perfect if you love geological features, mountains, waterfalls, and forests. However, you'll have to be prepared for many other visitors if you're planning to elope here in the summer.
Wyoming
Grand Teton National Park
Jagged mountain peaks, lakes, hikes—the Tetons are one of the best places to elope for so many reasons! With so many activities to choose from, and the cutest town, this is a wonderful elopement location for couples who thrive on adventure.
Oregon
Cannon Beach
When you think of Oregon, Cannon Beach probably comes to mind, and for good reason! The iconic Haystack Rock is gorgeous at sunset, and beautiful with the moody weather the PNW is known for. The town of Cannon Beach is equally lovely, filled with wooden coastal buildings.
Ecola State Park
Near Seaside, Oregon, Ecola State Park is bursting with sightseeing opportunities. You'll enter the park through a lush spruce forest, leading to gorgeous ocean views with a mountainous backdrop. Ecola offers lots of great hiking opportunities with its network of trails leading to breathtaking vistas. These features easily make it one of the best places to elope!
Columbia River Gorge/Oregon Waterfalls
Just 30 miles east of Portland, the Columbia River Gorge marks the state line between Oregon and Washington State. The Columbia River Gorge is incredibly diverse, with lush scenery for a forest elopement, over 90 waterfalls for a waterfall elopement, glittering rivers, and a network of hiking trails. The Gorge is just asking for outdoor adventure memories to be made.
Samuel H Boardman State Scenic Corridor
​​Take an adventure of a lifetime through Oregon's rugged coast. Hidden beaches, coves, natural arches, and breathtaking overlooks abound throughout the 12 miles of scenic highway called Samuel H. Boardman State Scenic Corridor.
Washington
Olympic National park
If you're dreaming of rocky shorelines, overlooks, mossy forests, and mountaintops, Olympic National Park is the perfect elopement option. Because it's a national park, much of it has easy access. Therefore, Olympic is great if you're planning on having guests.
Mt Rainier
In Washington State, not far from Seattle, Mt Rainier is an active stratovolcano with striking scenery. A year-round snow-capped peak, a glacier system, and diverse habitats meet you at this memorable elopement location. Multiple trails offer hiking through a pine-studded wonderland, while a scenic byway allows you to soak in the scenery by car.
North Cascades
The vast wilderness of the North Cascades offers endless sightseeing opportunities for the adventurous couple. From day hikes to rafting to skiing, over 300 glaciers, and tons of wildlife to spot, North Cascades is a dreamy landscape for en elopement.
Arizona
Sedona
Sedona has become increasingly popular over the years, known as a spiritual and inspirational mecca in the U.S. Here you can explore architectural arts and shopping villages, visit spas and healers, and explore over 400 miles of trails through the stunning red rocks and evergreen-dotted scenery.
Horseshoe Bend
One of the most iconic spots to visit in the western U.S., Horseshoe Bend is a horseshoe-shaped meandering bend of the Colorado River located in Glen Canyon. From the parking lot, you can take a 1.3-mile round-trip hike to see this often-photographed landmark.
Alaska
Alaska is an adventurer's dream. From glaciers to wildlife to cultural immersion, Alaska is an incredible state that's home to some of the most awe-inspiring views in the world.
Check out my post on How to Elope in Alaska.
Best Places to Elope in the Eastern U.S.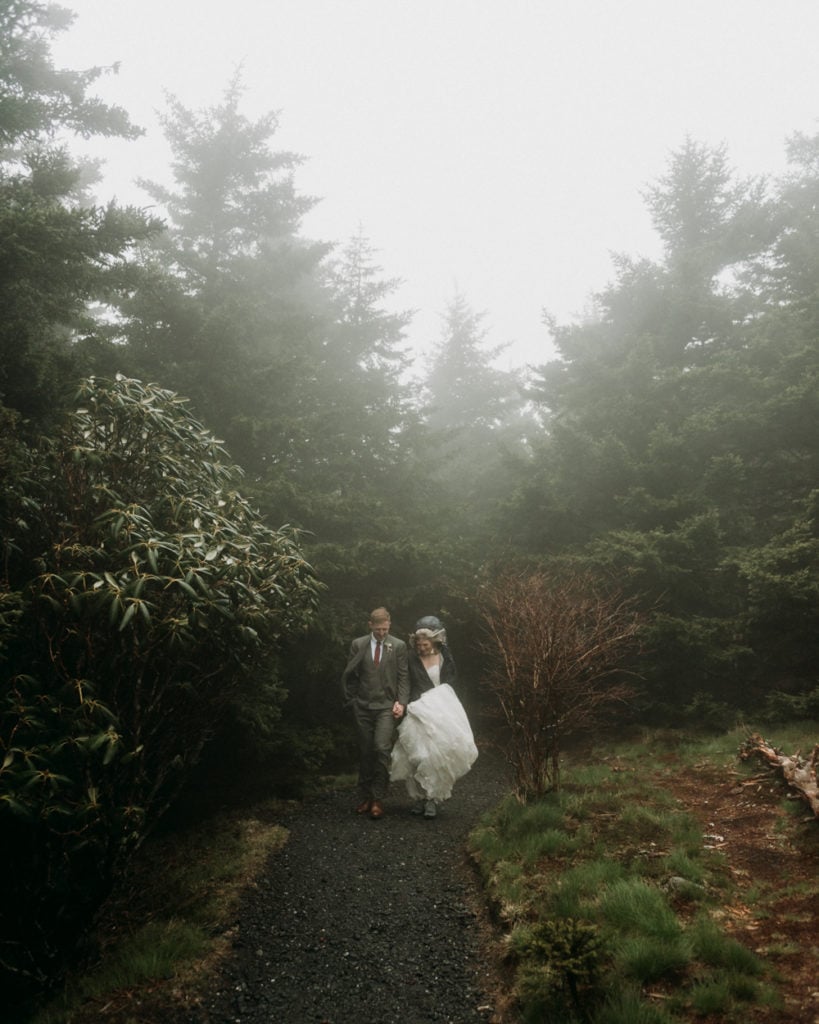 Tennessee
Great Smoky Mountains National Park
Great Smoky Mountains National Park, which runs through parts of Tennessee and North Carolina, offers picturesque rolling mountain views, mountain rivers and cascading waterfalls, and abundant wildlife. Why not take a scenic drive through the mountains to view the fall foliage in peak season, followed by some hiking and relaxation!
North Carolina
The Blue Ridge Parkway
The most popular scenic drive through North Carolina is the Blue Ridge Parkway. Nearly 470 miles long, this parkway connects Shenandoah National Park to Great Smoky Mountains National Park, offering stunning views along the way!
Best Places to Elope in Europe
Iceland
From icy fjords to jaw-dropping waterfalls, colorful mountains and mossy canyons, Iceland is filled with incredibly diverse landscapes. Iceland is truly the land of adventure and natural beauty.
Check out my full guide on how to elope in Iceland!

Italy
Romance and adventure are two words to describe your elopement in Italy. Italy is truly the perfect location for a mixture of scenery, history, culture, and of course, delicious food! Check out my full guide on how to elope in Italy!

Dolomites
In northeast Italy, the Dolomites is an incredible mountain range. Located in the Italian Alps, this area is known as one of the most beautiful places on earth. These spectacular mountains are home to rolling countryside hills, turquoise lakes, rugged peaks jutting out against pure blue sky. Plus, charming picturesque villages located here will get you dreaming!
Switzerland
Rich culture, majestic landscapes, and mindblowing scenery of the Swiss Alps is exciting for any couple considering a Switzerland elopement! Maybe a train ride through the countryside to a mountain village sounds like a dream, tucked away in stunning wilderness. Or perhaps a ceremony in a 17th century chapel on the cliffs gets you dreaming. No matter what you want your elopement to include, you can find it in Switzerland.
Greece
White sand beaches, bright blue skies, and gorgeous oceanside villas make Greece a coveted vacation and elopement destination.
Santorini
A stunning, romantic location for the elopement of a lifetime, Santorini island in the Aegean Sea is nothing short of magical. Rugged landscapes, volcanic lava pebble beaches, and incredible sunsets and views of the sea make this location alluring for your romantic elopement.
Austria
The Alpine Region stretches across eight European countries and the Austrian Alps offer majestic scenery for your adventure elopement. See incredible castles, idyllic Alpine peaks, and crystal clear lakes. Explore the capital city of Vienna to soak in rich history and master artwork, visit Imperial palaces, cathedrals, and get a taste of the incredible culture.
Norway
Beautiful fjords, breathtaking views, scenic train rides through some of the most mountainous terrain in the world—these are just a few amazing things you can experience on a Norway elopement. Whether you're embarking on a coastal island adventure or exploring the history and scene in Oslo, you're sure to find some unforgettable activities here. And of course, hunt the Northern Lights!
Best Places to Elope in the World
New Zealand
Unreal beaches, alpine lakes, and abundant wildlife abound in beautiful New Zealand. In the coastal region, temperatures are mild year-round, giving plenty of flexibility for your elopement at any time of year! Bay of Islands is a popular elopement destination for its blue waters, abundant marine life, and lots of elopement ceremony venues to choose from!
Thailand
Imagine your beach elopement on the coast of Thailand or on a tiny island full of privacy and romance for the two of you.
Phuket
How does an exotic beach location and an authentic Thai experience sound? Eloping in Phuket is romantic, beautiful, and a once in a lifetime cultural experience. Indulge in incredible food, experience the colorful buildings and culture, and soak in a gorgeous sunset for your evening ceremony.
Maybe you'll choose to take a jet ski tour to 7 islands, go boating and canoeing with a sunset dinner, and relax on the beautiful sand beaches.
Morocco
Incredibly diverse landscapes await you in Morocco for a magical elopement in Africa. Here you can go scuba diving to explore the reef at Tangier and Agadir, try surfing, or go sailing to spot marine life on turquoise waters. Morroco is a beautiful place to embark on your once in a lifetime adventure.
Marrakech
The vibrant-hued painted blue city of Marrakech makes for a stunning elopement backdrop. This is the capital of Morocco located at the northern tip of Africa, and you can select from a lovely collection of resorts and venues here.
For your outdoor adventures, you have the desert landscape, the Atlas Mountains, valleys, waterfalls, and a rich and vibrant city to explore. Keep in mind the weather will be super hot and humid in the summer months! Regardless of the heat, this is one of the best places to elope in the world.
Where Will You Elope?
As a quick recap, when you're deciding where to travel for your unique elopement, it helps to start by considering the following:
Scenery, weather, and accessibility
Experience and activities
The meaning of the location
Then, the world is your oyster!
I'm here to help you with all the planning, so let's talk about YOUR unique elopement!