The U.S. has so many amazing hidden micro wedding venues scattered around the country. Micro weddings are amazing for so many reasons, but to add another reason to the list: you can choose from the most unique places for your elopement.
Maybe you're not into traditional venues, or you don't want the expense or hassle of planning in a big space. Instead, you might be looking for something surrounded by nature—maybe a cozy cabin in the woods, or lakeside with mountain views, or in a meadow of wildflowers?
Saying your vows to each other under the blue sky with a backdrop of pine forest, or even at night with just the twinkling stars as your witnesses… There are so many dreamy elopement locations that give you all of this and more. And some of these are without the cost or planning involved in a traditional venue when you pick the right micro wedding venues.
Here are some of the most unique places for an elopement in the United States for your intimate wedding.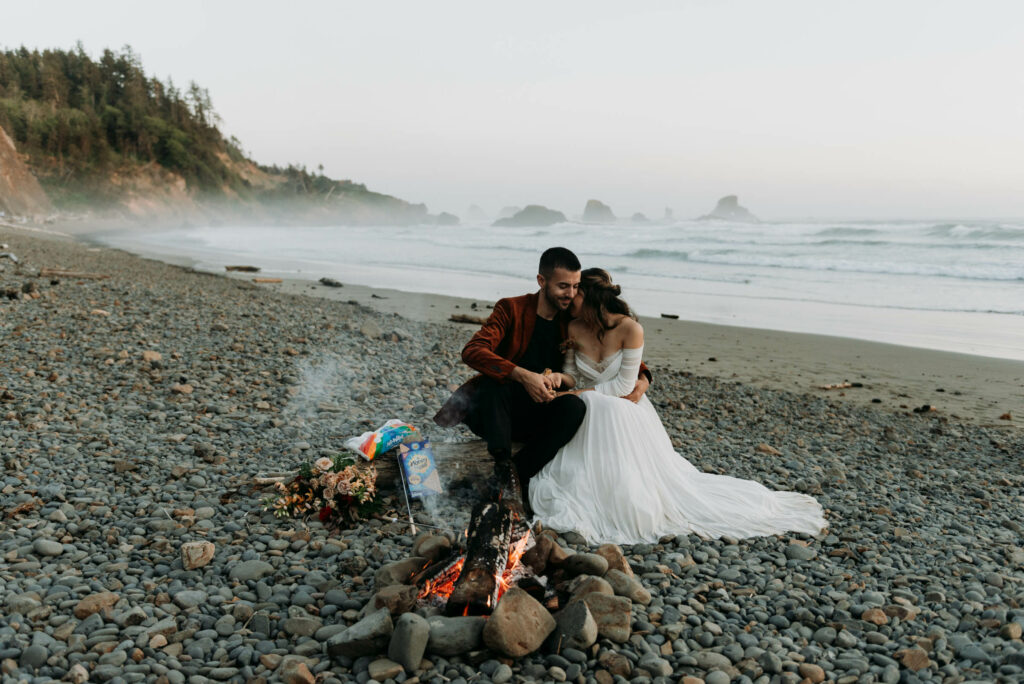 What Is a Micro Wedding?
A micro wedding is an intimate wedding that is just that, it's essentially just a tiny wedding! There are no hard and fast numbers here, but I typically consider anything under 30 guests a micro wedding.
Micro weddings have been a building trend in the wedding industry for the last few years, and their popularity has really skyrocketed since Covid began. Personally, I absolutely LOVE all the unique ideas and activities that micro weddings allow you to include.
Here are some of the absolute best locations for your micro wedding in the U.S.!
What Is a Micro Wedding Venue?
Your micro wedding venue can be anywhere—from cabins and camping to vast outdoor spaces. Don't limit yourself to well-known or traditional spaces. Your elopement is certainly unique to you, and you can make your venue anything you want. One of the sweetest and coziest micro-weddings I've seen was at a campsite where guests gathered around the fire pit to make s'mores with the newlyweds.
So, what's your style? Is it camping at a National Park? Cozying into a cabin by a lake? Or having a home base at an Airbnb steps away from a city or mountain town? No matter what it is, you can find a great micro-wedding location perfect for you and your love to start forever together.
Best Desert Micro Wedding Locations
Here are some of the best desert micro wedding locations in the U.S.!
Amangiri/Amangani
Amangani is a luxury resort in Jackson Hole, Wyoming and Amangiri is a luxury 5-star hotel tucked away in Canyon Point, Utah. Both of these properties make for an exciting and beautiful desert micro wedding. You'll have all the amenities you'll need!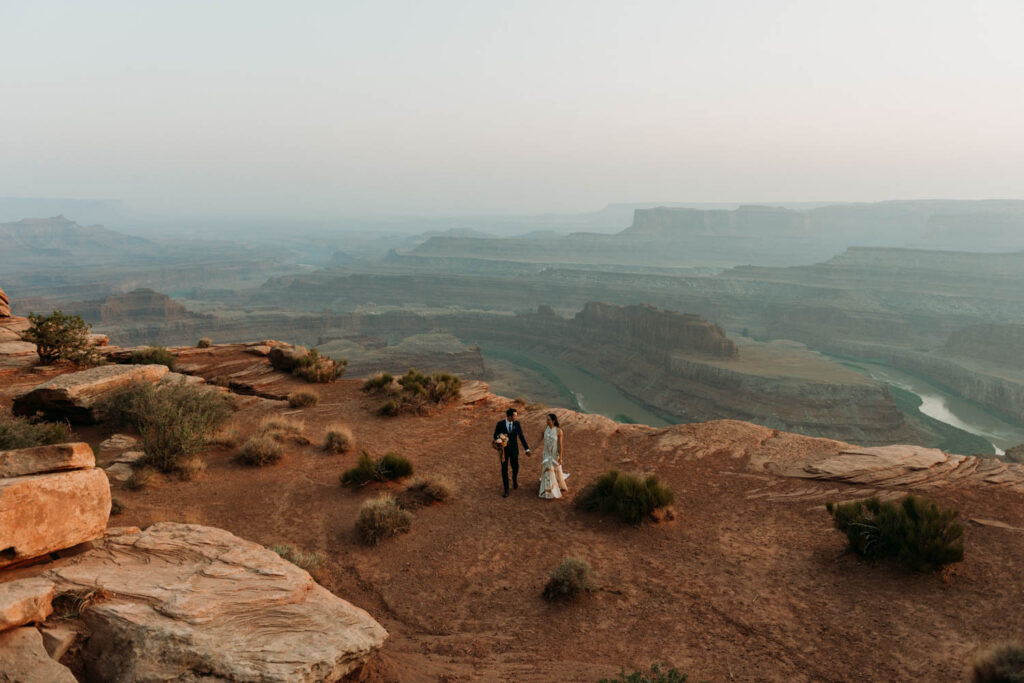 Red Earth Venue
How does a desert party sound? Surrounded by the red rocks of Moab, Utah is the micro wedding venue Red Earth Venue. This place is amazing for a Moab elopement due to its central location to the national parks. Plus, you'll have incredible views from this venue.
Best Micro-Wedding Locations on the West Coast
Here are some of the best micro-wedding locations on the West Coast!
Waterfalls Santa Cruz
Check out Waterfall Lodge in the coastal redwoods of Santa Cruz, California. This lodge was built from fallen redwoods and restored barn wood, making it a unique and stunning space for your dream micro-wedding.
Loloma Lodge
Loloma Lodge, located in the Cascade Mountains in Oregon, has a lush, picturesque, off-the-beaten-path sort of vibe. This lodge is an amazing micro wedding destination, and you and your guests can even camp out for a few days for a "micro wedding festival"—such a cool idea, right?
Crook Point
Crook Point is a historic family estate with eight amazing homes located in Pistol River, Oregon. The properties are on the Pacific coast—nestled right along the beach coupled with up-close views of the water. Consider an intimate ceremony at the private beach followed by a beautiful dinner party for you and your guests. And, of course, you can also say your vows overlooking the ocean and Arch Rock!
Korakia Pensione
With stunning views of the San Jacinto Mountains, Korakia Pensione is a beautiful micro wedding location in Palm Springs, California. It's home to Mediterranean-style villas and Moroccan-style villas that offer spacious suites, bungalows, and rooms with carved wood details and private patios—complete with stunning courtyard, pool, and spa.
Santa Lucia Preserve
In the Santa Lucia Mountains of coastal central California, Santa Lucia Preserve is a place "where kindred spirits commune." If this isn't intriguing enough... This venue offers an unforgettable elopement experience in a private nature preserve. Here you can truly create your own enchanted forest elopement experience!
The Joshua Tree House
A place to "reflect, reset, and create", the Joshua Tree House is a 2-bedroom hacienda located in Joshua Tree, California. It sleeps up to six guests, so if you're looking for a beautiful place in the desert to stay with just the two of you or a couple of close friends and family, this is a great option. Even more, relax in the evenings in the hot tub surrounded by Joshua trees, and be just miles away from trails to explore the area.
Welches A-Frame
Another adorable a-frame cabin that's a total must-see is Welches A-Frame, located at the edge of the Mount Hood Forest in Oregon. This stunning cabin in the woods is cozy, private, and perfect for your micro wedding or adventure elopement in Oregon!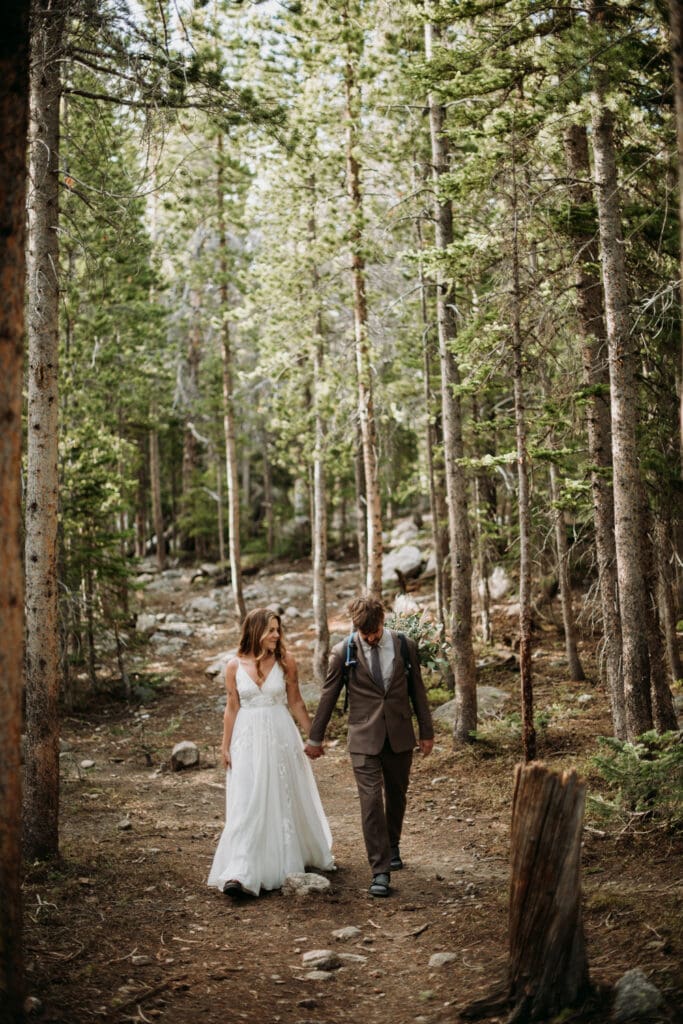 The Woodlands House
The Woodlands House is an incredible Airbnb property located on five private acres of an old-growth forest in Oregon. Hence the name, the Woodlands House is nestled in between the old pines. Plus, it's only a 45-minute drive from the PDX airport. With access to trails, streams, and the private forest, this is a special location for a most enchanted elopement.
Related Post: How to have an Airbnb wedding
Ventana Big Sur
Envisioning a luxury vibe for your adventure elopement? Take your glamping experience to another level at Ventana Big Sur in coastal California. Old-growth redwood trees, clear starry skies, and a modern camping experience bring you close to nature and adventure in comfort. Micro wedding packages are offered for up to 30 guests to gather and celebrate your love in this elegant Big Sur setting.
Best Micro-Wedding Locations in Colorado
Here are some of the best micro-wedding locations in Colorado.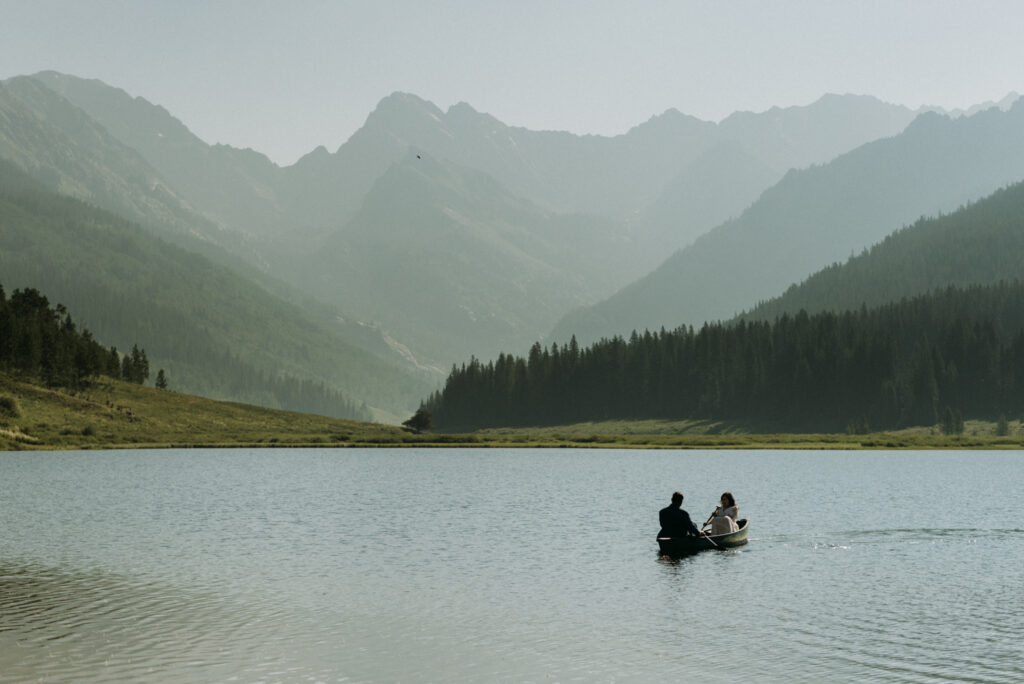 Piney River Ranch
Piney River Ranch is one of my favorite elopement locations in Colorado. There are a ton of trails, amazing glamping tents, and the perfect lake to go on a canoe excursion after your elopement ceremony. However, note that this location is only open from the end of June through the end of September.
Check out these photos I took from a beautiful and heartfelt Vail elopement at Piney River Ranch!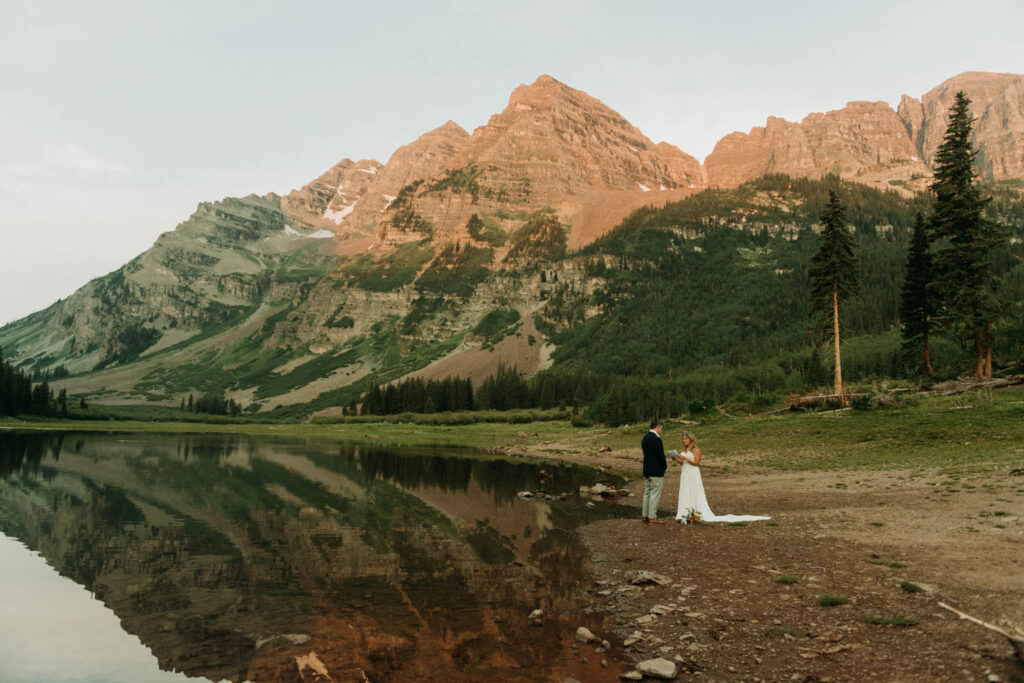 Maroon Bells Amphitheater
Surrounded by the Maroon Bells mountain range, the Maroon Bells Amphitheater near Aspen is a place to put on your micro-wedding venue list. Aspens, evergreens, and Maroon Lake all surround this picturesque place to say I do.
The Lofthouse
The Lofthouse is a modern Airbnb property in Black Forest, Colorado. This is an open concept multi-use space with huge windows, tons of natural light, and views of the ponderosa pine forest. Tucked away in the Black Forest, this 1200-square-foot property provides a modern style and clean backdrop for your reception, ceremony, or getting ready with family and friends.
Related Post: 5 Reasons to Elope in Colorado
Related Post: Hiking elopement in Colorado
Best Micro-Wedding Venues in Arizona
Red Agave
Red Agave Adventure Resort in Sedona, Arizona touts views of the town's iconic red rock formations and is a meeting place for trailheads that lead into the surrounding forest. You and your guests can stay in a chalet or studio. Be sure to check out the outdoor ceremony space surrounded by stunning views of the desert.
JTH Tucson
By the same owners of the original Joshua Tree House, JTH Tucson is a five-suite inn in Tucson, Arizona bordering Saguaro National Park West. Also, it's just a few minutes' drive to several trailheads into the park. The minimal historic-modern hacienda decor is unbelievable. And, you can rent out the whole inn with advance notice to have your guests stay together with you for your elopement.
Getaway Frame
Head on over to Instagram to check out photos of the Getaway Frame—really, head there now! This a-frame cabin is located in Pinetop-Lakeside, Arizona, and can be best described by the Scandinavian term "hygge."
National Park Micro Wedding Venues
If you're into a national park micro wedding, then check out some of the top national park micro wedding venues!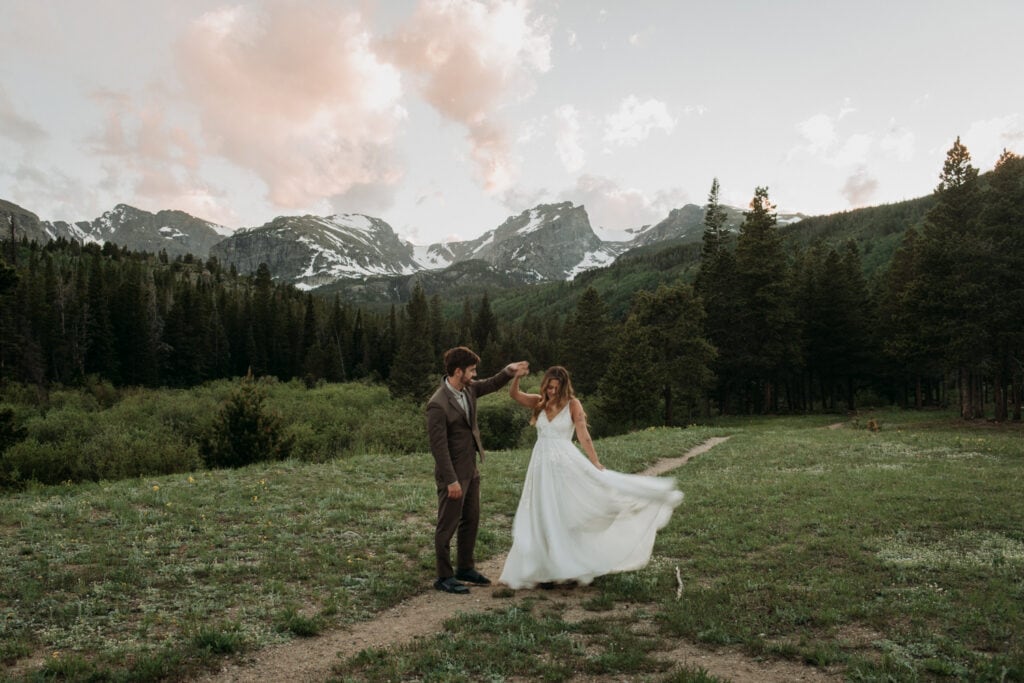 National Parks
There are 63 amazing national parks in the United States! From incredible glacial lakes at Glacier National Park, to shores at Channel Islands, the mountains in Olympic National Park and Rocky Mountain National Park, and deserts like Joshua Tree, Arches, and Zion. All of these locations have designated sites within the park for a micro-wedding. If you're looking to be truly immersed in nature, having a National Park micro-wedding is perfect for you!
Under Canvas
Looking for the ultimate luxe camping experience? Check out Under Canvas. Here, you'll stay in a safari-style canvas tent—complete with all the furnishings and comforts of a hotel, but set right in the wilderness.
With locations in Bryce Canyon, Mount Rushmore, Grand Canyon, Moab, Acadia, and more—this might just be your favorite National Park micro-wedding experience.
Autocamp
Filled with glamping tents and, most notably, beautifully renovated Airstreams, and with locations in Yosemite, Joshua Tree, Cape Cod, and soon Zion, Autocamp is an amazing spot for your micro-wedding. This is the perfect mix of luxury and adventure, plus the most incredible artisan s'mores you'll ever have!
Ma Sa Ya Desert Ranch
Nestled in the foothills of Joshua Tree National Park, you'll find (if you look hard enough) Ma Sa Ya Desert Ranch—a private desert oasis on seven acres. Here, a micro wedding is complete with all the amenities you need for a relaxing yet invigorating experience. Overall, stargazing here is spectacular!
Salted Roots Alaska
Salted Roots Alaska offers beautiful a-frames and cottages in the wilderness of Seward, Alaska—one of Alaska's oldest and most scenic communities. The venue is located right between Kenai Fjords National Park and Chugach National Forest. Also, this is the place to engage in all the activities that an Alaska elopement brings: dog sledding, glacier viewing cruises, kayaking, and more!
320 Guest Ranch
320 Guest Ranch in Big Sky Country Montana is a year-round ranch. It features beautiful one- and two-bedroom cabins set in the mountains right near Yellowstone National Park.
In the winter you have a snow-covered terrain with activities like sleigh rides that take you through the winter wonderland. For all the skiers out there, you're just a short distance from Big Sky Resort! So, you can stay in a luxury log cabin and get ready to hit the slopes with the best skiing around.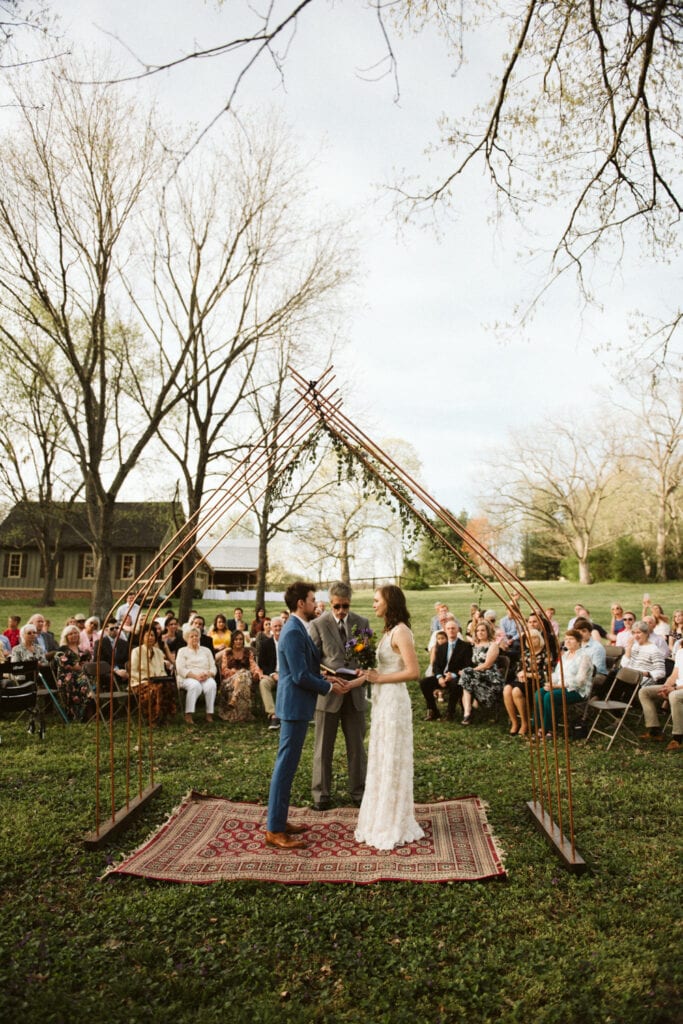 Other Micro-Wedding Venues
The Fields of Michigan
Stay in luxe guest tents on a blueberry farm just a few miles from Lake Michigan. Complete with a spa and all the nature, The Fields of Michigan is the place to slow down, and soak in the scenery and each other! Additionally, you can opt for one of the field activities offered, which include sailing, bike rentals, and massages.
Cloth & Flame
Cloth & Flame curates temporary venues and experiences in "unconventional spaces" throughout the United States. This is truly taking your micro wedding venue to new heights! Here you get the opportunity to "pop up" in places where there isn't a traditional venue. This really lets the couple create their fully customized dream micro wedding experience. Equally important, sustainability stays top of mind with Cloth & Flame.
Kualoa Weddings
For the most unique indoor or outdoor micro wedding in Hawaii, look no further than Kualoa Weddings! They'll curate the wedding of your dreams at one of their four incredible ceremony locations—and you can even have an authentic Hawaiian farm-to-table culinary experience.
How To Plan Your Micro Wedding
Now that you've seen the list of the best micro-wedding venues in the United States, it's time to start planning your unique micro-wedding!
It's never too early to start planning.
If you have any questions about starting to plan your micro wedding, don't hesitate to reach out. As an elopement photographer, I'm here to help you with all the details to have the elopement you're dreaming of.
Get more tips and inside info on adventure elopements here:
Plan your dream mountain elopement