When you think about your perfect elopement day—from sunrise to sunset and everything in between—what do you envision?
Imagine spending one of the most incredible and unforgettable days of your life doing the things you absolutely love the most! One of the many reasons elopements are so incredible is that you get to pull the focus back to you and your love and what you really love to do. Elopements give you the space and time to really immerse yourselves in the experience of the day, slow down, and spend valuable time together.
An elopement can be so much more than just a 2-hour photoshoot—and it DESERVES it. Your elopement day is equally as important and beautiful as a traditional wedding and it absolutely deserves the same amount of care, time, and love as a "normal" wedding!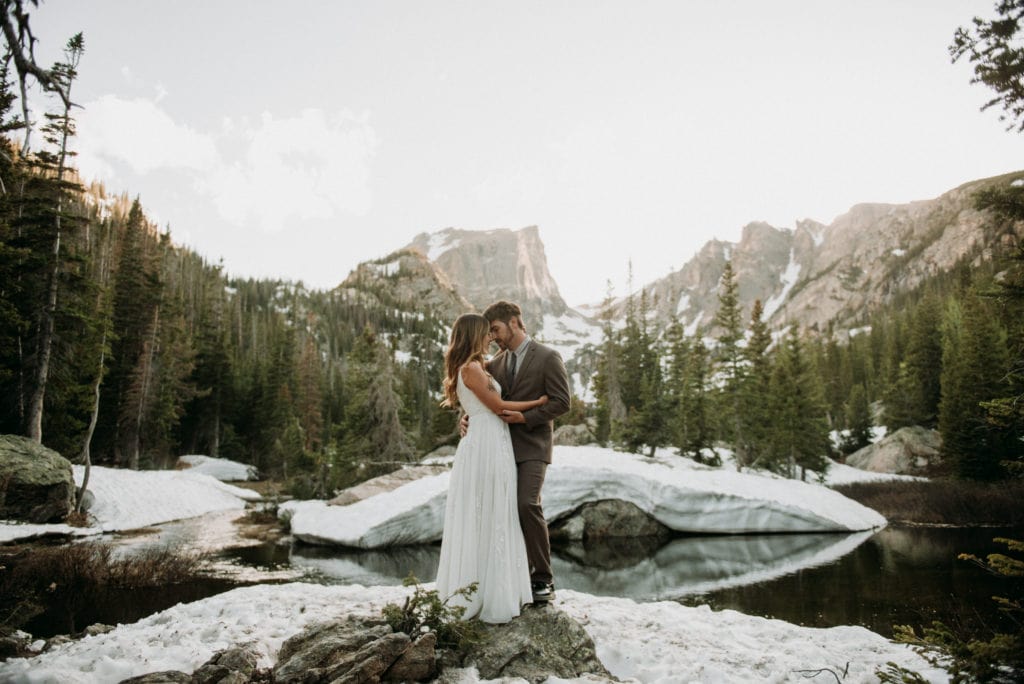 So, if you're thinking "An elopement sounds great but what the heck do we do all day?!" Here's a list of 25 adventure elopement ideas for you!
You could make one of these elopement ideas the central adventure for your elopement, or combine a few of these ideas and celebrate that way! Or if you want a big wedding with all your loved ones but still adore the idea of an adventure, book an adventure session for your engagement or post-wedding adventure!
Booking an adventure session with your photographer gives you an opportunity to get amazing photos of you and your love, and any family or friends before or after your wedding. This also helps to relieve some pressure for your elopement day!
1. Kayaking/Canoeing
There are countless places that would make for an amazing kayaking elopement! Whether its a multi-day backpacking and kayaking/canoeing trip, or just as an activity during the day, it'd be such a fun idea to incorporate into an adventure elopement!
Locations for epic kayaking:
The Boundary Waters (BWCAW) or Voyageurs National Park, Minnesota
Opal Creek Gorge, Oregon
Prince William Sound, Alaska
Lake Tahoe, California/Nevada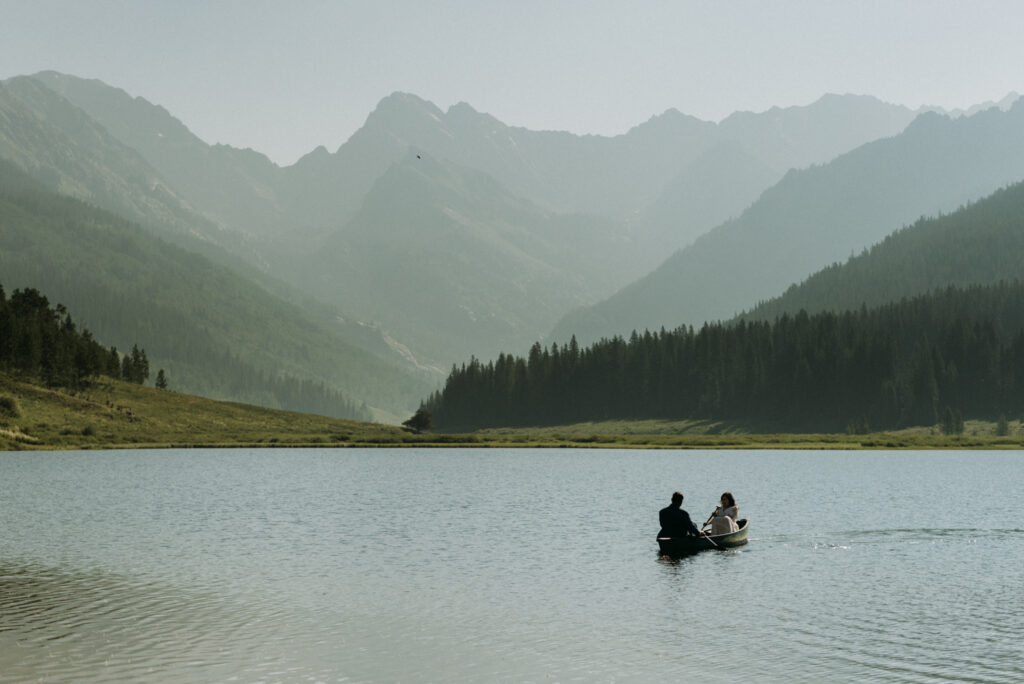 2. Helicopter Ride
Helicopter rides might be one of the most amazing adventurous activities you could do on your wedding day! With the U.S. having absolutely no shortage of breathtaking landscapes, you could choose to see anything from beaches to mountains to volcanoes from a bird's eye view.
Epic spots for a helicopter ride:
Na Pali Coast, Kauai, Hawaii
Juneau, Alaska
The Grand Canyon
Royal Gorge and Pike's Peak, Colorado
3. Scenic Motorcycle Drive
If you love the thrill of riding a motorcycle through mountain passes and stopping to enjoy the views, this is such a fun way to incorporate that love into your adventure elopement! Drive the Blue Ridge Parkway and stop at Max Patch to say "I do." Or drive down the scenic Highway 1 in California for no shortage of incredible views!
4. Road Trip
You can't go wrong with a good old fashioned road trip! It can be really difficult to pick just one location that you feel connected to. But who says you have to pick just one?
This elopement idea is one that you can take anywhere! Whether it's road tripping down Skyline Drive on the east coast, driving up famous Mount Washington in the northeast, or road tripping across the mountains and valleys of Million Dollar Highway in Colorado... Your options are limitless with a road trip elopement adventure!

5. Boating
This is also a great one to incorporate your love of water into your wedding day! You could enjoy the morning on the water, sail to where you want to promise your lives to each other, watch the sunset, or even say your vows on a sailboat! There's really no end to the ways that you can incorporate boating in your wedding day and make it perfectly yours!

6. Off-roading in an ATV
Off-roading in an ATV or other vehicle could be such a fun and adventurous activity to incorporate into your elopement. There are so many cool roads that you can take an ATV or Jeep down and find some secluded and incredible spots to say your vows.
Check out these amazing places for off-roading:
Make a 4X4 Jeep trail ride part of your elopement in Colorado
Big Bear off-road trails in California
7. Hot Air Balloon Ride
Imagine saying your vows on a hot air balloon, or even just ending one of the best days of your life up in the sky, looking at how incredible the world is!
Incredible Places for a hot air balloon ride:
Cappadoccia, Turkey
Queenstown, New Zealand
Check out the Top 10 hot air balloon rides in the U.S.!
8. Snowshoeing
Trekking through a forest dusted in snow on your way to say your vows and promise your lives to each other... What could be better? There really is nothing quite as magical as a fresh layer of snow, especially paired with an intimate elopement!
Magical locations for snowshoeing:
Grand Teton National Park, WY
Banff National Park, Canada
9. Climbing
Climbing is another one of those incredibly epic adventurous ideas! There are so many beautiful places that you can climb outdoors and you could even combine this with other elopement ideas for your special day.

10. Skiing/Riding a Ski Lift
Back to snow - and this would be so fun! Winter elopements are just as great during other times of the year, and maybe that's more your vibe. Going skiing, snowboarding, or even just riding on a ski lift can get you some insane views! This would be a perfect activity to incorporate into your best day ever. In the summer, you can take the gondolas up to the top of the ski mountains and that's an equally great experience!
11. Hiking
Whether you're more inclined to hike a mile or ten, if this is one of your favorite things to do together, it's definitely worth considering scheduling into your day! You can hike anywhere, and there are so many trails all over the world that have waterfalls, caves, meadows, mountaintops, and beaches!
Hiking is one of my favorite elopement ideas. It's so versatile, and no matter where you are, you can find a place to hike during your elopement!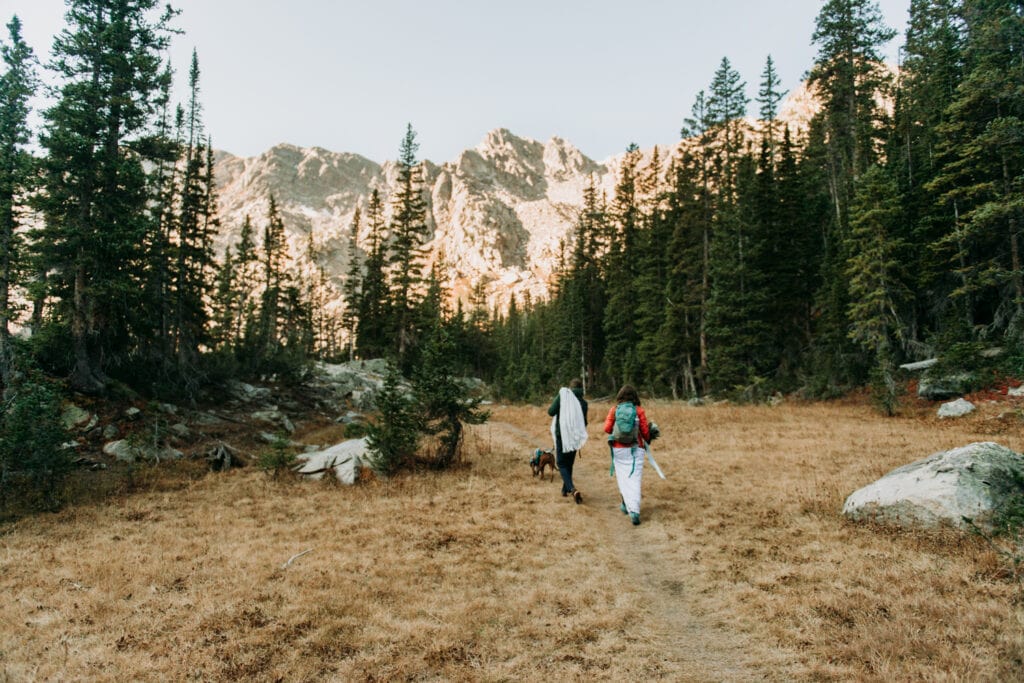 12. Backpacking
You spend every spare moment planning your next National Park backpacking trip and dreaming up the new places that you could go. If this sounds like you, absolutely consider planning your elopement as a backpacking trip! You can hike in, camp, and spend a couple of days celebrating in one of your favorite places—or one that's totally new to you!
Epic locations for a backpacking elopement:
Glacier National Park, Montana
New Zealand
Iceland
The Grand Canyon
Check out 10 of the best backpacking trips in the U.S.!
13. Camping
This goes along with a lot of the other suggestions, but if you're looking for something potentially a little less intense, camping might be perfect for your elopement. You can camp at any level from one night of camping out in a tent, to a week of glamping.
Have you ever heard of Autocamp luxury Airstream experiences? How about Under Canvas upscale camping experiences? Now those are two elopement ideas that are luxurious and adventurous.
Head out camping for a night or a few nights and have some fun!
14. Making coffee
Are slow mornings amore your speed? If you want to wake up and enjoy the morning before promising your forever together, making coffee would be the perfect start. Whether you're coffee aficionados or just need to get caffeinated, this is a sweet way to start the day together!

15. Picnic
Food is central to the way that people interact with each other and it's such an integral part of so many wedding days. You could cook your own meal, pack a light lunch, or get a take-out dinner for a picnic from your favorite restaurant. Then, head out to a park or hike to a beautiful spot to enjoy your picnic together!

16. Have a private chef prepare a meal for you
I love this idea so much. Imagine a private chef making you a meal of the most incredible food you've ever tasted on such a beautiful day of your life... This is such a unique opportunity and would be so amazing!
A private chef is also a great option to treat a small group of guests at your intimate wedding.

17. Stargazing
Depending on where you are and the time of year, you could spend the evening or early morning stargazing! This is one of those things that really never ceases to amaze me. Every time I see the night sky painted with stars, it really is one of the most beautiful things.
If you want to make stargazing a cornerstone of your elopement experience, check out some of the best places to stargaze in the U.S.
18. Watching the sunset
This could be incorporated into any day (given the weather, of course) anywhere. You could opt to have a sunset ceremony after a day full of adventure, or incorporate it into the evening's activities. Watching the sunset together is a quiet, sweet, and even inspiring activity to do with your love on your elopement day!

19. Aurora watching
Obviously this will depend on where you are in the world and the time of year - but this would be such an epic way to end your wedding day. What could be better than trying to see a once-in-a-lifetime phenomenon in an incredible place on one of the most memorable days of your life?
Here are a few of the best places to view aurora borealis, or the Northern Lights:
Iceland
Alaska
Finland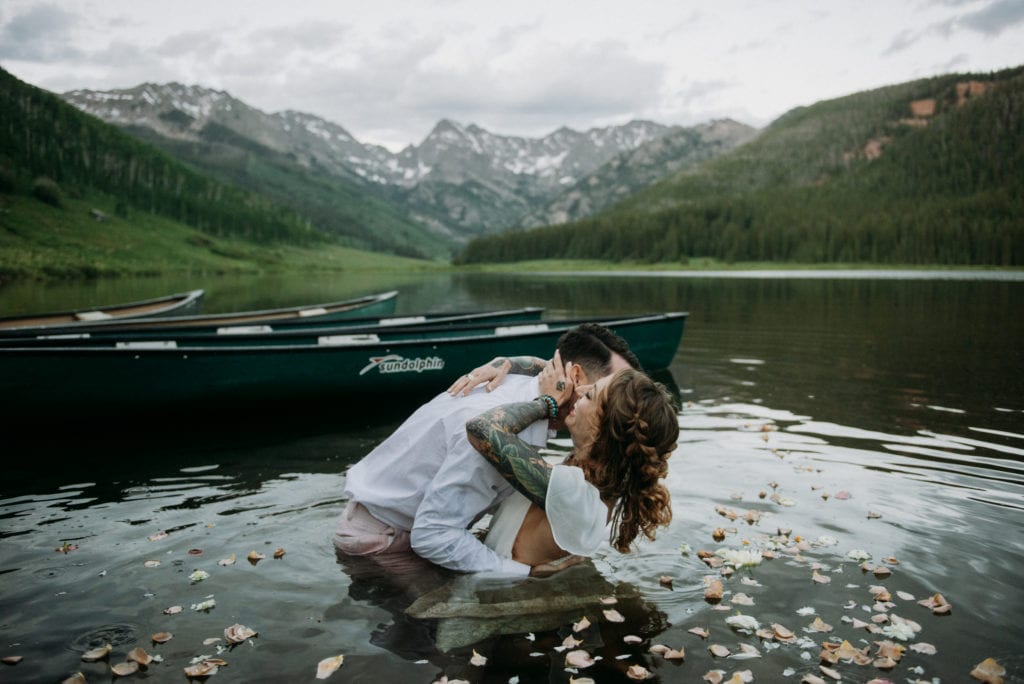 20. Swimming
Ending your elopement day with a sunset or midnight swim would be so refreshing and invigorating. Jumping in, living in the moment, and having a great time with your love. What could be better?
Check out a few of the best places to swim in Colorado!

21. Surfing
Surfing is so cool! If you and your partner love to go surfing on the coast together, you should incorporate that into your wedding weekend, engagement photos, or your elopement day!
Maybe you've never been surfing but have always wanted to try it. How about taking a surfing lesson together for your elopement?

22. Scuba Diving
Scuba diving is just incredible! Maybe this is something you've always wanted to do together, or perhaps it's one of your favorite activities! Either way, it's sure to be super fun and memorable for an elopement!

23. Cliff Jumping
One of the quintessential summer activities that never fails to make for a memorable day. Cliff jumping is also a little more accessible than a lot of other things on this list. If that's more your style, it'd be amazing for your wedding!
Santorini, Greece
Kahekili's Leap in Kaunolu, Lanai, Hawaii

24. Chase Waterfalls
Waterfalls are some of the coolest things that nature has to offer. You could opt to spend the day driving around to some faves, or trying to discover new ones. Another elopement idea is to go to an epic waterfall and have your ceremony or photos right in front of it!

25. Hammocking
If you like to take it slow and, quite literally, hang out and enjoy each other's company, incorporate a time to relax in your hammock during the day! This could be an activity to help you have a slow morning. Or, you could hang out in your hammock after you've hiked a few miles. Take your pick!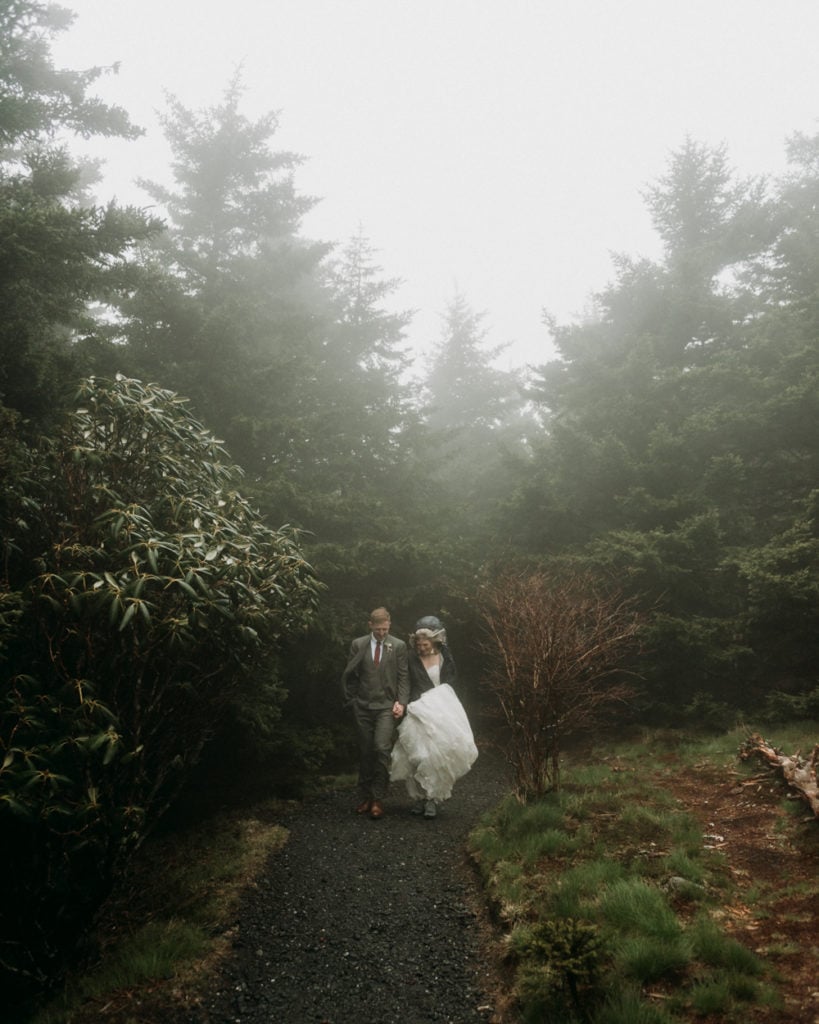 There's really no shortage of activities and ideas that you can incorporate into your adventure elopement day. The beauty of eloping is how much control you have over your experience. You don't have to adhere to a "right way" of doing things. You get to choose what you want to do and how you want to make your ceremony meaningful. And of course, bring me along as your photographer to capture the love you two have for each other!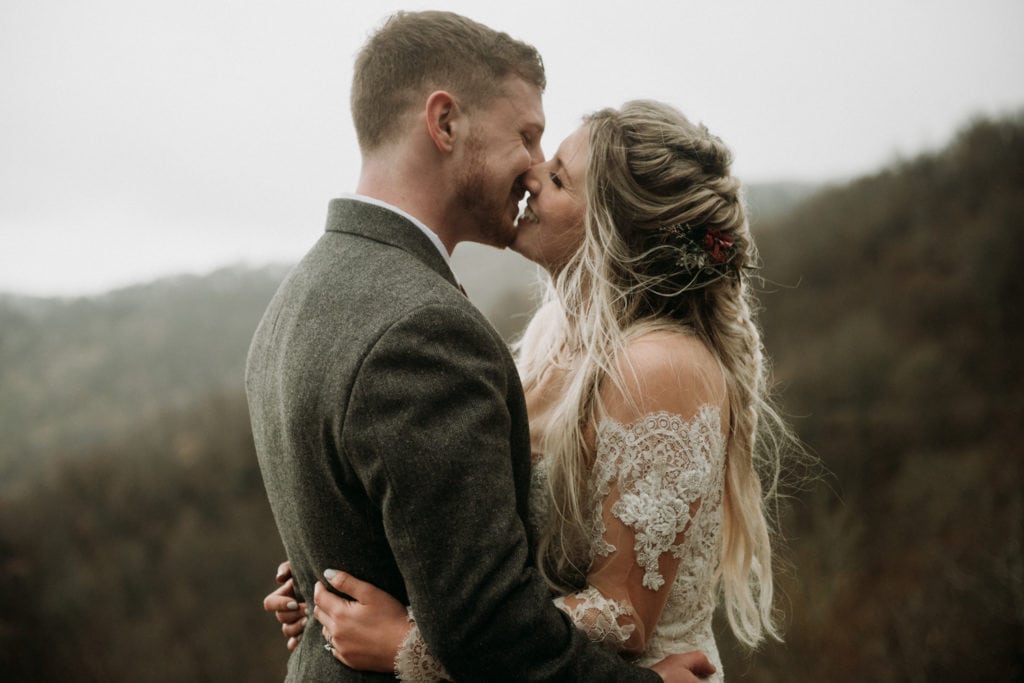 Don't hesitate to reach out, ask questions, or let me know about your elopement ideas! Seriously - I'm always full of new adventure elopement ideas and would like to hear yours! If you're in the process of planning your own adventure elopement and you haven't reached out to us yet, what are you waiting for?! Email me right now and let's start planning!
I love to offer free phone consultations to the amazing people who get in touch with me via my contact form. This is no obligation and it's not a sales call. We just get to know each other a bit, I learn about your desires for your wedding, and we talk about any elopement ideas you have!
If you're in the midst of planning your elopement, check out this article on Everything You Need to Know for Your National Park Elopement.